Industry Insights
This report analyzes and estimates the India and China OSS/BSS market. Operations Support System (OSS) and Business Support System (BSS) are used by telecommunications service providers (TSP) to effectively manage and control their business and customers. At the outset, OSSs were standalone, mainframe-based systems designed for enhancing the manual processes involved in a telephone network's operations. Growing complexity of services and network technologies have led to a new generation of OSS, which make a telecommunication service provider's information a useful resource for providing services. BSS helps deliver faster time-to-market (TTM) of new services and is scalable, enabling improved customer care. It is primarily used for customer oriented tasks, including billing, Customer Relationship Management (CRM), order management, and call center automation among others. OSS/BSS thus provides service fulfillment and service assurance. TM Forum defines business and operational processes, and provides standards such as New Generation Operations Systems (NGOSS) or Frameworx, which are then used by service providers.
The India and China OSS/BSS market generated revenue of USD 2.2 billion in 2012; it is expected to grow at a CAGR of 16.3% from 2013 to 2020. Growing demand for communication has resulted in TSPs offering services such as voice, data, internet, video, mobile commerce and multimedia among others. Since customers ordinarily purchase these services from the same operator, they prefer them to be charged on one invoice. By providing a consolidated view of the services availed by the user, OSS/BSS enables customer retention and accurate evaluation of business metrics. Therefore, the advantage of convergent billing, which is gaining importance with the advent of increased mobility, broadband usage, and Mobile Number Portability (MNP), is expected to drive the OSS/BSS market over the forecast period. The need for operators to maintain and expand their customer base, in which OSS and BSS play a major role, is expected to positively impact industry growth. In order to serve the burgeoning customer base, service providers have been focusing on provisioning services to ensure scalability of customers as well as the network, which requires the presence of an efficient OSS/BSS platform. According to the Telecom Regulatory Authority of India (TRAI), the number of wireless subscribers in India was over 890 million in 2011. In order to accommodate the growing subscriber base and offer short time-to-market solutions, service providers benefit from implementing OSS/BSS, which is a key component of the Service Delivery Environment (SDE).
Regional Insights
The market in India and China is considerably affected by the regulatory scenario in these regions. As customers as well as mobile network operators are looking to adopt 3G and 4G or LTE solutions, enhanced CRM activities and updating pricing plans are gaining importance. This is hampered by delayed adoption of these communication standards in India, which is expected to be a major restraint for profitability of market participants. Implementing OSS/BSS and integrating it with the existing infrastructure and legacy systems is a time and cost intensive task for service providers, and is also estimated to hamper market growth in the coming years. The market in India accounted for just over 24% of the overall Asia Pacific market in 2012; furthermore, it is expected to gain market share in the coming years. The industry in this region is fragmented, and is characterized by intense competition. Decreasing Average Revenue Per User (ARPU) for voice coupled with mounting demand for internet services has necessitated enhanced customer services in this price sensitive market. In the recent past, data services revenues were lower in India due to limited availability of content and high pricing. However, with changing preferences, revenue generated from voice has been decreasing, and growth is expected to be fueled by wireless data services. TSPs have invested in spectrum acquisition for 3G services and are aiming to expand their market presence in the country. Low availability of spectrum for commercial purposes is the major restraint to regional market growth.
Asia Pacific OSS/BSS market revenue share by country, 2012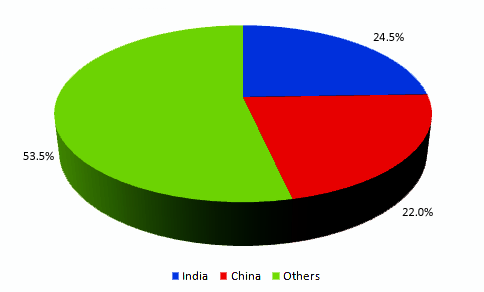 Growing smartphone penetration in China has given rise to a corresponding increase in mobile internet services. Proliferation of these devices is not expected to decrease in case of bleak macroeconomic conditions due to the advent of budget phones. According to Ministry of Industry and Information Technology (MIIT) statistics, the number of mobile telephones and internet users in China has been increasing steadily over the past few years. This trend is expected to favorably impact the industry, and the market in China is expected to grow at a CAGR of 16.2% from 2013 to 2020.
Competitive Insights
The OSS/BSS industry is highly fragmented in nature, with the key industry participants accounting for less than half of the overall market share in 2012. There exists intense competition among market players to fortify their position in the ecosystem. Industry stakeholders include OSS/BSS solution providers, telecommunication equipment providers; IT services providers, as well as system integrators. Mergers, acquisitions and strategic partnerships are among the key tactics employed by leading companies. For example, Ericsson acquired Telcocell and Thailand based TeleOSS Consulting in 2013. This came after its acquisition of Telcordia for USD 1.15 billion in 2012, which was aimed at enhancing its product offering and consolidating market share. Amdocs acquired Actix for USD 120 million in 2013. The company wants to expand its customer experience portfolio into the network domain in order to manage customer experience.