Industry Insights
IPM pheromones market is expected to witness growth owing to increasing food demand from regions with a high birth ratio such as Asia Pacific and Africa. Growing world population is expected to result in increasing food consumption rising need for higher agricultural yields. In addition, increasing awareness regarding effects of pesticides has resulted in more number of farmers adopting sustainable IPM programs. Abovementioned factors are expected to drive IPM pheromones market over the forecast period.
Global IPM Pheromones market revenue, by product (USD Million)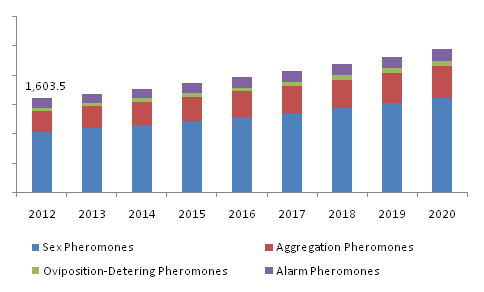 In order to facilitate the development, registration and use of pheromones and other semiochemicals for controlling pest arthropods, the OECD Working Group on Pesticides (WGP) developed guidance and rationale for specific registration requirements for such pest control products. The market is expected to witness limited growth on account of limited application scope.
Highly selective nature of pheromone programs enables protection from primary target species and rarely affects other insect species. This is a significant obstacle for large scale implementation of pheromones as restricted insecticide use deters elimination of non-target species.
Product Insights
Sex pheromones were the largest product segment accounting for 64.8% of the global IPM pheromones market revenues in 2013. Sex pheromones are widely used on account of high control over insect populations in the field. These are considered most effective for pest control as they are used for mating disruption thus curbing larvae multiplication on crops and trees. Sex pheromones are primarily extracted from female insects to attract males for mating thus depositing larvae eggs on crops. These larvae then feed on crops thus destroying yield. Mating disruption is very effective IPM module which includes dispensing relatively large amounts of sex pheromone over crop area and suppressing males' abilities to locate females for mating. Aggregation pheromones are used to attract both male and female pests and hence are used widely in the mass trapping of insects in IPM. Mass trapping helps maintain population densities below economic damage threshold when insects are attracted using attractive baits. These are widely used against bark beetles that can be controlled with trap trees or drainpipe traps. Alarm pheromones are emitted by insects in response to approaching predators or rapid changes in the immediate environment. These pheromones alert nearby insects of impending danger and are expected to witness below average growth rates owing to limited applications.
Regional Insights
North America was the largest regional market for pheromones used in IPM programs accounting for over 50.0% of the total market owing to increasing agriculture in U.S. and Canada. Asia Pacific is expected to witness the fastest growth due to the presence of agriculture based economies including India. The market is expected to grow on account of sustainability property of pheromones and increasing adoption of IPM programs in emerging economies such as Brazil, India, and Russia. Latin America is expected to witness growth owing to growing agriculture production in South American countries. The region is expected to witness significant growth over the forecast period. Europe on account of being a matured market for agricultural products is expected to witness below average growth as a result of few number of regulations pertaining to chemicals use.
Competitive Insights
Leading companies in the market have registered patents for pheromones detection, monitoring, control, extraction and manufacturing of traps and lures. Shin-Etsu Chemicals and Suterra LLC have three patents each to their credit whereas ISCA Technologies U.S. recently launched a new generation formulation called SPLAT (Specialized Pheromone & Lure Application Technology). Global pheromones market is highly competitive due to the presence of a handful of manufacturers. Further, the market is characterized by application specific pheromones as a particular pest species react to a single pheromone. This results in high industry rivalry in terms of higher R&D investments and patent applications.