Industry Insights
The global kaolin market was at valued over USD 4.30 billion in 2015. Rising need for ceramic products including tiles and sanitary ware is expected to propel product demand over the forecast period. Growing use in the cement industry as a supplementary material is anticipated to positively impact industry growth over the next eight years.
Growing demand for supplementary cement materials (SCM) has witnessed significant growth on account of numerous regulations such as the Clean Air Act and the Global Warming Solutions Act 2006 aimed at decreasing the greenhouse gas emissions and carbon footprint reduction.
U.S. kaolin market volume, by application, 2013 – 2024 (Kilo Tons)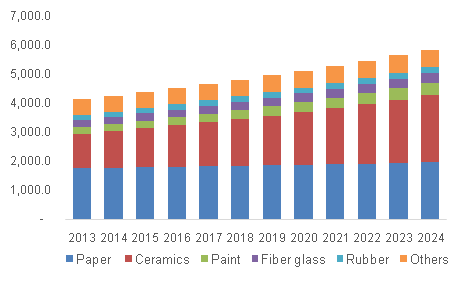 Metakaolin and dehydroxylated kaolin are the major components of the product and have gained significant prominence as cement extenders thereby boosting product demand over the past few years. These materials consume minimum energy for production in addition to reduced emission of CO2.
SCM provides improved durability, better resistance and increased strength and has witnessed high demand growth from manufacturers in the construction industry. This is expected to fuel kaolin industry growth over the next eight years. Rising energy costs and increasing demand supply gap has resulted in price volatility which may challenge market demand over the forecast period.
The industry is anticipated to experience growth on account of widespread use as a filler and coating material in paper & pulp industry. Stringent labeling requirements for food packaging by several governmental regulations such as U.S. FDA's Food Labelling Guide, India's Food Safety & Standards and EU's Regulation 1169/2011 has created new opportunities, and the trend is expected to continue over the next eight years.
Growing product use on account of its ability to enhance smoothness, gloss, paint absorbency and brightness of the paper surface is expected to have a positive impact on industry growth over the next eight years. Metakaolincan accelerate hydration and is widely used in the manufacturing of Portland cement which aids in higher resistance to efflorescence which in turn will fuel product growth over the forecast period.
Improving infrastructure in developing countries including China and India on account of rising government spending will propel kaolin industry growth.
Application Insights
The paper industry accounted for over 40% of the global volume share emerging as the largest application segment in the kaolin market. Kaolin enhances printability and appearance and hence is increasingly used in the paper industry. However, the product is being widely replaced by calcium carbonate which may challenge industry growth over the next eight years.
Rising demand for kaolin from the paint industry owing to its ability to enhance color properties and glossy grades is expected to fuel market growth. Additionally, it aids in improving product life which is expected to have a positive impact on its demand over the forecast period. Product demand in the paint industry is expected to grow at a CAGR of over 4.5% in terms of volume over the projected period.
Regional Insights
Asia Pacific contributed to over 35.0% of the global industry in 2015, owing to the growing demand from the paper and paint industries. The presence of numerous ceramic companies in China has led to growing demand for this mineral over the past few years, and this trend is expected to continue over the forecast period.
Rising number of ongoing and upcoming construction projects, in the Middle East, is expected to fuel product demand over the next eight years. Rising government expenditure for infrastructural development in Latin America is expected to drive ceramic demand which in turn will propel kaolin industry over the projected period
Competitive Insights
Key participants dominating the market include Quarzwerke GmbH, Imerys SA, I-Minerals Inc. and SCR-Sibelco N.V. The market is highly fragmented owing to the existence of several manufacturers. Key manufacturers have a presence in the U.S. on account of large mineral deposits.
In May 2014, Nedmag and Imerys S.A entered into a strategic collaboration to cater to rising demand from pulp & paper industry in Europe. In October 2014, Thiele signed a distribution agreement with Univar to improve its penetration and expand into Canadian markets with the support and assistance of Univar's technical expertise and well-located warehouses.