Industry Insights
The global laboratory filtration market was valued at USD 1.94 billion in 2015. The increasing application of filtration technology in pharmaceutical, biopharmaceutical, and food & beverage industries and the rising demand for more efficient filters are the key factors accentuating the market growth.
Filtration products offer sterilized filtration, bioburden reduction, air filtration, oil and gas filtration, and membrane filtration. The novel technologies are being developed by manufacturers for large volume filtration taking place in pharmaceutical and biopharmaceutical companies.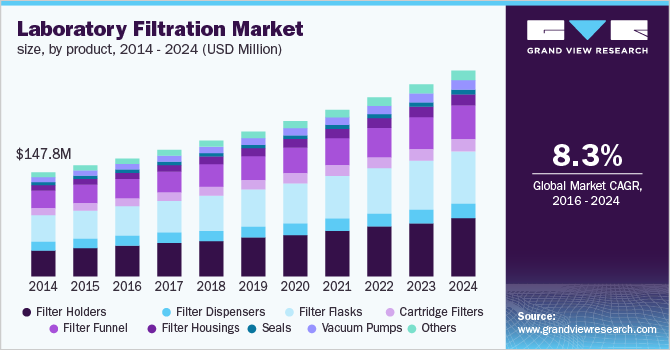 For instance, particulate filter, a product from 3M Purification, Inc. featured with advanced pleat technology increases the filtration surface area, while maintaining standard filter dimensions.
Laboratory filtration finds its application in various fields such as drug discovery and development, microbial analysis, virus removal, research laboratories, and water purification treatment plants. The increasing demand for high throughput filtration products during the down streaming process, growing usage of analytical instruments, and the introduction of sophisticated filtration methods for ultra-purification are expected to propel the growth over the forecast period. Macherey-Nagel and some other companies such as GE Healthcare and Hahnemühle offer a dynamic range of ash less filter papers and qualitative filter papers that are designed for quantitative routine analysis and general laboratory filtration processes.
The cases suffering from water-borne diseases such as cholera, diarrhea, and typhoid have increased by two-fold since 2005 in sub-African countries, as a result of which there is an increase in demand of filters with improved filtration capacity and efficiency. A new range of filter membranes such as Nalgene by Thermo Fisher Scientific is preferred among researchers for microbial analysis.
Product Insights
The product portfolio of laboratory filtration market is segmented into filtration media, filtration assemblies, and filtration accessories. The filtration media segment includes membrane filters that accounted for the largest market share in 2015. This large share is presumed to be a result of their increasing application in microbial analysis, microfiltration, and ultrafiltration.
The capsule filters segment, on the other hand, is estimated to witness significant growth over the decade with a CAGR of over 7.3%. These filters provide a reliable filtrate by retention of very small microorganisms and harmful particles.
Microfiltration assemblies held the largest market share within the filtration assemblies segment in 2015. Widespread usage of microfiltration assemblies in food and beverage industry for quality check is one of the major factors attributing toward its dominance.
Technology Insights
Reverse osmosis, ultrafiltration, vacuum filtration, nano filtration, and microfiltration are the key technologies of the laboratory filtration market. The microfiltration segment dominated this sector in 2015. Microfiltration technology is the removal of particles through a micro porous medium named membrane filter.
Micro filters are widely used for cold sterilization of API and enzymes and for separation of solid-liquid phases in various industries. It is highly used in fractionizing milk protein applications. Applications include cell harvesting from fermentation broths, fractionation of milk proteins, corn syrup clarification and CIP chemical recovery.
Ultrafiltration is one of the fastest growing technologies and is expected to witness a significant CAGR over the forecast period. The ultrafiltration segment offers benefits such as gentle product treatment, easier handling, and lower energy consumption over the conventional methods. The increasing adoption of ultrafiltration in food processing industry, water purification systems, and protein bio separation is predicted to enhance the market growth.
Regional Insights
Around half of the global laboratory filtration market was captured by North America in 2015. North America is the prime market for laboratory filtration products, owing to the presence of key filtration product manufacturers, establishment of well-developed laboratories, and the increasing government funding for basic research.
Increasing target diseases and rising need for therapeutics are the major factors attributing to a large base of target population in North America. Furthermore, the increasing industrialization and availability of new products strengthen the adoption rate of the laboratory filtration products in the region
The Asia Pacific region is anticipated to witness flourishing growth over the forecast period because of the increasing number of key players focusing on setting up their operational facilities in these regions, presence of a large number of generic drug manufacturing industries, and the growing initiatives of food and beverage companies on launching quality products.
Laboratory Filtration Market Share Insights
Some major players in the laboratory filtration market include Merck Millipore, Sigma-Aldrich, GE Healthcare, Thermo Fisher Scientific, Sartorius Group, 3M Purification, Inc., Cantel Medical Corporation, and Macherey-Nagel Gmbh & Co. KG. They are actively involved in updating their range of filtration products in an attempt to improve their market position and earn high profits.
For instance, GE Healthcare has developed quartz filters such as Whatman QM_B quartz, microfiber filters, Whatman QM-A quartz MF, and Whatman QM-H, which are used for filtering air samples.