Industry Insights
Global magnesium oxide nanoparticle market is expected to be driven by increasing end-use applications including use in food additives, pharmaceuticals, glass, fuel additives, ceramics and cement. Growing refractory demand owing to increasing steel and cement industries as a result of rapid industrialization is expected to augment magnesium oxide nanoparticle market demand for use in furnace lining. Increasing fuel additives demand for maintaining fuel efficiency in transport industry is also expected to drive magnesium oxide nanoparticle market over the forecast period. Market demands are expected to rise due to the growing use of magnesium oxide as a fire retardant in flame retardant chemicals to avoid excessive losses caused by fire.
Global magnesium oxide nanoparticle market volume by application 2012-2020 (Tons)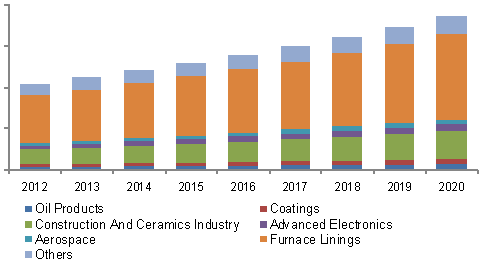 Global magnesium oxide nanoparticle market volume was estimated at 103.4 tons in 2012 with revenue of USD 21.7 million. Recent R&D at the Northeastern University exhibited favorable nanoparticles properties for use in orthopedic tissue engineering thereby providing an opportunity for increased application scope. Magnesium oxide nanopowder dispersed in polymer composites are said to be useful for recovery, post joint reconstruction surgeries. The market is characterized by high production cost which is expected to inhibit growth over the forecast period. Cost-effective manufacturing processes coupled with increased manufacturing capacities are expected to help manufacturers deal with high production costs thus sustaining market growth.
Application Insights
Magnesium oxide nanoparticle finds applications as a dehydrating agent in the adhesive, electronic industry material, high-grade ceramic material and silicon steel sheet manufacturing. Other magnesium oxide nanoparticle market applications include insulating material for electrode sheet, bar, crucible, shelter, conduit making; fire retardant in chemical, fiber and plastics; and as a corrosion inhibitor, antistatic agent, cleaner and fuel additive. This nanopowder also finds use in coatings, petrochemicals, ceramics, catalysis, electronics, metallic ceramics and light weight, sound proof, insulating refractory fiber boards. Magnesium oxide is used in the ceramic base plate, heating material, steel smelting and high-temperature furnace material, electricity, cable, optical material, refractory & insulating instrument, filler for refractory coating, magnesite-chrome brick, refractory material and fiber. Magnesium oxide nanoparticle market is expected to grow owing to increased demand from the above-mentioned applications. The market is expected to witness increasing application scope due to superior properties of magnesium oxide nanopowder, such as high melting point, purity, hardness, large surface area and small particle sizes less than 100 nm.
Regional Insights
Growing paints & coatings industry as a result of infrastructural development in North America due to increased spending is expected to increase magnesium oxide nanoparticle market demand as an anti-bacterial coating. The European market is expected to witness growth due to demand primarily from the aerospace industry. Asia Pacific is expected to witness significant growth owing to rapid industrialization resulting in growth of steel, cement, coatings and electronic industry in emerging markets of China, India, and Japan. Magnesium oxide nanoparticle demand is expected to increase due to infrastructural growth in South Africa, Brazil, and the Middle East. Nanoparticles used as corrosion inhibitors are expected to grow due to applications in oil & gas refinement, chemical & metal processing industry. Indian government's favorable FDI policies encourage investors to contribute in chemical and metal processing industry fueling magnesium oxide nanoparticle market growth. Asia Pacific was the largest regional market with revenue USD 16.2 million in 2012 and is expected to grow at a CAGR of 8.9% over the forecast period.
Competitive Insights
The global magnesium oxide nanoparticle market is fairly concentrated and is expected to witness further consolidation with frequent M&A among competitors. Companies offer magnesium oxide with particle size ranging from 10 nm to 60 nm with varying grades of purity based on the intended application. Some of the key market participants include American Elements, American International Chemical Inc., Eprui Nanoparticles & Microspheres Co. Ltd., Inframat, Martin Marietta Magnesia Specialties Inc., Nabond Technologies Co., Nanoscale Corporation, Nanostructured & Amorphous Materials Inc., Reinste Nano Ventures, Sigma-Aldrich and Skyspring Nanomaterials.