Industry Insights
The global managed pressure drilling services market was valued at USD 3.70 billion in 2015. Sustained fossil fuel demand coupled with declining production of onshore oil & gas reserves is expected to drive the market growth over the forecast period. These services are predominantly used to monitor and control the wellbore pressures. The increasing success rate of managed drilling services over other conventional techniques is also anticipated to boost the market penetration
U.S. managed pressure drilling services market revenue, 2014 - 2024 (USD Million)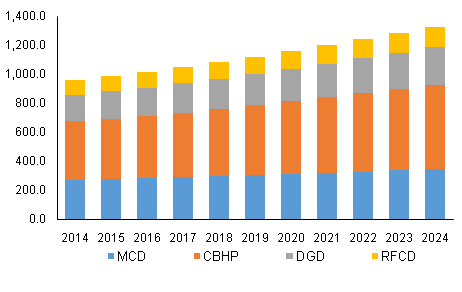 Growing safety, health and environment concerns in drilling processes is expected to steer the market penetration particularly in countries such as China, Norway, Algeria, the U.S., Mexico, where new E&P projects are either in their development or initiation phase. MPD effectively reduces drilling hazards, including fluid loss, differential sticking, lost circulation, nuisance gas zones, and kicks by precisely managing the pressure.
It offers constant drilling of long sections and high flexibility in casing design for drilling deeper wells. MPD is also anticipated to offer a safer drilling environment, by decreasing the chances of blowouts and other uncontrolled bottom hole pressure fluctuations.
These methods permit efficient and safe drilling services through total or severe loss zones that are highly cost effective as compared to other conventional drilling methods. The drill string is portable and can be moved or shifted all the time, thereby reducing the threat of differential sticking and potentially leading to huge cost saving.
Lack of technical know-how and ineffective training in operating companies is expected to remain a key challenge for industry participants over the forecast period. Managed pressure drilling requires specific tools and equipment in addition to conventional oilfield equipment. The technique further requires high level of understanding bore well pressure issues.
Technology Insights
On the basis of technology, the global managed pressure drilling services market has been segmented into mud cap drilling (MCD), dual gradient drilling (DGD), constant bottom hole pressure (CBHP), and return flow control drilling (RFCD).
The CBHP method is extensively used for drilling wells with higher uncertainties on the narrow mud weight window and pressure limits with kicks/losses. This technology is widely used in regions including North America offshore wells in areas such as Mexico, where the drilling environments are expected to be tough. The technology is also used to overcome other operational challenges such as non-productive time is wasted by lost circulation or gas influxes in the high-pressure procedures and formations.
CBHP technique provides site safety by monitoring the annular pressure while detecting kicks and fluid losses early and drilling. Bottom hole pressure or annular pressure is determined mainly by two factors: the hydrostatic pressure of the drilling mud and the friction pressure generated when the pumps are operating. The CBHP technology dominated the market accounting for over 40% and is estimated to grow at a CAGR of4.1% from 2016 to 2024.
Shifting towards high automation in which all the MPD process components can be operated and controlled from a single interface point, leading to faster reaction time and requiring less human resources is the ongoing trend in the market.
Pressurized mud cap drilling (PMCD) is a method in which the drilling proceeds with no returns to surface and an annulus fluid column, supported by surface pressure that is made possible with the use of a rotating control device. A sacrificial fluid along with cuttings is accepted by the lost circulation zone. These methods are useful for instances of high lost circulation that preclude the use of conventional wellbore construction techniques.
PMCD is expected to witness significant growth rate and is extensively used all over the world to drill through vugular and fractured carbonate formations where circulation losses can be simultaneously severe and sudden. PMCD provides drilling to continue in greater target depth despite losses.
Application Insights
Managed pressure drilling is primarily used in offshore drilling methods owing to high cost associated with it. Increasing exploration activities in ultra-deep and deep sea regions, particularly in Africa and Europe, that faced recent oil & gas discoveries in offshore are expected to contribute to the overall market growth over the forecast period.
Growing demand for pressure drilling in high temperature high-pressure deep-water resources and wells can be attributed as the driving factor for the market growth. This application segment is anticipated to account for over two-third of the global market over the forecast period.
Technological advancements and new innovations are expected to increase the use of MPD over the next seven years. Numerous recent advances in managed-pressure drilling have taken place. Many industry participants are launching new technologies to obtain a competitive edge over their peers. 
Regional Insights
North America managed pressure drilling services market dominated the global demand accounting for over 35% of the total revenue in 2015. Rising demand for cost efficient and safe pressure drilling techniques coupled with favorable government initiatives such as easy FDI flow and capital incentives. U.S. is anticipated to hold the largest share in this region and is expected to reach net worth of USD 1,329.5 million by 2024.
Canada is expected to witness significant growth rate over the next seven years owing to development of alternative sources for drilling including tight oil and tar sands. Industry players in Canada include Shantos, ConocoPhilips, Medco Energi, InterOil, Tately, JVPC Hess. Everyday over 600 operations are carried out using MPD with closed wellbore solutions. Africa is also estimated to have a high growth rate owing to latest discoveries of offshore regions in areas including Mozambique, Tanzania and Angola.
Offshore developments and discoveries particularly in the Red Sea region by countries including Qatar, UAE, and Saudi Arabia is anticipated to drive the Middle East MPD services market. Saudi Arabia market is anticipated to reach a net worth of USD 319.1 million by 2024.
Competitive Insights
Key vendors in the global managed pressure drilling services market include Halliburton, Archer Well Services, and Weatherford International. Other industry participants include Schlumberger, Baker Hughes, and Aker Solutions.
Different strategies are adopted by leading players through innovations and expanding their portfolio globally. The global market is dominated by oilfield service provider companies including Halliburton, Schlumberger, BJ Services and FTS International, which together accounted for over half of the global revenue in 2015.