Industry Insights
A new era of technological advent in the healthcare sector is expected to facilitate the growth of the medical specialty bags market over the next six years. Escalating need for customer-focused products/services, improving patient awareness, and growing geriatric population are expected to be the major factors driving the market.
Asia Pacific Medical Specialty Bags Market share, by product, 2012-2020 (USD Million)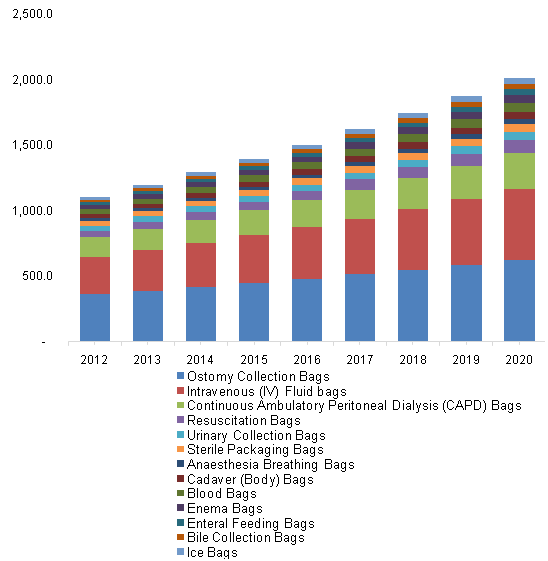 The tendency of the older population being prone to diseases such as urinary incontinence and increasing geriatric population base is likely to augment market demand. Further, this triggers the need for special care and proper management driving the need for excellent medical care.
Specialty bags are most often used for surgical processes including urinary surgical procedures and laparoscopic surgical procedures. The requirement for surgeries is mounting due to the growing occurrence of chronic diseases worldwide.
Ostomy collection bags are helpful on account of the prevalence of uncontrollable maladies, and it is anticipated to fuel the market demand owing to the rising old age populace. Uniformly-built compensation policies, easy availability of products, and cost-effectiveness make the product affordable, lucrative, and flexible for consumers.
Government bodies play a critical part in the growth of the product market as they facilitate an increase in demand by spending in health infrastructure, crafting improved reimbursement packages and increasing the level of awareness, setting competitive prices, and encouraging research and development. Improvements in medical standards & facilities, changing technological trends, and rising concern towards health and hygiene are factors expected to promote growth in this market.
Product Insights
Medical specialty bag market is primarily classified on the basis of products as urinary collection, blood, anesthesia breathing, bile collection, ostomy collection, sterile packaging, enteral feeding, resuscitation, continuous ambulatory peritoneal dialysis (CAPD), intravenous fluid, cadaver, ice, and enema. Ostomy collection bags are divided into single-use and multiple-use bags.
Resuscitation bags are also segmented into reusable and disposable bags. Besides, Intravenous fluid bags are further sub-categorized into Non- PVC material and PVC material based fluid bags.
Ostomy collection bags emerged as a dominant player in the market in terms of revenues amidst all the types of products in 2011. On account of the growing environmental impacts associated with the use of PVC, demand is anticipated to shift towards non-PVC material over the forecast period. Furthermore, the bile collection bags division is projected to grow at a rapid CAGR owing to rising demand for laparoscopic cholecystectomy.
Application Insights
Medical specialty bags are widely used in hospitals and healthcare institutions. Home healthcare and SurgiCenters also utilize medical specialty bags but constitute a niche market segments. SurgiCenters are expected to drive growth in the industry on account of increasing awareness resulting in growing demand among customers. These are particularly used for surgeries in hospitals. However, healthcare centers and hospitals constitute a significant share of the global medical specialty bag market and are expected to continue the trend.
IV Fluid bags are used in numerous applications including expanding IV volumes hypovolemic state in patients, sustaining and balancing the basal hydration level, and maintaining the correct electrolyte imbalance. Furthermore, its use in various healthcare processes along with the ease and convenience with which it can provide nutrition to any patient is expected to result in a positive growth scenario. However, the market is anticipated to experience a few challenges owing to the consequences of sterilizing IV bags. Regardless of these obstacles, this segment exhibits a promising growth on account of healthcare improvements in North America, which has also emerged as the most important region in the IV fluid bags market.
Regional Insights
North America, Europe, Asia Pacific, and RoW constitute the geographic segmentation of the market. At present, Europe is projected to lead the market. On the other hand, North America captured the majority of shares in 2011 which can be majorly attributed to rapid growth in consciousness among people and progress in emerging economies due to the technological trends.
Competitive Insights
The major participants in the market include Terumo Corporation Hollister Incorporated, Coloplast A/S, B Braun Medical, Pall Corporation, C.R. Bard Inc., Kawasumi Laboratories Inc, Terumo Corporation, Baxter International Inc., Westfield Medical Ltd., Maco Pharma, Convatec Inc., and Fresenius Medical Care AG & Co.
The healthcare infrastructure in emerging economies such as India, China, Mexico, and Brazil is gaining momentum, thereby proposing lucrative prospects for the leading vendors of the industry. The soaring demand for superior technology and sophisticated tools, together with medical specialty bags that support various medical procedures during or after treatments is expected to open new avenues for competing participants.