Technological innovations to drive the Medical X-ray Generator Market
The Medical X-ray Generator Market was valued at USD 1.46 billion in 2015. The heightened physician preference toward x-ray imaging equipment is presumed to be responsible for the growth of medical x-ray generators.
Moreover, increasing adoption of medical x-ray generators in a wide range of applications, such as in stent placements, locating blocked arteries, and in treatment of malignant cancer cells, due to associated benefits is further expected to provide a high growth potential to this sector in the future.
The benefits include generation of rays with high penetrating rates, which helps obtain clear images for accurate diagnosis. These factors are expected to be responsible for the growing inclination of surgeons and physicians toward the devices, thus presenting lucrative growth platform.
North America Medical X-ray Generator Market, By Application, 2014 - 2024 (USD Million)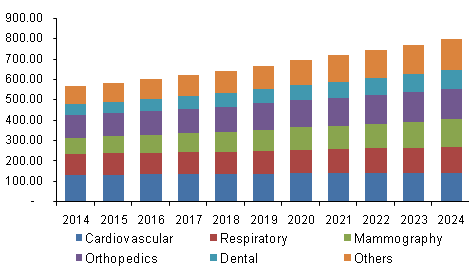 The advent of technological innovations, such as the inclusion of carbon nanotubes that facilitate accurate diagnosis, precise control, and gated imaging along with advent of x-ray tubes with liquid metal, sufficient enhanced resolution, and less exposure time, is enabling imaging of remote areas and small biological cells or tissue that need to be examined. In addition, increasing number of research activities, in the direction of enhancing the current capabilities of x-ray machines, is anticipated to drive the growth over the forecast period. For instance, in December 2013, research was conducted in Microsystems Technology Laboratories to facilitate detailed examination of soft tissues as well as to curb the expense associated with x-ray machines.
Stationary medical x-ray generators accounted for the largest share in the product segment
Stationary medical x-ray generators held the substantial share, in terms of revenue, of over 68.0%, in terms of revenue,in 2015 as a consequence of the clinical urgency to incorporate the device for large patient volume present that requires long-term treatment. Moreover, a consistent effort toward new product development by prominent companies globally is presumed to expand the base for growth.
Portable medical x-ray generators are expected to grow at a lucrative CAGR of over 32.0% throughout the forecast period. The exponential growth can be attributed to the increasing inclination of healthcare professionals toward the devices at ambulatory centers and in emergency medicine. These benefits include easy installation in remote areas, due to their low-density material, deeming them suitable for incorporation in confined and remote spaces.
 
Cardiovascular was the largest application in the Medical X-ray Generator Market
Cardiovascular segment held a dominant share with over 20.0%, in terms of revenue, in the application segment as a consequence of growing prevalence of cardiovascular diseases and heart failures, which is presumed to bolster the demand for highly efficient diagnostic imaging tools. Moreover, presence of government organizations, such as Public Health Service, consistently striving for promoting monoenergetic x-ray imaging systems, is presumed to provide the market with considerable potential for development.
Dental applications are anticipated to witness exponential growth at over 8.0% owing to growing geriatric population base and unhealthy lifestyle, which cause dental problems globally. Also, growing inclination of general population toward aesthetics is resulting in an increased demand of x-rays generators. These factors are presumed to be the significant factors responsible for widening the scope for growth during the forecast period.
North America is the largest regional Medical X-ray Generator Market followed by Europe
North America dominated the overall market, in terms of revenue in 2015, owing to a dominant share that can be attributed to the high physician preference for radiographic diagnostic procedures due to the greater patient safety associated with these procedures. In addition, the presence of government initiatives promoting patient safety is responsible for garnering a greater regional share for the Medical X-ray Generator Market across this region.
Asia Pacific is anticipated to witness exponential growth of over 18.0% throughout the forecast period. This exponential growth is attributable to the expansion strategies and the high R&D investment by key players present in this region. Moreover, the availability of the raw material parts at a relatively cheaper cost is contributing significantly to the growth in this area.
The Medical X-ray Generator Market has moved toward consolidation with Spellman High Voltage Electronics Corporation holding dominant positions
The market is consolidated in nature and the growth is marked by prominent industry players undertaking strategies, such as mergers and acquisitions, geographical expansions, and product launches in order to capture a greater share of this vertical. In July 2016, Siemens Healthcare GmbH partnered with the organization Sandwell and West Birmingham Hospitals NHS Trust. Through this partnership, Siemens intends to provide four hospital sites with a range of management solutions for their medical imaging systems and solutions to optimize their operational workflow.