Industry Insights
The global metrology services market size was valued at USD 520 million in 2014. Increasing demand for precise components and parts from various verticals, which include electronics, automotive sector, and power generation is anticipated to spur growth.
Outsourcing for the operation of services for a skilled workforce to third party vendors is also expected to drive the demand. Continuous technology advancements such as the use of GPS technologies to track multiple items and social factors such as increasing urbanization along with aging population are also anticipated to favor positively the demand. The increasing aging population is also expected to spur the demand in the healthcare sector.
Surging demand for high-precision components in chief end-use sectors including electronics, automotive and power generation is anticipated to fuel demand over the forecast period. High accuracy and fewer tolerance limits requirement of many industrial sectors may lead to the huge adoption of Computer Aided Design and Computer Aided Manufacturing (CAD/CAM) based processes.
North America metrology services market share by product, 2012 – 2022 (USD Million)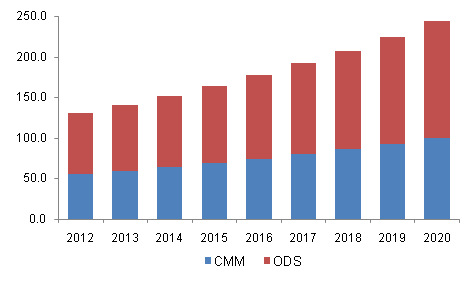 Lack of applicability of existing measuring tools, paired with the scarcity of skilled precision machine operators may urge huge demand for these services in the near future. Innovations in software for developing new customizable solutions may further catapult demand over the next few years
Industries such as power generation, electronics and automotive are impelled to adhere to international quality standards for better services. Further, with the intention of enhancing/maintaining the quality of the product, it is vital to have multiple measurement technologies ensuring precise measurements.
However, lack of a universal system that can be integrated into different sectors is expected to pose a challenge for the volume sales. The presence of substantial vendors has increased the bargaining power of buyers leading to industry fragmentation and lack of product differentiation by service providers which also can hamper demand over the next few years.
Development of software packages, which includes laser scanning technology, on-machine software, laser scanning technology, multisensor software, robotic, geometric dimensioning & tolerancing, point cloud metrology, and automated software in manufacturing industries is further anticipated to proliferate the demand.
Product Insights
On the basis of product, the industry is segregated into Optical Digitizer and Scanner (ODS) and Coordinate Measuring Machine (CMM). Innovation in metrology software coupled with increased applicability of metrological instruments is expected to play a crucial role in the development of new customizable solutions.
ODS accounted for over 57% of the overall revenue share in 2014 and is anticipated to witness a growth rate of over 8% in the next six years. Its sub-segment includes white light scanners, 3D laser scanners, and laser trackers. 3D laser scanners are anticipated to witness substantial demand owing to their potential of contribution in measuring composite geometries with precision coupled with touch probe technology.
CMM is utilized to measure physical geometrical characteristics of an object and is anticipated to grow at a CAGR of over 7% over the forecast period. The segment further includes articulated arm, gantry, horizontal arm, and bridge machines. Rising demand for solutions such as calibration, repairing, machine installation, and retrofitting provided by CMMs is expected to drive consumption
Application Insights
Demand for precise components and parts from various sectors which include electronics, power generation and automotive, medical, and aerospace is expected to boost volume sales over the forecast period
Metrology services help in the process improvement by inspecting and measuring various elements involved in supply chain processes such as retrofitting, manufacturing, and others. These solutions find applications in different process industries for measurement of different machines and end-product sizes such as molding, cutting, and packaging. They have cost-based offers; however, value-based offers are expected to increase over the forecast period.
Automotive metrology services market was valued at over USD 120 million in 2014 and is anticipated to grow at a CAGR of over 8% by 2020. Industries such as power generation, electronics, and automotive require components with low tolerance limits and high precision. Increased adherence to international quality standards in end-use industries is one of the key drivers demand.
Regional Insights
North America metrology services market is anticipated to have a substantial share of 29% over the forecast period owing to rising demand for industrial and aerospace applications.
Asia Pacific metrology services industry has a huge consumer base, accounting for over 30% share in terms of revenue in 2014 and is expected to grow at a CAGR of over 8.5% by 2020. This growth can be attributed to growing outsourcing trend for dimensional inspection in the medical sector. The region is an unorganized industrial sector, which may pose a key challenge in targeting diverse clientele. Thus, ability to serve across multiple locations may help service providers in increasing customer base and leveraging potential. However, without efficient sales capabilities, the players would not be able to optimize their service revenue.
Competitive Market Share Insights
Key players in the metrology services market include Danish Micro Engineering A/S, Optical Gaging Products, Inc., Nikon Inc., Optical Metrological, Renishaw Plc., Hexagon AB, Trescal SA, Carl Zeiss Corporation, and FARO Technologies Inc.
Developments for launching new products, measuring technologies, mergers, and acquisitions for expanding the physical presence, and increased R&D are the few strategies adopted by the key participants in order to increase their presence.