Growing demand for low-volume & high throughput screening methods to drive the microfluidics market
The global microfluidics market size was valued to be around USD 2.2 billion in 2015 and is expected to grow at a CAGR of around 18.3% over the forecast period. The market for microfluidics is expected to boom owing to the demand for low-volume sample analysis, high-throughput screening methodologies, introduction of advanced technologies, such as lab-on-chip and the demand for In Vitro Diagnostics (IVD). Moreover, microfluidics offers high return on investment and helps in cost control by minimizing errors.
The potential offered by this sector has attracted both industry and academia to introduce newer techniques of sample identification and technologies that can bring down mechanical errors. The first microfluidic patent was applied in 1991 after which the number increased to 550 in 2013. Some of the main patent applicants were Samsung, Caliper Life Sciences, Philips, the University of California, Caltech, and Fluidigm Corporation.
Microfluidics Market Size & Trends, By Region, 2013 - 2024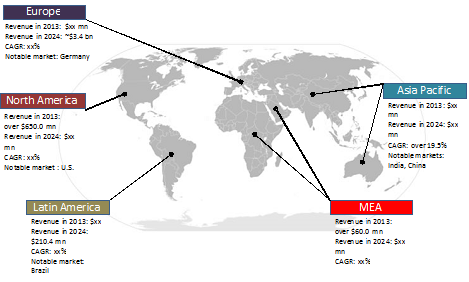 With the increasing aging population, healthcare expenditure is shooting up and hospital stays are extending. This factor has triggered the use of Point-of-Care (POC) diagnostics for pre-hospital and home care. Devices such as the blood sugar testing meter and blood pressure monitoring chips have reduced hospital visits and the overall healthcare expenditure. POC is expected to witness a strong growth over the forecast period due to penetration of the market by microfluidics devices.
IVD was the largest application segment in the microfluidics market
IVD commands largest revenue share in 2015 owing to its expanding application such as the POC. Moreover, companies such as Abbott, Roche Diagnostics, Cephied, and Becton, Dickinson and Company (BD), are adopting microfluidics in the IVD. Abbott i-STAT and Samsung LabGeoPT10 are examples of single-step as says that enable blood glucose testing with a single drop of blood.
The medical device is expected to witness fastest growth due to the introduction of novel drug delivery systems, such as micropumps and microneedles. These devices enable delivery of the drug in the form of nano- and microparticles, thereby, decreasing the onset of action.
Polymer based materials to dominate the microfluidics market
Polymer-based microfluidics has largest revenue share in the material segment in 2015. Glass material is majorly used in manufacturing analytical devices. With the increasing introduction of POC diagnostics, silicon material is expected to witness fastest growth during the forecast period. In January 2011, IOP Publishing published a research article that established silicon/polymer as a cost-effective alternative over silicon/glass.
High penetration of advanced technologies to help North America dominate the microfluidics market
North America dominated the microfluidics market because the presence of prominent market leaders, introduction of advanced technologies, large number of researches to improve the sample volume optimization techniques, and the strong market growth of POC diagnostics.
Moreover, strong financial backing by organizations is expected to pour in new POC diagnostics for chronic diseases, such as cancer and stroke. For instance, in December 2011, Grand Challenges Canada and the Bill & Melinda Gates Foundation donated USD 31 million to innovate POC diagnostics.
Asia Pacific is the fastest growing region due to the availability of field experts, strong research infrastructure, and low labor cost. All these factors have attracted international players to establish their research labs in economically developing countries, such as India and China. In March 2016, Achira Labs launched ACIX-100, a POC device for the analysis of bold serum sample. The device reduced the sample analyzing time from 24 hours to 30 minutes.
Private funding is a key sustainability strategy adopted by key market players such as Roche, Illumina, Agilent, PerkinElmer, Danaher etc.
Some key industry contributors are Illumina, Inc.; Agilent Technologies; Caliper Life Sciences (acquired by PerkinElmer, Inc.); Cepheid; Danaher Corporation; Life Technologies Corporation (acquired by Thermo Fisher Scientific, Inc.);Bio-Rad Laboratories, Inc.; Abbott Laboratories; F. Hoffmann-La Roche Ltd; and Fluidigm Corporation.
Companies are spending millions of dollars to encourage more research in the field of diagnostics. In May 2016, Hoffmann-La Roche Ltd granted USD 18.2 million to Purigen Biosystems for developing bench top system for genomic testing.