Industry Insights
The Middle East cables market is poised to grow at a significant rate owing to huge investments in various mega projects in construction, infrastructure, oil & gas and power sectors. Power cables are used in various applications in the industrial and commercial sector. They are widely used in overhead, buildings and underground wiring applications to transmit electricity. Rapid advancements in telecommunications and core electronics technologies are expected to diversify the application areas for the Middle East cables industry.

Proliferation of tree retardant (TR) insulation material has greatly reduced the occurrence of water treeing, which is expected to be a key opportunity for utility companies. Technological advancements in the commercial sector such as lightweight LVDC high temperature superconductor (HTS) cable upgrades have contributed significantly towards enhancing the efficiency of power cable transmission. Installation advantages such as simplified placement requirement, faster installation and reduced cost provide avenues for market growth. However, rising raw material prices is expected to hinder Middle East cables market growth over the forecast period.
Product Insights
The Middle East cables market primarily includes products such as low-voltage (LV) cables, medium-voltage (MV) cables, high-voltage (HV) and extra high-voltage (EHV) cables. LV cables have a capacity of up to 1 kV, MV cables between 1 kV and 33 kV, HV cables between 33.1 kV and 230 kV whereas the EHV cables have a capacity of over 230 kV. HV and EHV cables are suitable for being run underwater or underground. HV cables have the structural elements of insulation, conductors and a protective jacket; the overall assembly is used for transmission of electric power. They differ from lower-voltage cables as they have additional internal layers in the insulation jacket to control the electric field around the conductor.
Middle East cables market by product, 2012 - 2020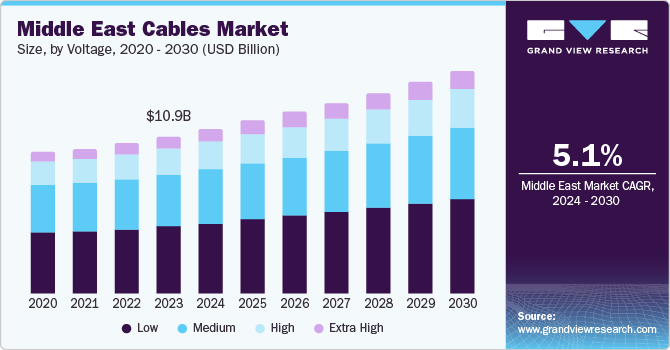 LV cables also known as overhead power lines are mainly employed in buildings for power distribution and specialty purposes. Increasing emphasis on urbanization in the Middle East owing to increased purchasing power is the major factor driving the market over the forecast period. Medium-voltage cables are most widely used cables in the Middle East. Cross-linked polyethylene, commonly abbreviated XLPE or PEX, is widely used as electrical insulation in power cables especially suited for medium-voltage applications. XLPE insulations possess a low dielectric factor and can be laid in earth, in air or in tubes.
Application Insights
The commercial sector includes hotels, restaurants, telecommunication etc. Increasing construction activities in the Middle East region has spurred demand for cables in the commercial market. The industrial sector mainly encompasses industrial robotics, instrumentation cables, gas production & petrochemicals, power generation and transmission. There have been a number of contributing factors that significantly spurred Middle East cables market growth. Increasing number of power sector projects has drawn considerable investment from the GCC participants. The interconnection power grid project is expected to interconnect the major Gulf countries including Oman, Kuwait, UAE, Qatar, Bahrain and Saudi Arabia. The project has the capacity to transport 1200 MVA by AC transmission.
Regional Insights
Development of new smart cities, for instance, Mohammad Bin Rashid City (UAE), Lusail City (Qatar), Basra New City (Iraq) and King Abdullah Economic City (KSA) and the followed upgrading of infrastructure have been amongst the major factors for Middle East cables market growth. In addition, Qatar's project market has ample opportunities, with smart city programs being the focus of major developments in working towards their vision for 2030 and delivering for the World Cup in just less than eight years. The Kuwait Metro and Oman Rail projects and several energy projects are also all expected to be built over the next few years.
Major industries have made alliances and joint ventures with the local players that have fueled industrial growth in the Saudi Arabia and UAE.
Competitive Insights
Local key players in the Middle East cables market such as El-Sewedy, Saudi Cables, Ducab, and Riyadh Cables acquire critical material from domestic as well as global partners. Companies work in collaboration with suppliers to ensure raw material availability to support their production plans. In some cases, companies stock raw materials to ensure availability. For instance, Bahra Cables, MESC, and Jeddah Cables have integrated vertically with recent investments in polymer compounding capacity. Other manufacturers have been integrating into end-use services such as turnkey project management offered by OEMs.