Industry Insights
The global multiple sclerosis therapeutics market size was valued at USD 20.01 billion in 2015. The rising base of the target population suffering from relapsing-remitting and secondary progressive multiple sclerosis coupled with the increasing demand for novel potent drugs is a key factor driving market growth.
The presence of a strong drug pipeline in the form of drugs such as Ocrelizumab and Zinbryta, and their expected commercialization during the forecast period will improve usage rates.
U.S. multiple sclerosis therapeutics market, by type, 2012 - 2024 (USD Million)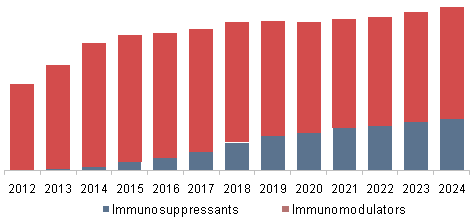 Multiple sclerosis is considered one of the most common causes leading to disabilities in individuals. The estimated base of the target population in 2016 is around 1 million worldwide and around 450,000 in the U.S. Organizations, such as the National MS Society and Multiple Sclerosis Association of America (MSAA), are actively involved in educating people and spreading awareness regarding the associated symptoms such as unusual sensations and tingling or pain in parts
The presence of high unmet needs in the progressive form of multiple sclerosis therapeutics market and the rising demand for highly efficient and rapid acting drugs are likely to encourage manufacturers to make certain additions or modifications to their existing product portfolio. For instance, Biogen Idec launched Plegridy, a long-acting PEGylated version of its interferon Avonex.
Drug Class Insights
Immunomodulators (Copaxone, Avonex/Plegridy, Gilneya, Tysabri, Betaseron/Extavia, Tecifidera, Rebif, and Ampyra) and immunosuppressant (Aubagio, Lemtrada, Ocrelizumab, and Zinbryta) are used for the treatment of multiple sclerosis and its associated symptoms.
The immunomodulators segment held the largest market share in 2015. Higher prescription rates, brand loyalty, and the presence of a wide range of drug alternatives are some key drivers attributing to its largest share.
However, the immunosuppressant market is anticipated to witness a strong growth of over 19.0% in the next ten years owing to, the expected commercialization of Zinbryta (Daclizumab) in 2016 and Ocrelizumab in 2017. The associated advantages of these drugs, such as high efficacy, effective administration with low dosage requirement, and minimal side effects, are expected to spur growth over the forecast period.
Mode of Administration Insights
On the basis of the mode of administration, multiple sclerosis therapeutics market is segmented into oral, intravenous, and injectable. Over the forecast period, the oral drugs market is expected to witness the fastest growth of over 14.0% owing to the introduction of novel oral drugs such as Ozanimod, Laquinimod, Tecfidera, and Siponimod (BAF312).
Regional Insights
North America dominated the multiple sclerosis therapeutics market in 2015 with revenue estimated at over USD 13.0billion. High diagnostic rates in the U.S. leading to a subsequent rise in prescription rates have helped the regional market gain dominance in North America. Over 80.0% of sales of Copaxone were in the U.S. in 2015.
The Asia Pacific market is the most lucrative, marked by the presence of a large number of future growth opportunities. High presence of unmet needs coupled with the growth in infrastructure will likely boost growth over the forecast period. Key players in an attempt to capitalize on these growth opportunities, are entering into agreements with local drug manufacturers. For instance, Teva Pharmaceuticals and Takeda Pharmaceuticals entered into a collaborative agreement in 2013, for the distribution of Copaxone in Japan.
Competitive Market Share Insights
Key players of the multiple sclerosis therapeutics market include Biogen Idec, Teva Pharmaceuticals, Bayer Healthcare, Pfizer, Sanofi-Aventis, Merck, and Novartis.
Key manufacturers are involved in initiatives such as new product development in an attempt to sustain market dominance. For instance, in 2013, Biogen Idec introduced Tecfidera (dimethyl fumarate). The drug is expected to contribute over 35% market share of ABCR (Copaxone, Avonex, Betaseron, and Rebif) drugs by the end of 2016.
Companies are also actively involved in collaborating with other drug manufacturers for the co-development of drugs such as Rebif (Merck Serrano and Pfizer), Ampyra (Acorda Therapeutics and Biogen Idec), and Laquinimod (Active biotech and Teva pharmaceuticals). This initiative is expected to help manufacturers strengthen their product portfolio in the multiple sclerosis therapeutics market.