Industry Insights
The global myeloproliferative disorders drugs market size was valued at USD 7.35 billion in 2017. It is expected to register a CAGR of 3.4% during the forecast period. The U.S. was at the forefront of the seven major markets.Availability of novel drugs along with presence of a strong pipeline is one of the key trends stoking market growth. Besides this, increasing incidence of myeloproliferative disorders due to growing geriatric population as well as changing lifestyles and rising public awareness are providing an upthrust to the market.
Chronic myeloproliferative disorders are rare hematological malignances that involve abnormal accumulation of mature myeloid cells (red blood cells, granulocytes, and platelets) and their precursors (myelocytes, metamyelocytes, nucleated red blood cells, and megakaryocytes) in the peripheral blood and bone marrow.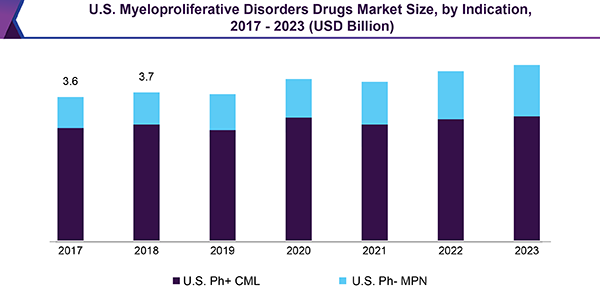 The available drugs have not shown disease-modifying activity and are still largely inadequate for managing major unmet needs, which include prevention of hematological progression, normalization of life span, reduction of cardiovascular complications, and improved quality of life. Strong unmet needs within the market present a key opportunity to develop breakthrough first-in-class therapies.
The future myeloproliferative disorders treatment landscape has a high probability of gaining an array of first-in-class therapies and it is anticipated that several novel treatments will gain approvals within the forecast period.Although historically the growth graph of the market has been modest, companies continue to assess novel therapeutic approaches and combination regimens that could potentially improve treatment outcomes. Some prominent players operating in the market are Celgene, Bristol-Myers Squibb, Gamida Cell, Incyte, Geron, Promedior, and Johnson & Johnson.
Indication Insights
The market is segmented into Philadelphia chromosome–positive chronic myeloid leukemia (Ph+ CML) and Philadelphia chromosome–negative myeloproliferative neoplasms (Ph- MPNs). The latter can be further divided into myelofibrosis (MF), polycythemia vera (PV), and essential thrombocythemia (ET).Incidence rates of myeloproliferative disorders are the highest in North America and Western Europe and lowest in East-Asian countries.Most patients are diagnosed with MPNs after 60 years of age, however, the disease can occur in any age group.
Myelofibrosis (MF) is a disorder of bone marrow in which proliferation of abnormal bone marrow stem cells results in fibrosis or replacement of the marrow with collagenous scar tissue. MF includes primary myelofibrosis (PMF) as well as myelofibrosis transformation from prior polycythemia vera (post PV MF) or essential thrombocytosis (post ET MF). Polycythemia vera (PV) is characterized by uncontrolled proliferation of red blood cells. An elevation in hemoglobin leads to increased blood volume and viscosity, and an elevated rate of thrombosis.Essential thrombocythemia (ET) is characterized by an elevation in platelet count and tendency towards vascular occlusive events and hemorrhage.Chronic myelogenous leukemia (CML) is a myeloproliferative neoplasm characterized by uncontrolled proliferation of granulocytes and the BCR-ABL1 fusion gene located in the Philadelphia chromosome. CML is classified as Philadelphia chromosome positive MPN.
Therapeutic Class Insights
Allogeneic bone marrow transplantation (BMT) is a potentially curative treatment in early stage of myeloproliferative disorders, although relapses and mortality from complications such as chronic graft-vs-host disease (GVHD) may occur after transplantation.Less than 10.0% of patients undergo the procedure owing to presence of severe comorbidities, advanced age, or lack of donors. Standards of care are targeted agents such as Gleevec, Tasigna, and Sprycel for CML and Jakafi for MF and PV along with generic chemotherapeutics such as busulfan and hydroxyurea.
The treatment landscape formyeloproliferative disorders patients has undergone multiple changes since the approval of Gleevec and Jakafi for CML and MF, respectively.Opportunities remain in the Ph- MPNs setting where there exists unmet needs for a safer drug than Jakafi with higher cure rates as well as treatment options for patients who are Jakafi intolerant. Therapeutic development in second-line setting of Jakafi intolerant patients is estimated to have a major impact on the MF and PV market. Currently, there are no drugs approved for patients who are refractory or become unresponsive to Jakafi treatment. Novel agents are likely to be introduced in later-lines of treatment to target major unmet needs including overcoming tumour resistance, improving progression-free survival, and maintaining quality of life.
Country Insights
The U.S. dominated the global myeloproliferative disorders drugs market in 2017, followed by Germany. The country is anticipated to maintain the leading position until 2023. Multiple product launches during the forecast period, increasing adoption of novel therapeutics, and presence of a large target population are among the primary growth stimulants for the market in the U.S.
Germany will lead among the top five EU markets until 2023. The U.K., Italy, and France markets are projected to exhibit modest growth over the forecast period. New product launches during the forecast period will play a pivotal role in driving these markets.The seven major markets are poised to experience higher growth rates than rest of world.
Myeloproliferative Disorders Drugs Market Share Insights
Some of the prominent companies operating in the market are Novartis, Bristol-Myers Squibb, Pfizer, Takeda, Incyte, and Teva. Collaborations for development, broader product portfolios, and regional expansion in emerging markets are the key strategic undertakings of these companies to increase their market share. Low-cost generic Gleevec is expected to achieve rapid uptake and become the most popular first-line treatment for CML.
As the only treatment approved for MF and PV for refractory patients, Incyte has significant pricing power and has a first-mover advantage over competing pipeline treatments. Novel pipeline candidates targeting MF indication are estimated to be used for Jakafi intolerant or refractory patients.
Report Scope
| | |
| --- | --- |
| Attribute | Details |
| Base year for estimation | 2017 |
| Forecast period | 2017 - 2023 |
| Market representation | Revenue in USD Million & CAGR from 2017 to 2023 |
| Country scope | U.S., U.K., Germany, France, Italy, Spain, Japan |
| Report coverage | Revenue forecast, company share, competitive landscape, growth factors and trends |
| 15% free customization scope (equivalent to 5 analyst working days) | If you need specific information, which is not currently within the scope of the report, we will provide it to you as a part of customization |

Segments Covered in the Report
This report provides an analysis on the market trends in each sub-category as well as forecasts revenue growth 2017 to 2023. For this study, Grand View Research has segmented the myeloproliferative disorders drugs market report based on indications and seven major markets:
Indication Outlook (Revenue, USD Million, 2017 - 2023)

Country Outlook (Revenue, USD Million, 2017 - 2023)

U.S.

U.K.

Germany

France

Italy

Spain

Japan
Frequently Asked Questions About This Report