Industry Insights
The global natural fiber composites market size was valued at USD 4.46 billion in 2016. It is likely to register a CAGR of 11.8% from 2016 to 2024. Spiraling demand for lightweight products from the automotive industry and growing awareness regarding green products are among the key trends escalating market growth. However, moisture sensitivity of these composites is poised to hinder the growth of the market.
Natural fibers are bio-based materials manufactured using materials such as wood, cotton, flax, kenaf, and hemp. All these materials are less harmful to the environment and easily available. Raw materials used to manufacture natural fiber composites are environment-friendly and has the potential to replace synthetic fibers over the coming years.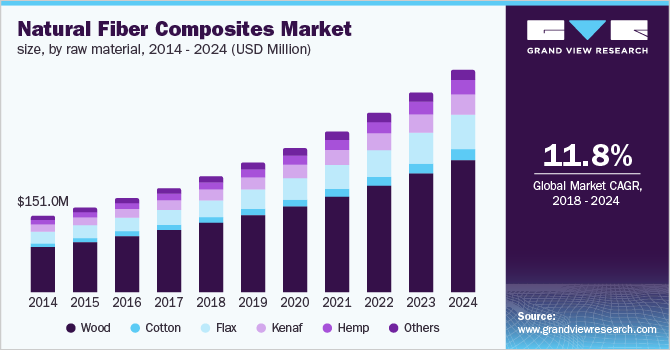 Rising awareness about green products, increasing disposable income of consumers, growing inclination towards eco-friendly products, and urging uptake of recyclable products are likely to play a vital role in the growth of the market.
Natural fiber composites (NFC) are 25.0% to 30.0% stronger than glass fibers of the same weight. Composites made from natural fibers help in reduction of mass of the component, thereby lowering the total energy consumption. In addition, molding process of NFC consumes less energy than glass fiber molding process, which reduces the production cost by 10.0%.
Moisture sensitivity and weak bonding with polymer matrices are anticipated to hamper growth prospects. They absorb moisture, which results in swelling of fibers. Therefore, their application in the automotive industry is limited to car interiors only.
Raw Material Insights
Some of the major raw materials include wood, flax, kenaf, cotton, and hemp. Wood dominated the market and represented 59.3% of the overall revenue in 2015. The trend is estimated to continue until 2024. Advantages of wood such as high strength and solidity are projected to fuel its utilization over the coming years.
Flax was one of the most widely used materials in 2015, with a market share of 13.0%. Flax is CO2 neutral, vibration damper, and renewable as compared to carbon fibers. Advantages of flax, including high tensile strength, ultraviolet rays blocking properties, vibration absorbent, and high water retention, are rendering it into one of the most used raw materials in the industry.
Cotton belong to the seed fiber category which is commonly used for textile all over the world. Cotton is comparatively weak than other natural fiber due to its moisture absorption property. It can absorb moisture up to 20% of its dry weight. The market in this segment is expected to grow with growth of textile and sporting goods industries.
Use of kenaf has been growing in various industries such as construction, oil & chemical absorbent, food packaging, and automotive. The material is highly sustainable and can be completely recycled. Swelling demand for biodegradable products is likely to play an instrumental role in stimulating the growth of the market.
Composites that are made from hemp can replace glass fiber in many applications, and they are biodegradable. Surging demand for eco-friendly and renewable materials from the automotive and construction industries are poised to trigger the growth of the segment.
Matrix Insights
The market, on the basis of matrix, has been segmented into inorganic compound, natural polymer, and synthetic polymer. The natural polymer matrix is anticipated to witness the fastest growth over the forecast period. Rising demand for green products due to changing lifestyles and growing trend of go green is expected to supplement the growth of the segment.
Inorganic compounds are one of the most effective matrices in the market. These are mainly applied on wooden fibers. Inorganic compound accounted for a large share of 43.4% in 2015 and it is estimated to continue the trend over the coming years. Wood fibers with inorganic matrix have benefits such as improved toughness, cracking deformation of composite, and tensile strength.
Natural polymers include starch, rubber, and synthetic polymers such as PLA and PHB (polyhydroxy butyrate). Growing demand for renewable and degradable products are projected to propel the market over the coming years. This segment accounted for a share of 25.1% in the market in 2015.
Synthetic polymers are used as a matrix for wood fibers, which include thermoplastics and thermosets. This segment is likely to account for the second largest share over the coming years.
Technology Insights
On the basis of technology, the natural fiber composites market has been segmented into injection molding, compression molding, and pultrusion. Injection molding requires low molecular weight polymer to maintain low viscosity. It is mainly used to produce parts in large volume. Growing demand for large volume production from end-use industries is poised to contribute to the growth of the segment.
Injection molding accounted for a revenue share of 10.0% in 2015. It is a high-volume, high-pressure, closed molding method used for the development of composite products. This method is followed by two steps, namely, preheating and pressurizing.
Compression molding is a high pressure, high volume molding method mainly used to mold high strength and complex objects for industries such as automotive, transportation, appliance, and other high-volume segments.
Pultrusion process is largely used to produce various products in rail transport, aerospace, boats & marine, sports goods, wind turbine blades, storing, and transporting corrosive liquids. Demand for low weight, maintenance free, corrosion resistant, and electrically nonconductive products are expected to support the growth of the segment.
Application Insights
NFC is majorly used in automotive and construction industries to manufacture door panels, seat backs, dash boards, truck liners, headliners, decking, railing, window, and frames. Electronics and sporting goods are promising segments in the market. Numerous products such as mobile cases, laptop cases, tennis racket, bicycle, frames, and snow boards are produced using natural fiber composites.
Natural fiber reinforced bio-composites are used in the automotive industry to produce lightweight parts with good mechanical property in order to improve fuel efficiency and reduce CO2 emissions. It contributes to weight reduction by 30.0% and cost reduction by 20.0% during manufacturing of a vehicle. This segment accounted for the revenue share of over 30.0% in 2015.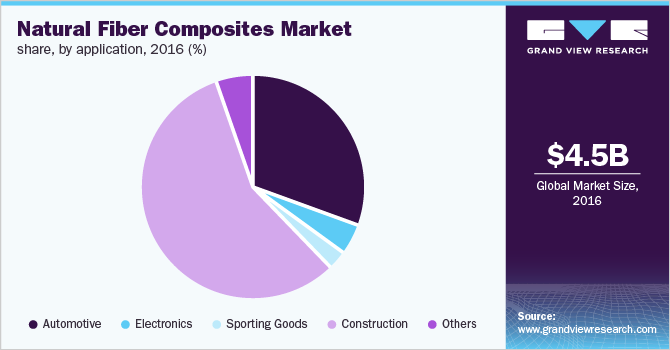 NFCs used in the automotive industry are developed using wood as well as non-wood fibers such as flax, hemp, and cellulose as an alternative to glass fiber. The resultant products are lighter compared to modern materials. Use of these materials in manufacturing process leads to cost reduction by approximately 20.0%.
Natural fibers are a cheap and sustainable alternative to synthetic and metallic fibers used as building materials. In some cases, its mechanical properties such as impact resistance, flexural properties, and fracture toughness are better than glass fibers. The construction segment held 56.0% of the overall market volume in 2015.
Regional Insights
Soaring demand for NFC manufactured from flax, growing popularity, and surging demand for consumer goods is anticipated to provide a significant push to the North America market. NAFILEAN process in the automotive industry in the region has resulted in sustainable design for center consoles, instrument panels, and door panels.
Extensive research is being done by European car manufacturers to develop natural polymer matrix for front and rare door lines, boot lines, and parcel shelves. Europe accounted for a share of 15.4% in terms of volume in 2015.
Germany is one the largest producers of automobiles and a major importer of hemp in Europe. Increasing demand for biodegradable and lightweight products from the automotive industry in order to increase fuel efficiency is estimated to stoke the growth of the country.
Sporting goods, electronics, and automotive industries in Asia Pacific are projected to register a healthy growth rate in the coming years due to increasing disposable income coupled with improving standard of living. China dominated the Asia Pacific market and it is likely to continue the trend over the coming years.
Natural Fiber Composites Market Share Insights
The market is very competitive in nature, with the presence of many multinationals and small producers operating their businesses through a variety of products and a wide distribution network.
The companies in the industry are highly integrated from the manufacturing to distribution of finished products to various locations. FlexForm Technologies LLC; Procotex Corp SA; TECNARO GMBH; UPM Biocomposites; Trex Company, Inc. are some of the key players in the industry.