Industry Insights
The global natural fiber composite market size was over USD 3.50 billion in 2015. Superior properties as compared to traditional fibers, namely carbon and glass fiber, is expected to propel growth over the forecast period. Natural fiber composite offers excellent mechanical properties, high durability, lightweight, and low cost. Moreover, the products are being increasingly used in the construction and automotive industry to comply with the government regulations related to carbon emissions. Growing consumer awareness regarding energy efficiency and saving through the use of renewable sources is expected to have a positive impact on demand over the next eight years.
Europe natural fiber composites market revenue, by application, 2013 - 2024 (USD Million)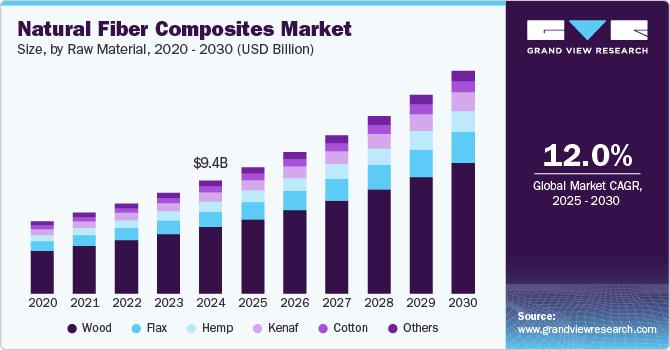 Development of high strength synthetic fibers is likely to pose a challenge for the market over the coming years. Lack of awareness regarding these composites coupled with the high availability of carbon and glass in developing economies has led to the low penetration of natural fiber composites over the past years. However, growing utilization in the automotive industry and price reduction on account of economies of scale is likely to open new opportunities for the market.
Application Insights
Construction segment dominated the market with over 50.0% of the volume share in 2015. High utilization of the product in decking and siding & fencing applications globally is likely to propel demand over the forecast period.
The automotive industry is expected to witness significant growth on account of increasing demand for lightweight vehicles, particularly in Asia Pacific and South America. Manufacturers have been increasingly utilizing the product to reduce vehicle weight, thus facilitating high fuel efficiency and low cost. European countries namely Germany and the UK are expected to witness a significant shift in consumption habits due to growing demand for sustainable products from automotive manufacturers in the region.
Raw Material Insights
The wood-based composites segment accounted for the significant share of over 60.0% in the market. Rapid infrastructure development coupled with increasing demand for energy efficient buildings is expected to propel demand over the forecast period. Moreover, rising awareness is expected to drive utilization of the product in building up gradation and renovation activities in developed economies.
Flax, kenaf, and hemp are increasingly being used for application in automotive industry. In addition, these products are also becoming popular for use in electrical & electronics and consumer goods which is expected to have a positive impact on demand over the next seven years.
Matrix Insights
The natural fiber composite market has been segmentedon the basis of the matrix as inorganic compounds, natural polymers, and synthetic polymers. Inorganic compounds including clay, lime, and cement are increasingly used in natural fiber composites over the past years. These act as insulation and are highly used in construction industry. Natural polymers segment is expected to witness considerable growth on account of increasing R&D activities and superior properties as compared to other products.
Technology Insights
The key technologies used for producing natural fiber composites include injection molding and compression molding. Compression molding accounts for a share of over 75.0% on account of high utilization for the development of wood as well as non-wood fiber composites. Injection molding is expected to become widely popular over the coming years on account of growing technological know-how.
Regional Insights
North America accounted for the significant share of about 50.0% on account of high application scope in the construction industry. Early adoption coupled with technological advancement is expected to be the key factors propelling growth over the forecast period. Asia Pacific is projected to witness a rapid increase in demand on account of growing construction and automotive industry. Moreover, numerous car manufacturers have been investing increasingly in the region to reduce cost and cater to rising demand. In Europe, car makers including BMW and Audi have been adopting non-wood fiber composites for designing of interior and vehicle exterior parts. The regulations and standards set by the Corporate Average Fuel Economy (CAFE) to reduce vehicle weight are likely to have a positive impact on demand over the next eight years.
Competitive Market Share Insights
Key companies include Rex Company Inc., Fiberon LLC (U.S.), UPM Biocomposites (Finland), FlexForm Technologies (U.S.), and Advanced Engineering Recycling Technologies (AERT). In January 2015, Fiberon entered into a partnership with BlueLinx Holdings Inc. to enhance distribution of composite decking and railing products for independent dealers, lumberyards, builders, and property owners.