Industry Insights
The global newborn screening market size was valued at USD 640.5 million in 2014. Increasing cases of congenital diseases in newborns and growing demand for testing are anticipated to drive demand. Technology innovation, rising paranoia of parents, availability of new treatment options and government initiatives aimed at enabling the diagnosis of about 29 possible disorders such as phenylketonuria (PKU), galactosemia (GS), congenital hypothyroidism (CH) and hearing disorders in neonates are expected to play a critical role in the future market development.
The Public Health Foundation of India, in one of its initiatives, estimated that over 400 million infants are affected by metabolic disorders such as G6PD deficiency, globally. Africa, Middle East, and subtropical Asia are the majorly affected regions, as per the organization.
U.S. newborn screening market, by technology, 2012 - 2022 (USD Million)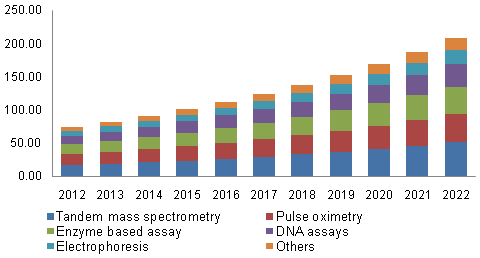 Increasing awareness and rising demand for newborn diagnosis is expected to propel demand over the forecast period. This is expected to trigger the establishment of diagnostic institutions. For instance, Taiwan in 2009, established its first international quality assurance program for G6PD testing.
According to statistics published by the CDC, over four million babies are tested annually for metabolism-related dysfunctions across all 50 states of the U.S. In the U.S., state-run newborn related programs have improved child healthcare tremendously over the last two decades.
The Research Triangle Institute (RTI) in collaboration with the CDC, National Center on Birth Defects, and Developmental Disabilities is further conducting research studies and programs to develop awareness pertaining to newborn screening policy practices.
Employment of advanced technologies working as integrated diagnostic systems is likely to boost usage rates. For instance, the Metabolic Screening Database System (MSDS), by Natus Medical, manages higher data demand for tandem mass spectroscopy and renders faster results and higher reliability.
Technology Insights
Key technology segments include tandem mass spectrometry, pulse oximetry; enzyme & DNA-based assays and electrophoresis. Tandem spectroscopy (MS/MS) is likely to grow at the fastest CAGR of 11.1% over the forecast period, due to its high function in diagnosing an array of conditions in a single procedure. It helps in the concurrent recognition of amino acids, carnitine conjugates, and other compounds.
These products are expected to witness high demand due to cost effectiveness, higher applicability, and technological up gradation. Promotion of Federal Agencies promoting mandatory testing of 50 conditions that can be easily screened using MS/MS technology is a major driving factor for this segment.
Product and Test Insights
Dry blood spot tests dominated the overall newborn screening industry accounting for over 45.0% of revenue. The card used for testing is provided free in North America as a plan to promote higher procedure volume.
Critical Congenital Heart Disease (CCHD) is one of the commonly occurring disorders, which is screened using the pulse oximeter based technology. It is estimated that 18 out of 10,000 infants suffer from CCHD, which may lead to death if undetected. The growth of this segment is anticipated to affect the market substantially over the next seven years.
Regional Insights
North America newborn screening market dominated global demand owing to the growing prevalence of cardiovascular disorders and enforced testing in all the 50 states of the nation. Asia-Pacific is expected to witness lucrative growth over the forecast period due to, the presence of favorable healthcare schemes drafted by government agencies.
Awareness programs and quality assurance of newborn diagnostic procedures have gained importance in the developing economies of Korea, China, Taiwan, India and Sri Lanka since the last few years. Improving infrastructure and healthcare plan and the availability of new opportunities for expansion are expected to play a major role in driving demand over the next seven years.
Competitive Insights
A large portion of the newborn screening market share is held by companies like Agilent Technologies Inc., Natus Medical Inc., Covidien Plc, Trivitron Healthcare, GE Healthcare, Masimo Corp., AB Sciex LLC, Waters Corp., PerkinElmer Inc. and Bio-Rad Laboratories Inc.
The players are actively involved in strategic partnerships and mergers and acquisitions in order to ensure sustainability. For example, Trivitron Healthcare and Agilent Technologies have partnered to initiate collaboration in the area of high precision in-vitro diagnostics based on the LC-MS/MS platform.