Industry Insights
North America car air fresheners market size was valued at USD 764.1 million in 2014. The industry is characterized by changing consumer preference and strategic marketing efforts undertaken by key industry vendors. Significant increase in consumer goods owing to the recovery of economy in Canada and the U.S. is expected to drive impulse buying across the region.
U.S. car air freshener market by product, 2012 – 2022 (USD Million)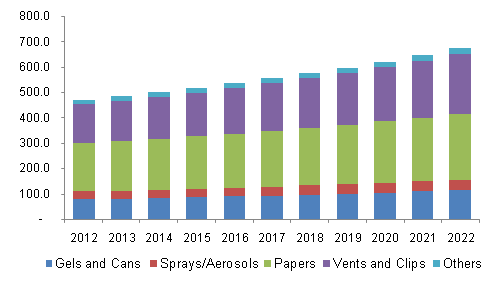 Increasing demand for natural/organic products is expected to drive innovation in product offerings by various players in the industry. Additionally, longer commutes have created a need for attractive and chemical-free products, which is estimated to trigger car air fresheners market demand over the next seven years.
Changing lifestyle of the immigrant population is projected to boost demand during the forecast period. Various channels including hyper/supermalls, auto wash/auto repair shops, automotive shops and car wash stations have been propelling product sales. Launch of new product ranges capable of delivering freshness is estimated to drive demand. Varied innovations in exotic aromatic compounds and aromatherapy combined with consumer preferences for natural fragrances are also projected favorably impact consumption.
Significant shift from synthetic to organic products is anticipated to offer lucrative growth opportunities for the North America car air fresheners market. Further, innovative design, product packaging and effective distribution channel are expected to be the key drivers for the industry. However, concerns about chemicals and allergens limiting the usage of synthetic products can act as a restraint.
Product Insights
North America car air fresheners market can be classified by product into gels and cans, sprays/aerosols, vents & clips, and paper-based products. Product differentiation and innovation efforts have led to a considerable shift from traditional sprays to gels. Growing trend of incorporating aromatherapy fragrances into products along with advertising their mood-boosting and health benefits is expected to be a key industry trend.
Vents & chips are oil-based products, compact in size and can be fixed in air conditioning vents with clips. These products have been gaining popularity owing to the propulsion through air from the air conditioner. Gels & cans have gained significant demand as they last longer and are easy to carry than conventional products. The industry for sprays/aerosols is estimated to decline over the next seven years owing to consumer preference for environment friendly products.
Regional Insights
The U.S. is estimated to be the dominant region growing at a CAGR of 3.9% from 2015 to 2022 owing to changing demographic trends and high living standards of consumers.
Increasing number of automobile owners combined with large consumer base is estimated to drive demand in Canada. The U.S. car air fresheners market is estimated to be a large consumer of gels & cans and is projected to grow at a significant rate over the forecast period. Growing hygiene concerns among consumers and high income per capita is projected to impel regional growth.
Rising awareness towards organic products is expected to increase opportunities for players in Canada. Potential tie-ups with service centers, pre-owned car dealers, and petrol/gas stations would increase impulse purchase by customers.
Market Share Insights
The North America car air fresheners industry is dominated by local and international players such as American Covers Inc, Car-Freshner Corporation, Auto Expressions Inc, ABRO Industries Inc, Jenray Products, S.C. Johnson & Son, Inc, Chic Accessories, Carmate Manufacturing Co Ltd, Procter & Gamble Co., and Henkel AG & Co. Vendors are focusing on manufacturing organic and natural products to extend their presence across the region.
Developments in digital marketing and expanding mass merchandise channels have been adopted by the players to boost growth over the forecast period. Manufacturers are introducing multipurpose products that offer multiple benefits of deodorization and air purification. Growth is anticipated to be driven by new product development and advancements in product concepts, such as the launch of Procter & Gamble's vent clip brand Febreze in 2012.