Industry Insights
The North America & Europe release agents market was valued at USD 564.3 million in 2015. Rising use of these products to prevent bonding of exterior materials to numerous food items including baked goods is expected to have a positive impact over the next eight years.
Release agents help in reducing the occurrences of products sticking to the baking vessel, mold or grill during baking. This characteristic helps in retaining the shape and size, which is of particular importance for industrial bakers that conform to standards regarding weight, size, and aesthetics. Besides bakery products, release agents are also used in meat goods and packaged products to avoid sticking of the product to the pan during cooking.
U.S. release agents market revenue, by application, 2013 - 2024 (USD Million)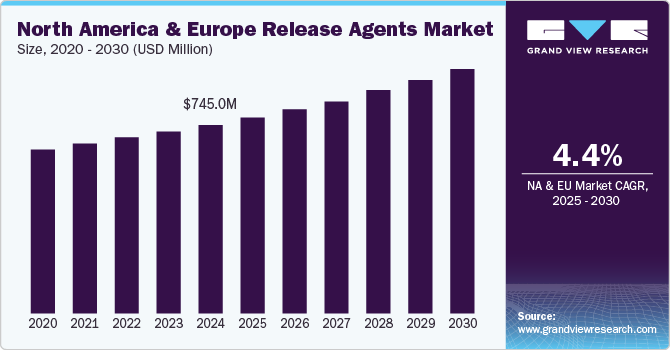 The market is governed by numerous regulations implemented by the U.S. FDA and the European Commission. These regulatory bodies have outlined a rigorous framework for manufacturing and usage of release agents. Furthermore, various companies are focusing on product innovation to increase their penetration in the market. In February 2016, Sonneveld launched Pan Coating Spray, a 600 ml aerosol that is suitable for bread and pastry products. Companies associated with the industry are also undertaking product innovation regarding equipment development.
The increasing trend towards the production of food on an industrial scale has resulted in the development of release agents that exhibit characteristics such as uniform browning, storage stability, and surface structure. Furthermore, they are applied to the surface of the food item; thus, have to be used in limited quantities. The application of excessive and improper release agents result in creating an oily surface as well as deforming the final product.
Over the past few years, the governments of Spain and Germany have launched numerous campaigns to promote a healthier lifestyle among its citizens by manufacturing innovative products to reduce cholesterol levels, obesity, and diabetes. This trend is expected to play a crucial role in supporting the application of baked products such as fresh bread and thus likely to improve the product's usage over the forecast period.
Application Insights
Bakery & confectionery was the largest application, accounting for 78.9% of total volume in 2015. The shifting trend towards consumption of fiber-based foods in developed countries including the U.S. and Germany on account of increasing awareness towards nutritional enrichment is expected to fuel the demand for baked products over the forecast period.
Packaged foods segment is projected to witness revenue growth at a CAGR of 2.3% from 2016 to 2024 attributed to the increasing sales of convenience foods including potato chips, cheese bowls, and nuggets in the primary market including the U.S. and Germany.
Raw Material Insights
Vegetable oil was widely used as a release agent, accounting for 51.2% of the total market volume in 2015 and the trend is expected to continue over the forecast period. Vegetable oil including rice bran, wheat germ, and soy, exhibit excellent film formation and stability against oxidation. Furthermore, their ease of incorporation in spray systems is expected to promote usage over the forecast period.
Emulsifiers are projected to foresee fastest revenue growth at a CAGR of 3.4% from 2016 to 2024 in light of increasing use of sorbitan esters and lecithin for providing improved wettability and distribution of the release agents on the baking surface.
Product Insights
Release agents were primarily utilized in the liquid form as they are easier to use in comparison to its alternatives. Liquids accounted for over 75% of the total volume in 2015. They are typically used through spray bottles, by protecting the liquid from the environment as well as preventing the gummy build up, in addition to reducing wastage.
Regional Insights
Europe was the largest market, accounting for 51.2% of the total volume in 2015 and the trend is likely to continue over the forecast period. High prevalence of bakery enterprises, as well as processing facilities in Germany, France, and Italy, is expected to result in growing demand for release agents. Furthermore, increasing the importance of processing aids in food & beverage sector of developed markets including UK, France, and Italy for reducing the wastage cost incurred from food stickiness is expected to amplify the role of release agents over the forecast period.
Competitive Insights
The market is fragmented in nature with the presence of numerous manufacturers. The market is also characterized by integration across the value chain resulting in companies gaining an edge over their competitors. Manufacturers including ADM, AAK, and Bunge are integrated across various stages of the value chain, where these companies manufacture raw materials and consume them captively to produce release agents. Other companies including Avatar Corporation, Dow Corning, DuPont, and Mallet and Co. are also engaged in the business of producing and distributing the product. Product innovation and mergers & acquisitions are some of the strategies being adopted by these companies to increase their market presence.