"High demand for maintenance of air quality is projected to drive fragrance wax melts market growth over the upcoming years"
The North America fragrance wax melts market size was estimated at USD 1.05 billion in 2015 and is expected to witness significant growth owing to the availability of these products in various shapes and sizes. Changing lifestyles, hygiene concerns, and busy work schedules have led the consumer to use more fragrance products at home for maintenance of proper ambiance which will drive industry expansion over the next eight years.
Fragrance wax melts are relatively cheaper than other products including room fresheners, scented candles, and reed diffusers, which is expected to increase its consumption over the forecast period. Growing importance of aromatherapy at homes as it induces pain relief, cognitive function, brain stimulation, and mood enhancement is expected to create immense growth opportunities over the upcoming years. Furthermore, abundant availability of raw materials including paraffin wax on account of the presence of large oil & gas companies will stimulate industry expansion over the forecast period.
North America fragrance wax melts market, by country, 2013 - 2024 (USD Million)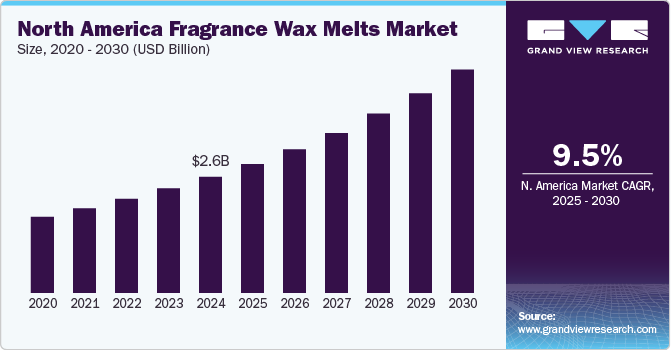 Volatility in raw material prices is expected to restrain industry development over the projected period. Technological advancements and development of alternative raw materials will open new avenues over the forecast period. Gaining popularity of reed diffusers as home fragrance products owing to its easy and safe usage and long lasting scents will hinder industry growth over the forecast period.
Industry participants are involved in research activities to make their products more environment and user-friendly. Paraffin waxes emit soot and gasses which may be harmful to humans and animals. Development of fragrance wax melts from alternative sources including bees, palm, soy, and para-soy wax will open new avenues for the industry growth. The introduction of unique fragrance and attractive designs by manufacturers along with the availability of all types of warmers including electric and non-electric will stimulate market development over the upcoming years.
"The U.S. is expected to dominate North America fragrance wax melts market till 2024"
The presence of significant petroleum and essential oil companies along with the abundant soya bean production in the U.S. will create high availability of the raw materials. The U.S. market is expected to witness substantial growth in light of greater penetration of the product in the country coupled with increasing usage of air fragrance products and growing demand for better air quality.
Consumers are spending more time at home on account of freelancing, telecommuting and work-from-home culture in the U.S. Spending more time at homes has led consumers to increase spending on home hygiene and cleanliness. Moreover, development of new exotic aromatic compounds coupled with the practice of aromatherapy at homes will further fuel the industry growth over the forecast period.
Mexico accounted for 6% of the overall share in 2015 and is expected to witness high gains despite the lack of consumer knowledge regarding fragrance products. Rapid industrialization coupled with growing per capita income will augment product demand. Rising consumer awareness regarding air quality and air care is expected to propel the demand for the product over the forecast period.
"The market is highly fragmented owing to the presence of a large number of regional manufacturers"
Key operating companies in the industry include Scentsy, Yankee Candle, Rimports Limited, S.C. Johnson, Reckitt Benckiser, East Coast Candles, AFFCO, Candles by Victoria, Scentchips, Inc., Walmart, Michaels, and Scensei.
Scentsy is a major manufacturer of scented wax melts and candles and offers various types of products including spring & summer, classics, romance, corner cafe, and new releases wax melts.
Yankee Candle offers candles, wax melts, frameless fragrance, gifts, and accessories. The company's marketing network and global distribution include more than 560 stores located across 50 of the U.S. states. The company has over 2,000 retailers across the globe for the distribution and sales of its products.
Major participants indulge in the manufacturing, sales, and distribution of their products. Apart from retail outlets, the majority of manufacturers market their products through online portals. Availability of various shapes and sizes along with fresh essential oil blends by major players will create enormous market potential over the next eight years.