Industry Insights
The North America home healthcare market size was valued at USD 756.8 million in 2014 and is expected to grow at a rate of 10.9 % over the forecast period. Growing base of geriatric population, triggering the incidence rate of target diseases, and the increasing need to curb healthcare expenditure as an economically viable initiative are some high impact rendering drivers of this market.
With rising prevalence of chronic diseases, treatment expenditure is expected to grow continuously over the forecast period. This personalized care is a cost-effective solution to control curbing treatment expenditure and acts as high impact rendering driver for the industry.
North America home healthcare market, by product, 2012-2022 (USD Million)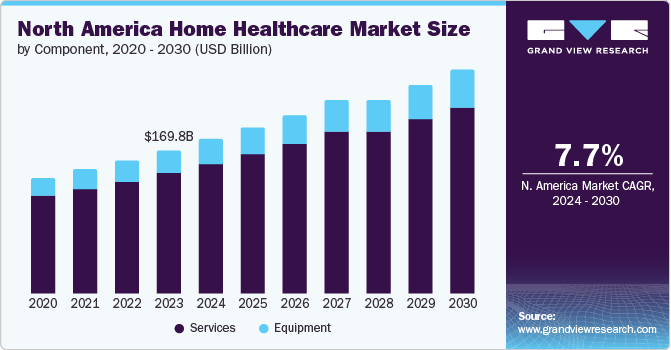 As per statistics published by the U.S. Bureau of Labor Statistics, health aides and personal care aides used in a home-setting are expected to rise by 70% from 2010 to 13 million in 2020. Additionally, the home healthcare employment is expected to grow at a rate of 55.0% from 2006 to 2016 making it the fastest-growing occupation of the next decade thereby, impacting the growth of industry positively.
The market is expected to be primarily driven by the huge geriatric population base which is highly susceptible to various diseases such as pressure ulcers and venous stasis ulcers. As per the World Health Organization (WHO) statistics, the global base of population pertaining to the age group – 60 years and above is expected to rise by 841 million in 2014 to reach 2 billion in 2050. Therefore, the growing global geriatric population base coupled with the fact that approximately 70% of home health patients belong to the age group of 65 years and above, is expected to drive market demand during the forecast period.
Product Insights
Key products available in this industry include wound care, mattress overlay, seating cushion and heel protectors. Wound care comprising wound care products, wound care dressings, wound closures and wound cleanser, lotions & creams dominated the overall product segment with over 65.0% of the revenue shares in 2014 and is also expected to witness lucrative growth over the forecast period. This can be attributed to increasing incidences of diseases such as pressure ulcers, diabetic ulcers, and venous stasis ulcers.
Wound infection is a major safety concern for patients as well as medical professionals, thus wound care market is expected to drive the demand as it significantly reduces the infection rates. An increasing number of geriatric patients in this region is further anticipated to amplify wound care product demand. Hence, rising incidences of wound infections coupled with rising awareness about personal hygiene are expected to boost the growth of North America home healthcare market.
Furthermore, increasing incidences of diseases such as pressure ulcers, diabetic ulcers, and venous stasis ulcers, growth in demand for advanced wound care products is expected in order to treat these conditions. Wound care products help to improve the overall well-being of patients affected by the aforementioned disorders, thereby creating high demand for these products in independent care.
Service Insights
Key services encompassed in the study include home care, unskilled care, Durable Medical Equipment (DME), and other services. Home care service held the largest revenue shares of 32.0% in 2014 owing to a high geriatric population which demands self-care. Additionally, this service offers benefits such as familiar surroundings, personalized care, and reduction in treatment costs.
On the other hand, DME which includes mobility assistance and other services is expected to witness lucrative market growth over the forecast period owing to their rising utility in long-term care coupled with the availability of favorable reimbursement on these devices.
Regional Insights
Key regions analyzed and estimated in this study are the U.S., Canada, and Mexico. The U.S. dominated the overall North America home healthcare market with over 80.0% share. The presence of a large base of geriatric population in this region, coupled with sophisticated healthcare infrastructure and relatively higher patient disposable income levels are some vital drivers of this market. Moreover, increasing the number of supportive government initiatives aimed at curbing treatment expenditure levels by promoting independent care is expected to serve this market as a driver.
Competitive Market Share Insights
Key players operating in this industry include Invacare, Hill-Roam Holdings, Stryker, Span America, Johnson & Johnson, Smith & Nephew, Kinetic Concepts, Molyncke HealthCare, ConvaTec and Medline Industries. The key trend witnessed in this market includes new product launches, strategic alliances, and mergers & acquisitions to gain an edge over competitors.
In February 2014, Medline industries acquired professional health supply (PHS), a distributor of medical and surgical supplies along with sterile procedures. This forward integration strategy helped the company to open up exclusive distribution channels of Medline products thereby saving distribution costs.