Industry Insights
North America polyurethane (PU) market was valued at USD 12.09 billion in 2015. The growth of major end-use industries such as automotive and construction particularly in Mexico is expected to be a key determinant of industry growth over the forecast period.
The U.S. Army uses polyurethane materials to insulate their tents and other structures at bases in the Middle East region. PU is used in a wide array of consumer products providing durability, comfort, lightness in weight and also costs less as compared to its alternatives such as polyolefin foams. Aforementioned properties have made the polymer a preferred option for many industries
U.S. polyurethane (PU) market revenue by product, 2010 - 2024 (USD Million)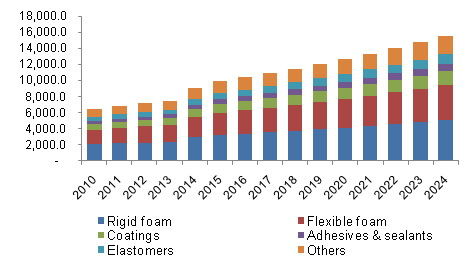 Rising concerns regarding continuously increasing energy cost, GHG emissions, and the subsequent energy losses have facilitated the importance of energy-efficient households and other buildings. This trend along with the government support to establish energy efficiency is poised to have a positive impact on market growth over the forecast period.
Changing trend towards light-weight automobiles to improve fuel efficiency in the region is expected to complement demand since they are capable of providing significant weight reduction. Auto manufacturers with the aim of improving the performance of automobiles are focusing on components that are made of plastics. Increasing automotive production in the U.S. is also anticipated to fuel demand
Technological advancements have led to an evolving electronics and appliances industry where PU is used to encapsulate, seal, and insulate the fragile, pressure sensitive, small electronic components as well as underwater cables. They provide insulating and adhesive characteristics along with the solvent, temperature, and water resistance, resulting in increasing demand by the electronics industry.
Methylene diphenyl diisocyanate (MDI) and toluene diisocyanate (TDI) are the major raw materials used in the production process. Volatile raw material prices owing to fluctuation in prices of feedstock such as benzene are expected to pose a challenge to market growth over the future. Also, since MDI and TDI are highly toxic, the industry is scrutinized under stringent regulations and is heavily dependent on crude oil dynamics.
North America industry is expected to be driven by growing residential construction industry across the U.S., Canada, and Mexico. Growing infrastructure activities in order to improve public transportation along with expanding manufacturing facilities specifically in Mexico are expected to drive demand over the forecast period.
Product Insights
Rigid polyurethane foams emerged as the dominant product segment accounting for 33.8% of the total market volume in 2016. It is expected to maintain its dominance by gaining market share and accounting for 34.3% by 2024. They are primarily used as an insulation material in various constructional and refrigeration applications resulting in energy efficiency and thereby enhanced performance. The growth of these end-use industries has positively impacted PU market growth in the region.
Flexible polyurethane board, on the other hand, is expected to register increased demand from end-use industries such as furniture, transportation, bedding, packaging, textiles and others owing to superior properties such as durability, resiliency, energy absorption and handling strength. The product accounted for 30.2% of the overall volume in 2016 and is expected to gain market share by 2024, growing at an estimated CAGR of 4.3% from 2016 to 2024.
PU coatings are used for providing high gloss, improved color retention, and corrosion resistance. Rapid industrialization, economic progress, and increasing disposable income have fostered the development of automotive, consumer goods, and electronics sectors, leading to higher coatings demand in component manufacturing applications.
End-Use Insights
Construction was the largest end-use industry for PU foams in North America and accounted for 33.6% of the market in 2016. Increasing infrastructure spending in the U.S., in order to improve existing road and public infrastructure has been a major factor driving the market growth in construction. Increasing demand for better infrastructure in Mexico on account of urbanization and industrialization is also expected to drive market growth over the forecast period.
Electronics & appliances are anticipated to emerge as the fastest growing segment growing at an estimated CAGR of 5.5%, with share expected to reach 9.9% by 2024, rising from the current share of 8.8% in 2016. The shift in consumer trend towards more compact, smart, and portable devices that work faster and possess a lot of different features has led to the miniaturization of electronic appliances and components which require polyurethane adhesives to function optimally
Regional Insights
The U.S. dominated the regional market with 82.6% market share in 2016, owing to high demand for PU products from several major end-use industries that include furniture, construction, packaging, and automotive. High consumer disposable income, a revitalized automotive market and high popularity of personalized; individually packaged consumer goods generated high demand for PU in recent years.
PU demand in Mexico was estimated at 361 kilo tons in 2016, which is projected to rise to 563.4 kilo tons by 2024 at a CAGR of 5.7% from 2016 to 2024. The impact of recent constitutional reforms has begun to remold the Mexican economy, leading to greater construction activities across the region. Total investment in the construction sector reached USD 148 billion in 2014, according to the Mexican Chamber of Construction. Increasing demand for energy-efficient and lightweight materials is likely to promote PU demand in this rapidly expanding industry.
Competitive Insights
North America polyurethane market is majorly concentrated with four chemical giants including BASF, Bayer Material Science, The Dow Chemical Company and Huntsman Corporation accounting for over three-fourth of the total production in North America. Key companies in the industry other than the four mentioned include American Polyfilm, Inc., Alchemie Ltd., Tosoh America, Inc., Ashland, Inc., and Mitsui Chemicals America, Inc.