Industry Insights
Global oil and gas drill bit market size was valued at USD 4.90 billion in 2014. High rate of fossil fuel extraction to meet the surging global energy demand has been a major factor driving the market growth since the past few years. Large scale drilling and Exploration and Production (E&P) activities in both onshore and offshore oilfields, particularly in Middle East and in the U.S. for past five years have led to significant requirement for drill bit.
North America oil and gas drill bit market revenue by product, 2012-2022 (USD Million)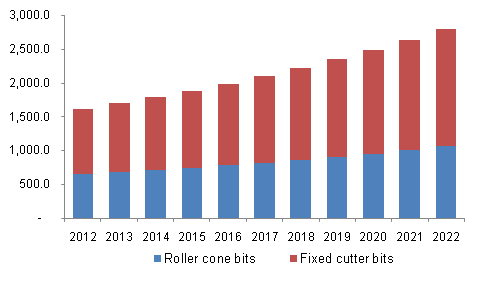 Depleting conventional oil & gas wells has led E&P companies to extract hydrocarbons from unconventional reserves such as shale, CBM, and tight blocks. Hydrocarbon extraction from these unconventional reserves requires special techniques and equipment that have enhanced longevity and durability.
Effective design and case-sensitive drill bit play a significant role in drilling routine in a typical E&P project. Profound analysis of complex drilling parameters such as circulating medium, rock strength, drilling systems and bottom hole environment, can lead to highly optimized operations. Effective selection of the type of bit to be used and in-depth material testing can lead to high cost savings and hence increase overall profitability.
Increasing requirement for optimized drilling performance along with growing concern of E&P companies to reduce operation costs owing to recent slump in crude oil prices has forced the OEM manufacturers to improvise the bit designs. Companies such as Smith bit have developed rolling polycrystalline diamond cutter which increases overall performance and durability in extreme operating conditions.
Technological advancements, along with changing customer preference towards cost effective equipment, are estimated to create new opportunities for future development. Companies have been constantly involved in enhancing the drill bit expected life cycle along with designing hybrid extraction equipment.
Product Insights
Roller cone oil and gas drill bit was the largest product segment accounting for over 70% of total market in 2014 and is expected to reach a net worth of over USD 1,060.0 million by 2022. Roller cone segments are estimated to dominate the market owing to their low costs and suitability for soft and conventional formations. However, it's expected to lose share to fixed cutters owing to increased explorations in unconventional plays and encountering hard rocks at greater depths.
Tricone or roller cone bit are further categorized as milled-tooth and tungsten carbide inserts. These products are configured to be used in soft formations more efficiently than other downhole tools. Recent innovations in developing sealed bearings would prevent corrosion of bearings and minimize failure risks.
Tungsten carbide inserts offer hard facing and gauge protection to protect downhole equipment from the failure due to abrasion. While milled-tooth cuttings are suitable for scraping action in soft formations, tungsten carbide inserts help enhance the overall durability against medium to extremely hard formations.
Fixed cutter drill bit demand was estimated to be over 320 hundred units in 2014 and is expected to grow at a CAGR of over 5.5% from 2015 to 2022. Drill bit with diamonds implanted on them are gaining significance owing to their increased resilience to extremely hard surfaces.
Increasing PDC demand in shale and sandstone formations can be attributed to their high rate of penetration (ROP) and suitability for diverse range of rock formations. Topography and geology play major role in choosing the bit type for specific operations viz., exploration and extraction. Its extended durability has led more number of PDCs to be used in the U.S. and Canada oil & gas E&P.
Regional Insights
North America drill bit market dominated the global industry with over 35% total volume share in 2014 and is expected to witness moderate growth over the forecast period. Dominance of regional market can be attributed to increased shale gas drilling in the region.
Increasing crude oil and natural gas demand along with large proven reserves in Gulf of Mexico and Canada are expected to drive exploration projects in both offshore and onshore reserves. Surging exploratory activities in unconventional formations such as shale and CBM are expected to drive the requirement for durable and efficient drilling equipment and downhole tools. Oilfield directional drilling is further anticipated to drive the PDC bit demand over the forecast period.
Asia Pacific is anticipated to witness the fastest growth over the forecast period and is expected to reach a net demand of over 790 hundred units by 2022. Population growth coupled with increasing automotive industry growth is anticipated to spur oil consumption in the region.
Declining production in conventional oil fields is expected to drive the new reserves exploration and development. High growth of the market in this region can be attributed to increasing demand for oil products in China and India. China has invested in building new oil refineries in partnership with companies in Middle East and Africa. Commissioning such projects in Asia Pacific and Middle East is expected to influence oil product trade balance.
Competitive Insights
Global oil and gas drill bit market share is highly consolidated with top five players accounting for over 70% of the market share in 2014. These companies compete on the basis of product differentiation and pioneering solutions. Some of the major companies are involved in forming strategic collaboration and acquiring small and regional players as part of their strategies to gain market share and sustain the existing competition.
Schlumberger was the industry leader with a market share of 22.5% of the total market revenue in 2014. The company offers a wide range of application-specific bit and is constantly involved in innovation to enhance the portfolio and maintain the industry dominance.
Other companies operating in the market include National Oilwell Varco, Halliburton, Baker Huges, Atlas Copco, Varel International, Inc., Torquado Drilling Accessories Inc., and Kingdream Public Limited Company.