Industry Insights
The global oil storage market size was 1.42 billion cubic meters in 2015. Oil production has witnessed significant growth rate as compared to the demand from end-use industries. This has urged the suppliers to enhance their inventories and infrastructure to store large quantities of crude oil.
U.S. Oil Storage Market Volume By Product, 2014 - 2025 (Million Cubic Meters)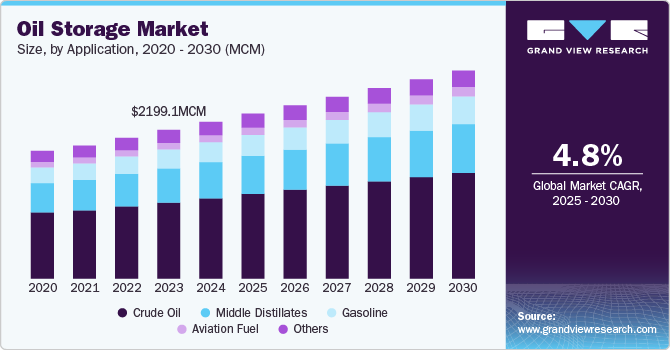 In addition to pricing, it also offers protection from short time supply fluctuations of crude and its derivatives. Various countries including the U.S., China, and India have adopted stockpiling initiatives to minimize the price volatility and ensure consistent supply to the end-use sectors. The U.S. government has remained favorable for domestic players in the upstream sector.
Initiatives such as Strategic Petroleum Reserve for stockpiling large volumes of oil enable the government to protect the supply from price spikes and stock out incidents. As it forms a significant source of energy and power, its availability and distribution contribute to the achievement of sustainable targets.
Rising inventory amidst the reduced consumption is a major concern for the suppliers. This can be attributed to the economic losses pertained to the non-selling products coupled with the stringent regulations regarding stockpiling of oil in above and below-ground tank installations. Control of Pollution (England) Regulations 2001 and the Water Environment (Scotland) Regulations 2006 are some of the major legislation that need to be adhered by industry participants in Western Europe.
As oil leakage has steered various revisions in regulations, storage equipment vendors have made ample investments regarding economy and manpower for fabricating steel tanks. There are two forms of material used in this process, namely, carbon steel and stainless steel. Among various forms of carbon steel namely, low, mild, and high carbon steel tanks have witnessed significant prominence among others.
Although low product price plays in favor of carbon steel, stainless steel is expected to witness significant demand in locations of high air salinity, and open storage facilities. In addition, the chromium content contributes to enhanced resilience against strong chemicals, thereby strengthening its demand in the global market.
Product Insights
The market majorly comprises fixed & floating roofs, and open-top tanks (OTT). The choice of tank design is influenced by the type of input product, namely, feedstock, unfinished, or finished. While OTT is majorly used for liquids with negligible to zero evaporative losses, it enhances the risks of product contamination and fire incidents.
Fixed roof dominated the product segment in 2015, and is anticipated to account for over 45% of the total market by 2025. High penetration of the segment can be attributed to its associated benefits such as high degree of containment that minimizes risks of a fire incident. In addition, low installation costs associated with the design have contributed to significant penetration of the product over the past few years.
However, floating roof tanks (FRT) are expected to witness significant growth over the forthcoming years. This trend can be attributed to the benefits associated with product design such as minimizing corrosion and evaporative losses. FRT segment is categorized as external and internal. The floating roof is anticipated to grow at a CAGR of over 5% over the forecast period.
Application Insights
These tanks are significantly used for gasoline, crude oil, aviation fuel, and middle distillates. Oversupply of petroleum products coupled with reduced demand from midstream and downstream sectors has attributed to its significant penetration among other applications. Storage demand for crude oil is anticipated to exceed 1 billion cubic meters by 2025.
However, ongoing capacity expansions and rising demand from diesel and fuels in power & energy and transportation sectors are expected to steer demand for gasoline, aviation fuel, and other petrochemical derivatives over the next few years. Gasoline is anticipated to emerge as the fastest-growing application segment and grow at a CAGR of over 4.5% over the next nine years.
Regional Insights
Surging oil production coupled with increasing refinery throughput in the Middle East has attributed to the significant share in the global market. Countries such as Saudi Arabia, Kuwait, and the UAE were the major countries leading the market in 2015. Surging demand for petroleum, distillates, and fuel in various industrial and commercial sectors has played a major role in driving tank demand in the region. Crude oil storage demand in Saudi Arabia is anticipated to reach 67.4 million cubic meters by 2025.
North America emerged as another major region with significant oil stockpiling demand. The utilization rate of above and below-ground storage capacity in the U.S. has increased by 19% from 2014 to 66%, registering a stock of 435 million barrels in 2016. Oil storage demand in the U.S. was 290 million cubic meters in 2015. Ongoing proposals for enhancing the domestic unconventional reservoirs are anticipated to steer tank demand over the forecast period.
Asia Pacific oil storage market is also expected to witness a turnaround in petrochemical demand over the forthcoming years. Oil storage demand in the region is expected to grow at a CAGR of 5.6% from 2016 to 2025. Growing investments in onshore and offshore operations coupled with SPR and commercial tank construction in India, China, and Singapore are anticipated to play a major role in steering market growth.
Competitive Insights
Key companies operating in the global oil storage market include ZCL Composites, Zepnotek Storage Tanks, Marquard & Bahls AG, LF Manufacturing, Columbian Steel Tank, Belco, and Palmer. Marquard & Bahls offers a broad range of tank designs that cater to crude oil, biodiesel, bioethanol, vegetable fats, and middle distillates storage requirements across the five regions.