Industry Insights
This report analyzes the global parking sensors market. Parking sensors can be defined as proximity sensors which are used in automobiles to enable the driver of the vehicle to park safely. They are Advanced Driver Assistance Systems (ADAS) that alert the driver to any obstacles and are proving to be particularly useful on account of reducing parking spaces and a growing number of vehicles. The average car has been witnessing changing dimensions, making it increasingly difficult to park without causing physical damage to the vehicle. Additionally, parking sensors boost safety and can prevent potential injury to pedestrians. Since they can detect children, other vehicles, walls, pillars, fences, etc., which are ordinarily obscured from view, parking sensors are expected to witness growing demand in the coming years.
According to the Department of Transportation, a considerable percentage of accidents occur while the vehicle is in the reverse gear. These can be mitigated to a large extent using parking sensors, which are installed in the rear bumper bar of the vehicle. To maintain the aesthetic value of the vehicle, they can be color-coordinated with the exterior. They work in collaboration with an internal buzzer or siren, which gradually increases in frequency when the vehicle approaches an object. An optional LCD may also be installed which shows the distance between the automotive and the object. This serves as an effective warning to the driver and can prevent a potential accident. Typically, two or four sensors are used, along with the internal siren and a control interface. Six or eight sensor systems may also be employed for greater coverage and may be wired or wireless.
Technology Insights
Parking and reverse sensor technologies include ultrasonic and electromagnetic technologies. Ultrasonic technology is older and uses sound waves to measure the distance between nearby objects. Four to six sensors are typically mounted on the bumper with the help of drill holes and have to be painted to match the color of the bumper. The sensors then send and receive ultrasonic signals, and detect anything that enters the signals. The signal is converted into an audible siren to communicate the information to the driver. A considerable benefit of this technology is its ability to detect objects and obstacles even when the vehicle is stationary. However, these sensor systems suffer from drawbacks such as limited detection range. Also, ultrasonic parking sensors may prove to be physically too deep for installation in the vehicle's bumper due to the presence of the crash protection bar.
Electromagnetic technology offers a large number of advantages, the foremost of which is the absence of visible parts. Electromagnetic parking sensors eliminate the need for drill holes, thereby preserving the appearance of the vehicle. A transceiver adhesive strip is placed along the length of the inner side of the bumper. When the car is in reverse gear, the control unit generates a magnetic field which is then transferred onto the adhesive strip. As a result, these sensors also help in detecting objects at the side of the bumper instead of just directly behind the bumper. In contrast to ultrasonic technology which requires two types of sensors to send and receive signals, the transceiver strip functions in a consolidated manner. The control unit detects an increase in voltage if an object such as a vehicle, person, etc. enters the magnetic field. A series of audible tones then alert the driver to the obstacle, enabling him to take an informed decision. Additionally, these sensors are only capable of detecting objects when the vehicle is in motion. Electromagnetic parking sensors are self-diagnostic since they have an inbuilt maintenance system, which provides real-time feedback. Front parking sensors are also available along with a switch that can be turned on when required, thus preventing the audible tones from becoming a nuisance for the driver.
Installation Insights
Parking sensors could be installed by the original equipment manufacturer (OEM) or through aftermarket services. Aftermarket sensors are significantly cost-effective as compared to those through OEM installation. This is primarily since genuine sensors installed by OEMs are made specifically for the make and model of the vehicle under consideration. Furthermore, the construction and fitment of OEM parking sensors are superior, thus ensuring they last longer.
Parking sensors market revenue share by installation, 2012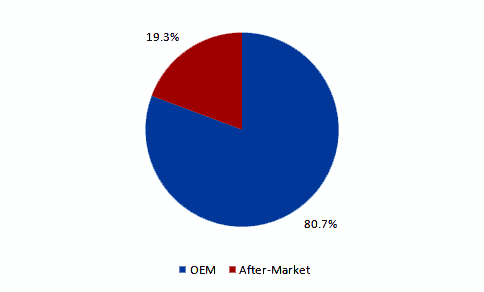 Low-quality sensors may become easily damaged, and the driver is not alerted in case the vehicle is in very close proximity to an obstacle. Ultrasonic parking aid is relatively cost-effective, and aftermarket systems cost approximately USD 50. Ultrasonic parking sensors can also be installed by OEMs; however, prices in this scenario range from USD 500 to over USD 1,000. Electromagnetic sensors are more expensive as compared to their counterparts, with aftermarket installation costing over USD 100.
Regional Insights
North America accounted for 38.5% of the global parking sensors market in 2012 and is expected to maintain its leadership position through the forecast period. The number of sensors used in automotive in this region is on the rise. Growing need to ensure safety for pedestrians and alleviating potential damage to the vehicle caused by driver error is expected to be the key driving force for the regional market. Additionally, initiatives by regulatory bodies are expected to boost product demand in the coming years. On account of shrinking parking spaces, Boston's Department of Transportation has rolled out an app for its parking sensors project, which is expected to alleviate traffic flow as well as simplify the task of looking for a parking spot. Ensuring safety is paramount in densely populated areas, which is expected to result in growing adoption. The market in Europe also accounted for substantial revenue share, and growing sales of high-end cars fitted with superior quality sensors are expected to drive growth. Asia Pacific is expected to be the fastest-growing regional market, with an estimated CAGR of 20.1% from 2014 to 2020.
Parking Sensors Market Share Insights
There are a large number of market participants, primarily comprising sensor manufacturers and major original equipment manufacturers. For example, BMW offers Park Distance Control, which consists of ultrasound sensors that work in conjunction with an acoustic signal. When the vehicle is 30 cm away from the nearest large obstacle, an unbroken warning tone serves as a signal to brake. Some models are also equipped with a control display that allows the driver to see obstacles in a parking space. The Parking Dynamics PD1 parking sensor offers an electromagnetic parking aid, with an electronic control unit (ECU) and speaker. It is compatible with any car or vehicle, such as an SUV or MPV.