"Demand for mild and multifunctional products led to active ingredient development"
The global personal care specialty ingredients market size was USD 9.62 billion in 2015. Growing consumer awareness regarding the toxicity of synthetic chemicals used in personal care products and toiletries is expected to propel the market for organic ingredients over the next eight years.
Personal care products with negligible skin irritation have gained significance among various consumer age groups. This trend can be attributed to the increasing access to health forums via internet sources. In hair care segment, the shifting preference toward water-based products over the solvent-based alternatives is attributed to the ease of utility and minimal damage caused to hair by prolonged usage.
U.S. personal care specialty ingredients market revenue by product, 2014 - 2024 (USD Million)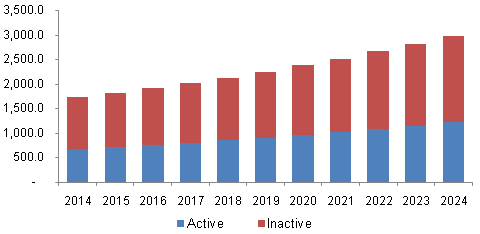 The above trend has urged the manufacturers to shift toward the use of mild ingredients such as sulfate-free anionic surfactants, which are preferred over conventional products such as sodium lauryl ether sulfates. A similar trend was also witnessed in the other product segments such as anti-microbial and anti-aging product categories.
Major sources for the active ingredients comprises raw materials such as soybean, neem, fish oil, xanthan gum, and guar gum. While xanthan gum is majorly used in skincare, hair care, makeup, and bath products, soy-based ingredients find significance in anti-aging products. Specialty ingredients demand is primarily influenced by the price and availability of these raw materials for the further production of cosmetic chemicals.
While climatic conditions influence the raw material production and supply, regulatory norms govern the extraction and processing of ingredients from these sources. Certification bodies such as EcoCert, BDIH, Certech, and Soil Association have established stringent guidelines for cosmetics based on the food standards. These guidelines influence the trading of products that are not produced according to the guidelines. These strategies are anticipated to impact false labeling of products and steer natural and organic personal care specialty ingredients market over the next eight years.
"Inactive elements were the leading product segment"
Inactivepersonal care specialty ingredients dominated the global demand accounting for over 58% of the total revenue in 2015. The product segment is expected to grow at a CAGR of 5.4% over the next eight years. High penetration of this segment can be attributed to its efficiency in enhancing the benefits of individual components of the cosmetic formulations. In addition, its enhanced compatibility with various formulations has led to increased adoption across several hair and skincare products over the past few years.
Active personal care specialty ingredients are expected to emerge as the fastest growing segment and reach a net worth of USD 6,520.1 million by 2024. High growth of this segment can be attributed to growing conditioning polymers and emollients demand in beauty products such as body washes, lotions, gels, and creams.
Conditioning polymers are expected to witness the highest growth within the active elements over the forecast period and reach a net worth of USD 1,147.7 million by 2024 at an estimated CAGR of 6.6% from 2016 to 2024. Shifting consumer preference towards multi-functional products has urged the formulators to develop products with both conditioning and other functionalities such as coloring and anti-dandruff treatment.
Ongoing research activities in polyquaternium and protein based ingredients to develop effective hair conditioning products is expected to offer ample opportunities for industry participants over the long term. The U.S. polyquaternium-based conditioning polymers market was valued at USD 39.1 million in 2015 and is anticipated to reach a net worth exceeding USD 65 million at an estimated CAGR of 6.7% over the forecast period.
"Asia Pacific was the leading regional segment followed by North America"
Asia Pacific personal care specialty ingredients market dominated the global demand in terms of valuation and is expected to grow at a CAGR of 6.0% over the forecast period. Shifting consumer trend towards at-home beauty treatment has contributed to the significant demand for skincare and hair care products in the region. In addition, ongoing research projects adopted by various start-ups in countries such as China, India, and Vietnam for formulating innovative products from local ingredients is expected to further drive R&D investments over the long term.
North America closely followed Asia Pacific in terms of market valuation and accounted for 27.8% of the total personal care specialty ingredients revenue in 2015. Shifting consumer trend towards UV protection and moisturizing products in the region especially in the U.S. and Mexico is expected to drive related personal care product demand over the next eight years.
Central & South America is estimated to witness sluggish growth owing to the insignificant regulatory scenario and prevailing dominance of petrochemical derivatives as key personal care ingredients. Brazil was the frontrunner in the regional market with a net worth exceeding USD 270 million in 2015.
"Innovative product development to drive industry competitiveness"
The global personal care specialty ingredients market is highly fragmented owing to the presence of a large number of independent small & medium scale manufacturers particularly in Asia Pacific and the Middle East. Some of the key manufacturers include Evonik, BASF, Inolex, Ashland, Naturex, Clariant, Dow Chemical Company, Akott, and LotionCrafter.
The top three companies including Evonik, BASF, and Inolex, are fully-integrated throughout the industry value chain ranging from basic raw materials (such as vegetable oil derivatives, glycerol, fatty acid esters, etc.) manufacturing to captive consumption for manufacturing finished cosmetic products.
The majority of the manufacturers are shifting from petrochemical derivatives to organic raw materials to meet the shifting consumer trend and maintain production sustainability in the long-term. Inolex, a major chemical manufacturer, in collaboration with BioAmber has developed a new range of sustainable and natural emollient for the personal care industry.
Ashland, Inc.developed a new ingredient last year, named Elixiance biofunctional, especially for anti-pollution effects. Aforementioned strategies are expected to steer investments for developing innovative product formulations over the next few years.