Industry Insights
The global personal protective gloves market size was USD 8.94 billion in 2015. Growing awareness towards disease prevention and consumer well-being in the healthcare sector is expected to drive gloves demand over the next eight years.
The global gloves market has witnessed surging demand owing to various seasonal factors such as viral disease outbreak and emergency response incidents in natural disaster inflicted regions. In addition, growing concern towards hand injury incidents in manufacturing and construction has also contributed to significant growth over the past few years.
U.S. personal protective gloves market revenue by product, 2014 - 2024 (USD Million)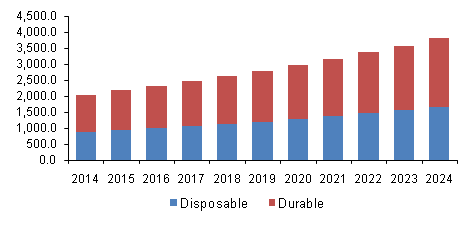 According to the U.S. Bureau of Labor Statistics, manufacturing sector comprised 40% of total hand injury incidents registered during 2014. Incidents involving hand injury or illness had the highest rate among upper body parts. Growing concern towards lost time injury frequency rates and losses associated with it has urged the employers in this sector to implement stringent steps against working personnel not complying with safety regulations.
In addition to the manufacturing sector, protective gloves have witnessed significant demand in healthcare sector owing to seasonal factors such as viral outbreak and infectious diseases. Growing awareness towards health and safety measures associated with patient treatment and emergency response incidents has played a key role in driving medical gloves demand in the healthcare industry. Risks associated with on-the-job transmission of germs and bloodborne pathogens has led to increasing adoption of disposable gloves in the medical and healthcare facilities.
Protective gloves demand is influenced largely by the weather conditions. Significant demand in colder climatic regions can be attributed to the surging demand for protection against low temperature and cut injuries. Low temperature plays as a seasonal factor in tropical regions while it plays an essential role for gloves demand in polar regions that are exposed to winter climate for over four months during a year.
Product Insights
Durable gloves dominated the product segment in 2015 and accounted for over 57.0% of total market revenue share and is anticipated to witness moderate growth over the next eight years. Increasing concern towards occupational injuries coupled with the surging requirement for durable and chemically resilient protective wear during high risk activities in various industries such as oil & gas, metal forming, construction, and manufacturing is anticipated to steer product demand over the forecast period.
Disposable gloves are expected to emerge as fastest growing segment and exceed net worth USD 6,934.5 million by 2024. Major materials used in disposable glove manufacturing include natural rubber, nitrile, vinyl, neoprene, and polyethylene. Growing concern towards product contamination in electronics, medical examination, and food processing industries is expected to drive disposable glove industry over the long term.
Raw Material Insights
Leather gloves have marked the significant presence in the protective gloves industry. This can be attributed to the protection it offers in cold environments and preventing splinters. Growing demand for safety gloves for handling the sharp tools and volatile chemicals in construction and woodwork are expected to drive leather gloves demand over the long term.
However, leather supply for protective gloves is expected to face stringent competition majorly from protective footwear industry. In addition, high costs associated with the leathers is expected to urge glove manufacturers to switch for less expensive sources.
Nitrile gloves are expected to emerge as fastest growing product segment owing to their increasing adoption in medical, chemical, painting, dentistry, laboratory, and oil sectors. Owing to its enhanced resilience to puncture and chemical as compared to vinyl and latex, this segment is expected to gain market share and account for 11.0% of global revenue share in 2024.
End-Use Insights
Manufacturing was the largest end-use segment for personal protective gloves and is expected to grow at a CAGR of 6.7% from 2016 to 2024. Various primary and ancillary processes involved in manufacturing industry such as welding, grinding and torch cutting may cause injuries to employees. Growing concern towards employee safety is expected to drive gloves demand over the next eight years.
Medical & healthcare is projected to witness high growth over the next eight years on account of rising concern towards disease spread and illnesses in tropical regions of Central & South America, Africa, and South East Asia. In addition, growing medical innovation coupled with recertification process is expected to steer protective gloves demand over the long term.
Regional Insights
Europe personal protective gloves market led the global industry and accounted for over 32% of total revenue share in 2015. Growing demand for protective gloves in industries such as oil & gas, healthcare, food processing, mining, and construction is expected to drive product demand over the next few years.
Stringent norms related to workplace health and safety are expected to drive product demand in the region over the forecast period. Growing concerns over respiratory fatalities coupled with stringent regulatory norms regarding asbestos and silica content are expected to drive product demand in various industries including the construction and mining industries.
North America emerged as second major gloves market and is expected to witness a moderate growth from 2016 to 2024. Product demand in this region can be attributed to stringent regulatory norms for employees in mining, construction, and healthcare sectors.In addition, increasing demand for protective gloves with multi-task functionality are expected to play a key role in steering product demand over the next eight years.
Competitive Insights
The global personal protective gloves market is highly fragmented and is marked with presence of largely integrated companies such as 3M, MSA Safety, Honeywell, Kimberly Clark, and Top Glove. Top Glove is a major supplier of nitrile and latex rubber gloves and is among top three industry players in Asia Pacific region. The company has an annual capacity of 44.6 billion gloves with 25 factories in South East Asia and has planned to increase its production capacity to 52.4 billion pieces by 2017.
Other major companies in the industry include Kossan Rubber, DuPont, Hartalega, Delta Plus, COFRA, Lindstrom, Mallcom, Radians, Globus, Midas Safety, Towa Corporation, Lakeland, Ansell, and Avon Rubber.