Increasing demand for laser surgery to drive the market growth
The global photomedicine devices and technologies market accounted for USD 314.9 million in 2015 and is anticipated to exhibit a growth rate of 4.6% over the forecast period. Growing geriatric population ensures the demand for vision correction procedures and laser surgeries thereby boosting the market growth over the forecast period.
In addition, rising awareness pertaining to minimally invasive aesthetic procedures and the introduction of advanced technologies for full body contouring and optical diagnostic procedures are key growth drivers for the photomedicine devices market.
Furthermore, increasing incidences of cancer are triggering R&D initiatives to develop innovative solutions for cancer treatment, which is anticipated to provide further growth opportunities. As laser treatment has proven to be effective in treating cancer, it is hence expected to gain popularity in the future.
U.S. photomedicine devices market revenue, by technology, 2014 - 2024 (USD Million)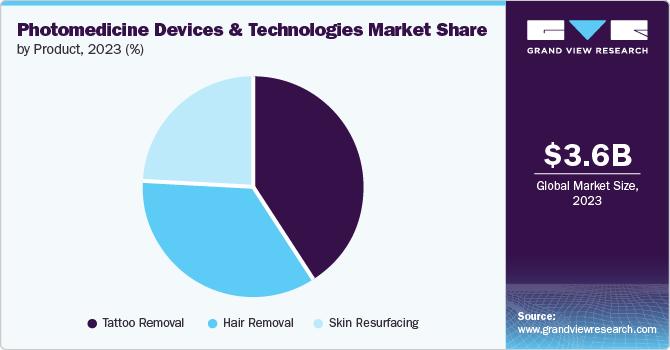 According to the estimates published by the American Society of Plastic Surgeon, in 2012, more than 45,000 people in the U.S. alone underwent body contouring procedures and the number is expected to increase over the forecast period. The above-mentioned factors serve as growth propellers for the expansion of the photomedicine devices vertical.
Laser technology held the largest revenue share
Laser technology dominated the overall market as of 2015, owing to a wide application in molecular photomedicine. Laser is used in the treatment of a variety of diseases such as cancer, immunology, arthritis, cardiovascular, etc.
In addition, laser technology is expected to gain popularity for the treatment of diabetic macular edema to reduce the treatment burden of Intravitreal pharmacotherapy. Adoption of minimal dosing strategies such as computer assisted navigated laser or micropulsing are on a rise due to their proven efficiency in reducing damaging photo thermal effects.
Moreover, introduction of advanced laser medicine in dermatologic applications are expected to boost the usage rate of laser-based therapies in the coming years. For example, THOR Photomedicine Ltd. introduced the low level laser therapy used in tissue repairing, inflammation reduction, and pain management.
Dermatology segment dominated in 2015
Dermatology segment held the largest market share of over 20% as of 2015, due to the large volume of aesthetic procedures performed in laser skin resurfacing, tattoo removal, and hair removal. Moreover, the introduction of new generation body contouring devices, increasing usage of infrared & radiofrequency to remove unwanted fat layers is further augmenting the market growth over the forecast period.
The associated benefits of laser use include painless procedures, safety, and ease of use which are contributing to the sector growth. Furthermore, the increasing dermatologic applications of light therapy, such as laser or LED, in tattoo removal procedures and skin rejuvenation surgeries is anticipated to provide this segment with a lucrative growth platform.
Photomedicine devices find numerous applications in dentistry. It is used as a tissue cutting instrument in cavity preparation or in surgeries and to strengthen the bond between tooth & filling. Increasing incidence of dental disorders is anticipated to fuel the demand for lasers, which is expected to aid the emergence of photomedicine devices over the forecast period.
As per the WHO statistics published in 2012, nearly 100% of the adult population and around 60% to 90% of school going children, respectively, were reported to be afflicted with dental cavities. Furthermore, the incidence of oral cancer ranged from 1to 10 cases per 100,000 people in most countries, which is expected to serve as a potential growth factor for the dental lasers segment.
Asia Pacific region expected to show lucrative growth
North America held the largest revenue share in 2015 at over 49.0% owing to favorable reimbursement policies, higher awareness levels, and greater penetration of laser therapeutics in the treatment of various diseases observed in this region. Furthermore, increasing funding from public & private organization for R&D pertaining to the development of advanced photomedicine devices to be applied in the diagnosis of various diseases is anticipated to boost the sector growth in the near future. For example, Wellman Center of Photomedicine generated a funding of over USD 25.0 Million from extramural sources in 2014 for ongoing research activities.
Asia Pacific is expected to show lucrative growth, by registering a CAGR of over 6.0% in the future. The presence of high untapped opportunities, increasing healthcare expenditure levels, and supportive government initiatives promoting new product development are the factors contributing toward the regional growth.
The market is moving towards consolidation
Some of the key players in this industry include Colorado Skin & Vein, Lumenis, THOR Photomedicine Ltd., and Alma Lasers Ltd., QBMI Photomedicine, AngioDynamics, PhotoMedex, Inc., IRIDEX Corporation, Spectranetics, and Syneron Medical Ltd.
The market leaders are focusing on the development of technologically advanced and cost-effective devices for disease diagnosis and treatment. For instance, in August 2016, Lumenis introduced FemTouch as an extension to its AcuPulse CO2 laser product portfolio for the betterment of women's gynecological health. The aforementioned factors are expected to contribute significantly toward photomedicine devices market growth in the next 7 years.