Industry Insights
This report analyzes the plano sunglasses industry on a global level. Plano sunglasses have been defined as sunglasses that are fitted with non-prescription lenses, and thus are not used for vision correction. They are mainly used for aesthetic purposes and for protecting the eyes against harmful ultraviolet (UV) rays. Scientific studies show that exposure of the eyes to UV rays over a period of time makes them susceptible to developing a cataract and may also cause damage to the retina. According to the American Optometric Association, prolonged exposure to solar radiation increases the risk of macular degeneration, which can be combated by wearing sunglasses with high eye protection factor (EPF). Therefore, growing awareness among the general population regarding the importance of protecting the eyes is the key driving force for the market. Additionally, majority of the overall market revenue is contributed by high-end products which are sold at premium prices. The global plano sunglasses market was valued at USD 10.82 billion in 2012, and is expected to grow at a CAGR of 8.0% from 2013 to 2020. In terms of volume, global shipments were estimated to be 285.5 million units in the year 2012. Growing demand for fashionable products across the globe is one of the key factors for expected market growth. Companies operating in the market have been focusing on enhancing their distribution network in order to cater to a large number of end users.
One of the major restraining factors for the market is the vast majority of the population afflicted with visual deficiencies such as myopia (nearsightedness) and hyperopia (farsightedness). A large percentage of these users rely on spectacles, which adversely affects demand for plano sunglasses. Additionally, in order to serve the dual purpose of vision correction and adequate protection of the eyes, prescription sunglasses are used. However, the impact of this restraint is expected to reduce in the coming years, due to growing adoption of contact lenses and permanent vision correction procedures. For example, LASIK (Laser-Assisted In Situ Keratomileusis), a surgical procedure aimed at reducing dependency on eyeglasses or contact lenses has witnessed growing acceptance in the recent past. The propensity of this procedure to improve the quality of life of end users is expected to favorably impact the plano sunglasses market over the forecast period. Increasing wearer base coupled with growth in purchasing power among end users is also expected to fuel overall industry growth. The market value chain comprises component (lens frames, etc.) manufacturers, plano sunglasses suppliers as well as distributors or retailers.
Product Insights
Normal non-polarized sunglass lenses only help in reducing the amount of visible light entering the eye. Polarized sunglasses are used for improving visual acuity and enhancing vision. Using vertically aligned filters, unwanted horizontally polarized light is blocked and useful vertical light is allowed to enter through to the eye. Polarizing lenses are manufactured using techniques such as vacuum forming, injection molding, and casting. Polaroid Eyewear also uses a technique called press-polishing forming. The resultant lenses are optically correct since they are thicker at the center and taper towards the edges. The company's Polaroid PTX4000 lenses meet international standards including the European EN1836, Chinese GB10810, American ANSI Z80.3 and Australian AS/NZS1067. However, polarized lenses are not recommended in the aviation environment since they can reduce the visibility of instruments that incorporate anti-glare filters.
End users are gaining awareness regarding the importance of protecting their eyes, and are opting for polarized sunglasses despite their high selling price. Growing trend towards polarization, particularly in the high-end price segment, is expected to contribute significantly to market revenue. This segment accounted for approximately 20% of the overall market in 2012 and is expected to exhibit considerable growth in the coming years, with an estimated CAGR of 4.6% from 2013 to 2020.
Lens Material Insights
Lens materials include CR-39 or allyl diglycol carbonate (ADC), polycarbonate, polyurethane, and others such as glass and nylon. Consumers have been focusing on using high quality lenses which are not prone to breaking or cracking upon impact. CR-39 was the most commonly used material in 2012, primarily on account of its durability and cost effectiveness. It accounted for 40.8% of the overall market share in the same year. Polycarbonate lenses provide superior impact resistance and are lightweight; however, they suffer from drawbacks including lower scratch resistance and reduced optical clarity as compared to other materials
Plano sunglasses market revenue share by lens material, 2012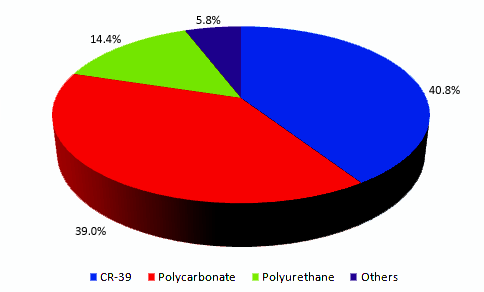 Although glass provides the highest optical clarity, it accounted for a small percentage of the market, and is further expected to grow at a CAGR of 2.4% over the forecast period, lower than the global average. While glass lenses provide the highest optical clarity and scratch resistance, they are more expensive and are not very impact resistant.
Sunglass lenses are tinted so as to cut down on the overall brightness. Gray, brown and green tints are color neutral; gray lenses are commonly recommended to ensure color recognition. Other tints include yellow/amber, rose, or mirrored, which refers to a reflective film applied to the outer surface of the lens. Major frame materials used in plano sunglass production include metal, nylon and zyl.
Regional Insights
North America and Europe accounted for over 60% of the market in 2012, due to higher affordability limit among consumers along with presence of key industry participants. Asia Pacific is expected to be the fastest growing market in the coming years, with an estimated CAGR of 10.1% from 2013 to 2020. The market in Europe is expected to be the highest contributor to global market revenue despite lower volume share, on account of high selling prices of plano sunglasses and preference for premium sunglasses, particularly in Italy and Spain. Presence of significant unorganized sector, particularly in countries such as India and China, is responsible for hampering revenues of companies operating in the market. Sale of knockoff plano sunglasses also results in negatively impacting brand value of industry participants.
Competitive Insights
The industry is characterized by mergers and acquisitions by key participants in order to consolidate market share. Companies have also been aiming to expand their brand portfolio with an aim to increase profitability, since end users have become increasingly brand conscious. Italy based Luxottica Group S.p.A. was the largest market player in 2012, and has accrued a large number of proprietary and licensed brands through strategic initiatives. Major brands include Ray-Ban, Oakley, Persol, Vogue Eyewear, etc. The company follows a vertically integrated structure of design-production-distribution. Direct control over the production platform has driven innovation and optimized costs, while direct distribution has helped it better understand end users' needs. Safilo Group S.p.A. owns Polaroid, a key brand in the polarized sunglasses space. Other key companies operating in the market include Marcolin Eyewear, Marchon Eyewear, Charmant Group, and De Rigo S.p.A. among others.