Industry Insights
The global point of care (PoC) diagnostics market was valued at USD 15.4 billion in 2015. Clinics and other healthcare establishments, in an attempt to provide effective and rapid diagnostic results, are adhering to point of care tests consequently influencing industrial growth.
Improvement in technology and the resultant introduction of cost effective and high quality medical solutions aimed at achieving lab automation & miniaturization are anticipated to serve the global point of care diagnostics market as an important driver. Moreover, increasing levels of patient awareness are expected to prove imperative for the growth on account of the fact that patients, especially the ones suffering from long term diseases such as diabetes, are willingly participating in the shift pertaining to the implementation of point of care diagnostic practices.
Additionally, healthcare practitioners have been observed to be increasing more inclined towards usage of point of care diagnostic enabled medical devices and consumables thereby resulting in to growing adoption and demand for POCT solutions.
Development of information technology pertaining to health care systems plays an inevitable role in the development of the point of care diagnostics market. The introduction of healthcare information systems such as EHR (electronic health records) has largely increased the penetration rates of these tests as a combination of the aforementioned enables considerable automation of diagnostics capabilities of any medical facility.
Growing prevalence of target diseases coupled with rise in the geriatric population base which is more prone to disease development and need home care and monitoring are attributive to impact the product demand considerably over the forecast period.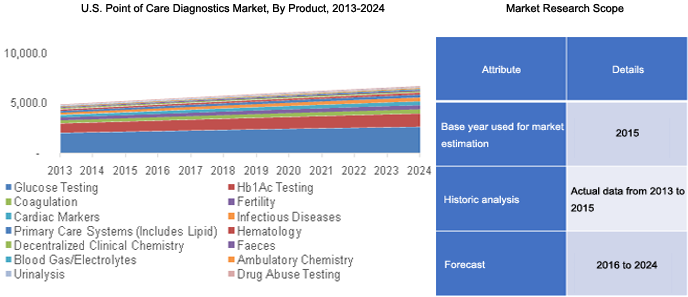 Application Insights
Blood glucose testing POC meters accounted for the largest share of over 40% in 2015 due to the sheer volume of these tests marketed on account of their high usage. Furthermore, the non-professional (CLIA) status of testing requirement associated with glucose biosensors also translates into the tests being used in an enhanced number of healthcare patient settings, be it in clinics, laboratories, home or assisted living centers thereby, driving the segment demand.
This segment is relatively more saturated in terms of market potential when compared to the other POC segments and thus is not likely to witness any sudden growth spurts over the forecast period. However, the segment is expected to maintain its dominant position over the coming few years.
POC cardiac marker testing segments is expected to witness growth in demand at a relatively faster CAGR over the forecast period even though the segment in the present scenario accounts for a smaller share of revenue. The primary factor driving R&D in the segment is the fact that cardiovascular disease related deaths have increased by over 40% over the past two decades.
In attempts to provide early diagnosis and therapeutic monitoring for cardiac patients, the industry leaders have invested significant assets for the development and commercialization of a number of cardiac marker POC tests. Further enhanced commercialization by the participants is evident over the coming years which can be expected to drive growth in this segment at a faster pace than the rest of the point of care products.
End-use Insights
Clinics dominated with respect to revenue generation in 2015 as a result of higher usage of these tests in the clinics for diagnosis of several infections and monitoring of disease progression by assessment of symptoms and other parameters.
Home healthcare owing to cost effectiveness and comfort level it provides to the patients is anticipated to empower the clinicians in addressing healthcare challenges and take decisions instantly.
As the emphasis of healthcare is shifting towards early detection and prevention of diseases, the point-of-care diagnostics based home healthcare segment is expected to witness lucrative growth during the forecast period.
 
Regional Insights
North America held the largest market share of over 43% in 2015due to the presence of high disease prevalence levels in the region coupled with favorable government regulations and initiatives pertaining to development of healthcare infrastructure. Moreover, presence of high awareness levels amongst the patients as well as the physicians pertaining to early disease diagnosis is supportive for the largest share of region in the industrial revenue.
Asia Pacific is expected to be the most attractive regional market space, owing to the presence of high unmet medical needs and constantly improving healthcare infrastructure, growing medical awareness, and rise in per capita income levels in developing economies of including India and China.
Competitive Insights
Key players of the point of care diagnostics industry include Roche Diagnostics, Alere Inc., Danaher Corporation, Abbott Laboratories, bioMerieux and Siemens Healthcare.Most of the companies sell their products through the medical equipment distributors that operate for different regions and therefore account for substantial competition with respect to distribution network and market presence.
Market entities are involved in development and commercialization of more sophisticated bench top and counter top near patient testing products which is expected to enhance the demand for POC devices and thus drive industrial growth.
Analyst Perspective
This study consists of analysis of different POC devices and tests that are used for multiple disease monitoring or single disease monitoring. The revenue is determined for the end-use segments as well. The global point of care diagnostics market incorporates a very wide portfolio of diagnostic platforms which, at most times, have very different usage from each other. The major selling proposition that these tests provide are simplicity, portable accuracy and swift testing.
Due to the associated benefits with POC testing, this segment of in-vitro diagnostics testing is expected to grow at lucrative rate; A rate which is more than double the rate at which the parent, IVD market, is expected to witness growth in demand. In keeping with the specific purpose of the POC device or test, this industry has been further classified. Presence of extensive distribution network, widespread geographic presence, and strategies adopted by participants are taken into consideration in the report.
It holds a significant potential in the development of companion diagnostics and personalized medicine for eradication of chronic diseases and immunotyping. This report can be used by the industry participants, academic users of technology researchers focusing on diagnostics, and hospitals in order to gain the insights about the ongoing trends and expected advancements in the POC industry.
Each disease segment has been thoroughly analyzed via a deep dive into their sub-segments and at country and regional levels. Therefore, industry estimates of the sub segments can be provided as a part of free customization. For example, estimates on the sub markets of infectious disease testing such as HIV, HBV, RSV, HPV, Influenza, HCV, MRSA, TB/dr-TB, HSC etc. can be provided as a part of free customization.