Industry Insights
Global point of care Lipid Test market size was valued at USD 200.0 million in 2014. Increasing prevalence of target diseases such as cardiovascular diseases, diabetes, and dyslipidemia is identified as a key driving factor.
The presence of favorable regulatory initiatives pertaining to diagnosis is expected to serve the point of care Lipid Test market as a high impact rendering driver. For instance, the introduction of Clinical Laboratory Improvement Amendments (CLIA) in the U.S. is expected to boost usage rates during the forecast period.
U.S. PoC Lipid Test market revenue by application, 2015 - 2022 (USD Million)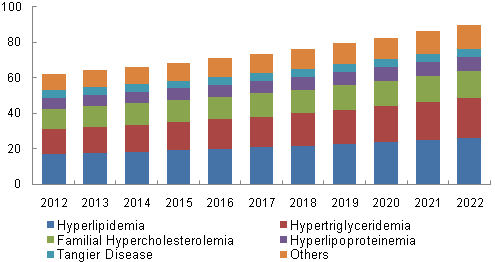 Cardiovascular diseases are one of the most fatal disorders and is the leading cause of death across the globe. Cardiovascular diseases have become the most dominant cause of mortality and morbidity in the world during the last three decades. According to a report published by the World Health Organization (WHO), cardiovascular diseases will cause approximately 23.3 million deaths by 2030.
Growing global geriatric population base coupled with increasing awareness levels is expected to drive market growth over the next six years. Moreover, rising demand for technological advancements designed to enhance speed, accuracy, user-friendliness, and increasing market penetration rates of technologies such as self-testing handheld devices are expected to boost demand. For instance, in 2013, Polymer Technology Systems Inc. launched the advanced version of point of care multi-analyte system, CardioChek Plus analyzer. Rise in sedentary lifestyles and unhealthy lifestyle habits are expected to provide the manufacturers with a constantly widening user base.

Instrument Insights
Roche Reflotron, Roche Cobas b101, Abaxis Piccolo, Alere Cholestech LDx, Alere Afinion, Samsung LABGEO PT10, and PTS Cardiochek family of Lipid analyzers are the most used set of instruments and therefore, form the core of this study. The PoC lipid testing market by instruments was valued at over USD 142 million in 2014 and is expected to grow at a CAGR of 10.5% over the forecast period.
Alere Cholestech LDX instruments are more accurate in testing lipid levels than Alere Afinion analyzer. In 2014, Alere Cholestech LDX accounted for the highest revenue of over USD 55.1 million. Benefits associated with Alere Cholestech LDX are compact design, requirement of very less amount of blood sample (40 μL) by performing just finger stick, no requirement of trained professionals, easy protocols, and rapid results. The aforementioned factors are estimated to enhance adoption rates for Cholestech LDX for home usage and daily lipid level testing.
Roche Cobas B101 is expected to experience a rapid growth in demand and its market is projected to grow at a CAGR of 24.1% owing to the expected global launch of Cobas B101 (excluding the U.S.) at the end of 2012 for the diagnosis and management of metabolic disorders for point of care settings.
Introduction of CLIA waived tests pertaining to the point of care molecular diagnostics and emerging advanced technologies are two primary growth drivers of this market. Moreover, growing prevalence of Coronary Artery Diseases (CAD) and lifestyle habits such as tobacco consumption, excessive alcohol consumption, smoking, increasing geriatric population base, and the growing demand for quick and efficient healthcare management are expected to positively impact the growth of point of care Lipid Test market.
Application Insights
On the basis of application, the market is segmented into hyperlipidemia, hypertriglyceridemia, familial hypercholesterolemia, hyperlipoproteinemia, Tangier disease, and others.
Hyperlipidemia dominated the overall market with revenue estimated at over USD 55.0 million in 2014. The increasing prevalence of hyperlipidemia due to a high-fat diet and sedentary lifestyle coupled with rising demand for point of care devices for management of chronic diseases such as cardiovascular diseases and diabetes are the factors responsible for the large share of this segment.
In addition, this hypertriglyceridemia application segment is expected to grow at the fastest CAGR of 5.6% over the next six years, majorly on account of the rising demand for quick and efficient point of care lipid testing and advanced tests in countries with high unmet clinical needs such as India, China, and Brazil.
Regional Insights
In 2014, Europe held the largest market share over 35% in 2014 owing to the presence of favorable regulations and initiatives undertaken by the government pertaining to the development of healthcare infrastructure, and also high disease prevalence levels in the region.
Asia Pacific is expected to show high potential for the growth of this market with a CAGR of over 10% owing to factors such as favorable regulatory landscape and increasing population with cardiovascular diseases, and diabetes.
China, Australia, South Africa, and Brazil, are experiencing fast economic growth over the past few years; these countries are expected to offer immense growth potential for PoC Lipid Test industry, mainly due to growing economy and high unmet clinical needs.
Point of Care Lipid Test Market Share Insights
Key players of this market include Roche Diagnostics, Abaxis Inc., Alere Inc., Samsung Electronics Corporation, and Polymer Technology Systems.
Market players are adopting sustainability strategies like venture capital investments, novel product development, mergers, and acquisitions owing to changing economic conditions worldwide. For instance, in 2013, Samsung launched in-vitro diagnostic systems and technology in India under the brand GEO. Samsung's LABGEOPT10 caters to the lipid testing target population in India.
Frequently Asked Questions About This Report