Industry Insights
The global polyurea coating market size was over USD 500 million in 2015. The product helps in protection of the substrates including metal, concrete, and wood from adverse climatic conditions. These are used in construction, transportation and manufacturing sectors on account of superior properties including good abrasion resistance and excellent corrosion protection. In addition, polyurea coating are capable of providing high elongation and superior tensile strength which makes it suitable for use over other counterparts.
Europe polyurea coating market revenue, by application, 2013 - 2024 (USD Million)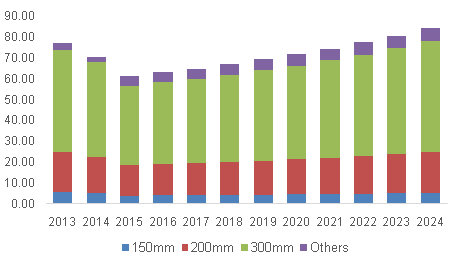 The product has been increasingly replacing other coating materials such as epoxy, acrylic, and alkyd coating as it is environment-friendly and possesses no VOC content. Rising importance of coating as a surface protection medium in automotive, aerospace, civil construction, oil & gas sectors is anticipated to have a positive impact on the industry. The surge in infrastructure investment in emerging economies, especially in Asia Pacific is expected to propel the demand over the next eight years. However, the high cost of these coating is likely to restrain growth.
Application Insights
Building & construction segment dominated the market with over 40.0% share in 2015. Increased utilization of these coating to waterproof buildings is likely to propel demand over the forecast period. High humidity resistance of the product increases its application scope in roofing, membranes, containment liners, decks, car parking, bridges, and offshores, thereby augmenting demand.
The industrial application is expected to witness a CAGR of over 12.0% from 2016 to 2024, in terms of volume. Rapid industrialization in developing economies coupled with growing necessity to protect equipment, infrastructure, machine parts, and tools in industries is expected to have a positive impact on the market over the forecast period.
Raw Material Insights
Aromatic isocyanate-based polyurea coating dominated the global market in 2015 on account of the low cost of the product. However, the demand for aliphatic isocyanate-based coating is expected to grow at a significant rate on account of properties such as increased resistance to UV radiation, high tensile & abrasion strength, and superior surface finishes quality.
Product Insights
Hybrid polyurea coating dominated the market and is expected to grow at a CAGR of over 11.0% on account of low cost and utilization in truck bed liners, roofing, pipeline, flooring, and marine applications. Pure polyurea coating are expected to witness significant growth over the forecast period due to growing utilization in infrastructure applications including bridges and pilings. In addition, stringent standard mandates regarding the quality of the materials used in these applications are expected to have a positive impact on market growth.
Technology Insights
Spraying is a machine based technology which helps in reduction of application time of these coating, increases efficiency, and allows to control coating thickness efficiently. The segment dominated the global market with a share of over 50.0% in 2015. Pouring technology, also known as casting, is expected to witness a CAGR of over 11.0% from 2016 to 2024. The hand mixing process requires skilled labor and is used for decorative flooring, anti-static flooring, and industrial floors. The slow rate of the application associated with this technology is likely to hinder growth over the forecast period.
Regional Insights
North America dominated the global market with a share of over 35.0% in 2015. Rising concern regarding environment protection in manufacturing and construction industries, particularly in Canada and Mexico is expected to fuel market demand over the forecast period. In addition, robust presence of extraction & production (E&P) sites in Canada and Mexico with abundant availability of minerals such as silver and gold are expected to promote the utilization of polyurea coating.
Asia-Pacific is projected to witness a rapid increase in demand for the product over the forecast period. Construction industry growth in China and India owing to increase in government spending on infrastructure development is further expected to fuel demand. Rising consumer awareness regarding benefits of waterproofing for construction activities in emerging economies is projected to have a positive impact on growth.
Competitive Market Share Insights
Key companies include PPG Industries, Inc., The Sherwin-Williams Company, Nukote Coating Systems, Versaflex Inc., Specialty Products Inc., Armorthane Inc., Wasser Corporation, Rhino Linings Corporation, Kukdo Chemical Co., Ltd., Lonza Group AG, Albemarle Corp., Huntsman Corporation, BASF SE, and Covestro. New product development and expansion are the key strategies being adopted to strengthen their market position. In May 2016, VerasFlex Incorporated entered into a partnership with Kansai Paint to facilitate distribution of its high-performance polyurea protective coating, linings, repair materials, and joint fillers.