Industry Insights
Global polyurethane dispersion market size exceeded 290 kilo tons in 2014. Leather and textile industry were major end-use application industries in 2014. Growing leather and textile products demand in daily life as well as the fashion industry is expected to drive the global market over the forecast period.
It also finds application in automotive industry. Automotive production has witnessed rapid growth over the recent past, particularly in the developing regions such as Asia Pacific and Central & South America. These regions along with experiencing rapid growth in automobile demand also offer low manufacturing cost to manufacturers. Various government policies such as "Make in India" have encouraged FDI in the automotive sector.
The aforementioned factors along with growing automobile demand are presumed to complement the polyurethane dispersion market over the forecast period. A growing furniture and interiors industry coupled with growing population is expected to have a positive impact on the market growth.
Methylene diphenyl diisocyanate (MDI), Toluene diisocyanate (TDI) and polyols are major raw materials for producing PUD. Volatile raw material prices result in erratic profitability and fluctuating operating costs. This trend is expected to challenge market profitability.
North America polyurethane dispersion market revenue by product, 2012-2020, (USD Million)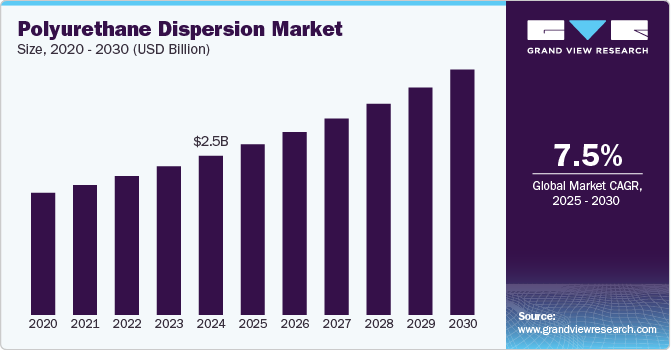 Regulations and directives issued by governments and agencies are also presumed to impact critically the global PUD industry. Several agencies such as Environmental Protection Agency (EPA), Energy Supply Security Planning in the ASEAN (ESSPA) and Occupational Safety and Health Administration (OSHA) have issued several regulations and directives to safeguard the consumers against derogatory effects of PUR dispersion.
Product Insights
Water-based and solvent-based are the major PUD product segments. Water-based products dominated the global market in the recent past and are expected to continue over the forecast period. This product is projected to witness a CAGR of 6.4% from 2014 to 2022.
Solvent based dispersion market valuation is presumed to experience a CAGR of 7.3% over the next seven years. Water-based products have environment-friendly properties that make them more suitable for companies as they comply with the stringent environment regulations set up by agencies and governments.
Such favorable regulatory framework is projected to aid the industry in the near future. Such stringent environmental regulations are anticipated to hinder the solvent-based dispersion market over the forecast period.
 
Application Insights
Textile finishing, natural leather finishing, and synthetic leather are the major applications for this market. Other applications include adhesives, paints, coatings and automotive applications. PUD have been used as adhesives in interior components in the automotive industry such as instrument panels, interior door panels engines, dashboards, mounted parts that include seats, mirrors & steering wheels, gear boxes, and gear shift levers.
Increasing production capacities and launch of new automobile models across the globe is expected to increase the overall market demand over the next seven years. Polyurethane dispersion is used as coatings in textile finishes.
Growing textile industry owing to various end-use industry apparel demands is expected to drive the overall PUR dispersion market. Synthetic leather applications dominated the global demand in 2014 with 36.2 kilo tons and is projected to witness the highest CAGR of 7.5% over the forecast period.
Regional Insights
Asia Pacific polyurethane dispersion market led the global industry with a market valuation exceeding USD 300 million in 2014. This dominance is estimated to continue over the forecast period. Europe was the second biggest market followed by North America. North American market demand is presumed to witness a CAGR of 5.4% from 2014 to 2022.
Asia Pacific is projected to witness brisk growth in the near future. Emerging economies such as China, Brazil, South Africa and India are expected to lead their respective regional markets. European and North American markets are anticipated to witness a slightly moderate growth due to end-use industry saturation and weak European economy.
Competitive Insights
The global polyurethane dispersion market share is moderately concentrated and is characterized by high degree of competitiveness. Industry participants are taking strong steps and forging partnerships with an aim to increase their profitability, enhance their product portfolio and gain competitive advantage from each other's core competencies.
Major industry participants account for nearly half of the global polyurethane dispersion market revenue. There is relatively less white space available for new entrants. However, the phasing out of solvent based dispersion due to environment considerations and regulatory framework is presumed to provide ample opportunities for growth and development.
Key industry participants include Alberdingk Boley, BASF SE, Cytec Industries, Inc., Covestro, Chemtura Corporation, Dow Chemical Company, Hauthaway Corporation, Mitsui Chemicals, Inc., and Lubrizol.