Rising mobile payments and EMV mandate projected to drive retail POS terminals market
The global retail point-of-sale terminals market size was valued at USD 13.31 billion in 2015. Changing customer preference towards high volumes of non-cash transactions along with intense demand for additional payment options is expected to augment the demand for these systems.
U.S. Retail POS Terminals Market By Product, 2014 - 2024 (USD Million)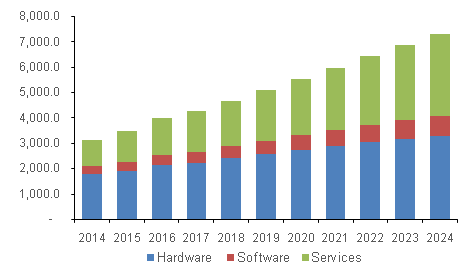 The increasing demand for wireless Internet connectivity, reduced costs and expanded network coverage are driving the need for portable or mobile POS devices in the retail sector. The increasing use of smartphones and tablets is anticipated to drive the demand for mobile point-of-sale solutions over the forecast period. With the emergence of new payment methods, such as Europay, MasterCard and Visa (EMV) and Near Field Communication (NFC), retailers are expected to upgrade their devices to comply with these technologies. The release of Apple Pay in the U.S. has increased the visibility into NFC, which is expected to spur the adoption of NFC-enabled devices.
Retail merchants are striving to enhance consumer experience by offering flexible payment solutions with advanced payment options at the point-of-sale terminal. Apart from the advanced payment options, merchants are providing customized relevant offerings at the point of sale such as coupons, merchandise suggestions, offers and loyalty programs to enrich the in-store customer experience.
Mobile POS payment devices expected to increase fourfold
Mobile POS terminals are expected to be the fastest-growing segment with a CAGR of over 17% from 2016 to 2024.The high return on investment and ease of usability are factors driving the global mobile POS terminal market growth. Developed markets are embracing tablets in addition to smartphones. This is mainly due to the fact that small specialty and retail businesses find tablets a powerful substitute for the traditional point-of-sale systems.
Software as a Service (SaaS)solutions to become prevalent in the POS industry
Hardware component accounted for over 64% market share in 2015. The integration of touchscreen technology in the mobile POS terminals is anticipated to surge the demand for hardware products. The introduction of IoT devices may reduce the product size while increasing the connectivity and efficiency.
POS software has significantly stimulated sales and innovation in an industry that is largely stable and mature. The wide adoption of cloud computing systems and mobile has forced industry players to develop POS software that incorporates web-based, traditional and mobile platforms. Cloud systems has also surged the software developers to take system and data security into account as SaaS becomes increasingly adopted.
Supermarkets deployed maximum number of POS terminals in 2015
The supermarkets accounted for over USD 5.5billion in 2015. The segment is expected to witness the fastest growth owing to the need for reducing capital expenditure and increasing customer in-store experience. With the rising installation of tablets and mobile, the supermarkets & hypermarkets are anticipated to witness increased demand for these terminals.
Additionally, grocery stores are redefining themselves with the implementation of these devices in order to handle a large number of products that a store carries. Gas stations are expected to be the fastest-growing segment, which accounted for over 21% of overall revenue share in 2015. Gas stations and fashion retailers are transforming their payment infrastructure from cash registers to terminals with the deployment of iPad and tablets.
Asia Pacific POS terminals industry expected to drive demand
Asia Pacific accounted for over 25% market share in 2015 and is anticipated to be the fastest growing region owing to the rising e-commerce sales volume and growing acceptance of mobile payments in the region. The high consumption volume of POS devices in India is contributing to the regional growth. With the advancement in the point-of-sale technology, cash registers across India are witnessing a transformation in the traditional in-store devices, resulting in the organized business environment to clock an exponential growth.
North America dominated the market in 2015 owing to the implementation and upgrading of EMV-based systems. The emergence of the developer-friendly application program interfaces is a notable feature of the North American payment industry. The new software developer kits are developed in the region regularly, aiding the growth of software-based systems.
Toshiba Tec Corporation, Ingenico Group, NCR Corporation are the key share holders
The key industry competitors in the retail point-of-sale terminals market include Toshiba Tec Corporation, Ingenico Group, NCR Corporation, VeriFone Systems Inc. and PAX Technology among others. Cloud systems enable software developers to consider system and data security as software-as-a-service in increasingly adopted. Large traditional manufacturers are integrating with mobile payment solutions providers as traditional providers are innovating beyond payment acceptance capability. For instance, VeriFone Systems Inc. acquired mobile solutions provider Global Pay.