Industry Insights
The global RFID blood monitoring systems market was valued at over USD 104 million in 2014. Key industry drivers attributing to its large share include increasing usage of RFID technologies pertinent to patient safety in various clinical applications and for systematic management of abundant clinical data. Furthermore, rising number of security and privacy issues associated with clinical applications is expected to prompt the growth of RFID systems in healthcare over the forecast period.
Additionally, development of advanced RFID systems that not only provide the user with identification details but also location information on a real time basis is expected to support the industry expansion over the forecast period. Emerging trends in RFID technologies that have improved the efficiency of existing clinical applications have offered more functionality to diagnostic processes and reduction in the deployment cost is anticipated to boost growth in the next seven years.
Global RFID blood monitoring systems market revenue by product, 2012-2022, (USD Million)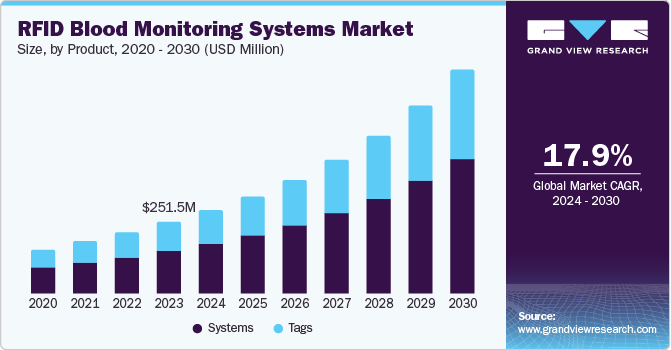 Constant R&D initiatives pertaining to the development of novel inventory management solutions and rising demand for minimization of clerical errors are key factors attributing to high market growth. Increasing adoption of RFID in the healthcare industry especially the use of RFID blood refrigerators and freezers in hospitals and blood banks is anticipated to propel the industry growth over the forecast period.
RFID enables the reduction in human efforts and error minimization, which ensure proper maintenance & control of clinical data in healthcare inventory. Additionally, this also ensures systematic management of abundant data with a centralized platform that enables the medical professionals to actively manage the data and avoid stock-outs.
Product Insights
Radio frequency identification was the largest product segment valued at over USD 60 million in 2014. Increasing demand for these systems in order to improve patient security & care as well as maximize the medical facility profitability for specific healthcare applications is expected to boost the demand over the forecast period.
Radio frequency identification tags are expected to witness high demand due to the introduction of technologically advanced products such as sensory tags and alternative tag designs that include Smart Active Label Technology (SAL) which are less vulnerable to liquid and metal.
End-use Insights
In 2014, blood banks emerged as the largest end-use segment and were valued at over USD 85 million globally. Increasing usage of radio frequency identification technology in blood banks that have the potential to improve operational efficiency, advance patient safety, and cost reduction are among key rendering drivers that are expected to boost market growth over the forecast period.
Furthermore, these systems enable the user for status monitoring in blood products across all entities involved in supply chain, starting from the point of collection to delivery of a product by the healthcare professional to a patient.
Technological advancements pertaining to the development of innovative solutions such as radio frequency identification enabled blood product tracking solution (to complement bar-coding) that will help to overcome policy and technical environment challenges, such product developments are expected to boost the usage rate of radio frequency identification systems in blood banks.
Regional Insights
North America emerged as the largest regional market owing to the presence of developed blood bank infrastructure and rising demand for hospital inventory management systems in the region.
Increasing number of funding for new projects are amongst key factors attributing for the large share of the regional market, for instance, a project under the name" automated identification and data capture systems" with comprehensive investigation of radio frequency identification technology, was funded by a Small Business Technology Transfer grant from the US National Institutes of Health in 2013.
Europe followed by Asia Pacific, is expected to witness high growth over the next seven years. Increasing penetration rates of RFID blood monitoring systems and constantly improving healthcare infrastructure are amongst key factors for the region's high growth rate.
Competitive Insights
Log Tag, Wave Mark, Terson Solutions, Tagsys RFID Group, Stanley Innerspace, Solstice Medical LLC, Mobile Aspects Inc., and Logi Tag are among the key players operating in this industry.
Key strategies adopted by these players include constant implementation of novel approaches to product development to improve productivity levels furthermore, improvements in the global distribution networks is one of the notable strategy adopted by aforementioned players.