Industry Insights
The global salicylic acid market size was estimated at 89.8 kilo tons in 2015. Growing demand for salicylic acid in manufacturing haircare and cosmetic skincare products owing to growing consumer awareness regarding its benefits is expected to drive demand over the forecast period. Salicylic acid is extensively used in manufacturing aspirin. Increasing consumption of aspirin tablets owing to superior pain relieving action coupled with easy availability of the drug is expected to bolster demand. However, rising concerns regarding the side effects of aspirin are expected to hamper market growth.
U.S. salicylic acid market revenue, by application, 2013 - 2024 (USD Million)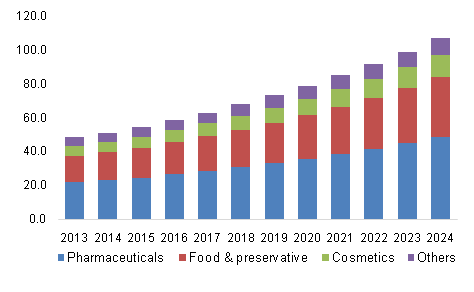 The global salicylic acid market is highly fragmented, characterized by a small number of manufacturers with varied pricing patterns by end-use application. Commercially, it is manufactured by chemical synthesis of phenol. The expansion of the oil & gas industry in the Middle East and the U.S. is expected to increase the availability of phenol as a raw material. In addition, increasing with increasing exploration & production of shale gas and tight oil is expected to increase the supply of phenol, which in turn is expected to drive demand over the next eight years.
However, exposure to large amounts salicylic acid has found to be harmful to the skin and can result in severe dryness, blistering, and skin irritation. Growing consumer awareness regarding the ill-effects of salicylic acid is likely to drive consumers towards naturally derived products including grape juice, thyme, rosemary, and tea tree oil which can be used as an alternative for salicylic acid, thus impacting the overall growth.
Application Insights
The market is segmented by application into pharmaceutical, food & preservatives and cosmetics industry. The market was dominated by pharmaceutical application owing to increasing use of salicylic acid based drugs for the treatment of various skin related disorders and for cardiovascular diseases and Hughes syndrome.
The food and preservatives segment is expected to exhibit a high growth rate of over 7% from 2016 to 2024. Growing use of salicylic acid and its derivatives in the food and beverage industry to prevent spoilage and fermentation is expected to translate into increase market demand. In addition, growing the use of salicylic acid as preservatives to prolong the shelf-life of products such as sauces, beer, and wine is expected to augment the demand for salicylic acid products.
The cosmetics industry is estimated to witness increasing demand for salicylic acid due to high demand for facial creams and acne reduction preparations. In addition, the market is expected to witness an increasing demand for shampoos and conditioners that are used to treat various hair conditions. Furthermore, increasing cases of blackheads, zits, warts and pimples is expected to drive growth for salicylic acid based products over the forecast period. 
Regional Insights
Europe accounted for the substantial market share of over 30% in 2015 owing to a growing skincare and haircare industry propelled by increasing awareness about health and hygiene in the region. Also, increasing adoption of aspirin to treat and prevent ailments such as strokes and dementia among aging population is expected to drive the market growth over the forecast period. However, stringent regulations employed by the European Commission regarding the use of salicylic acid is anticipated to affect the growth.
The market in Latin America is expected to exhibit high growth of over 8.0% over the period 2016 to 2024. Increasing demand for packaged food products has led to growth in the demand for preservatives, for which the compound is a major ingredient. In addition, increasing demand for medicated cosmetics coupled with growing use of salicylic acid based pharmaceutical products owing their effect on ailments such as Hughes syndrome and dementia is expected to drive the market growth over the forecast period.
Competitive Insights
The key market players include Alfa Aesar, J.M. Loveridge Ltd., Alta Laboratories, Siddharth Carbochem Products Ltd., Zhenjiang Gaopeng Pharmaceutical Co. Ltd, Novocap, and Simco Chemicals. The major buyers of the product include pharmaceutical companies such as Bayer, haircare and skincare manufacturers such as Neutrogena, Clean & Clear, and St. Ives, and food & preservatives manufacturers such as Tyson, Heinz, and Mondelez.
The market is characterized by mergers and acquisitions as strategies to gain market share. For instance, Novocap SA, an Argentina-based salicylic acid manufacturer acquired Rhodia Specialty Chemicals' salicylic acid and acetaminophen business to form a new company Novocyl, in a move to increase its market presence and market share.