Industry Insights
There were over 9,000 shared service centers (SSCs) in 2014. Availability of qualified and low-cost labor in major developing countries, such as India, China, Lithuania, and the Philippines, is expected to drive SSC establishment. Organizations globally are seeking various innovative procedures for continuous improvement in day-to-day dealings coupled with operations performance management programs to extract the highest possible outcome from the SSC units. Efficient implementation of SSC has a potential to deliver savings in operational costs and the key outcomes so generated include reduction in operational complexity and improvement in task implementation efficiency.
Asia Pacific shared services center market by end-use, 2012-2022, (units)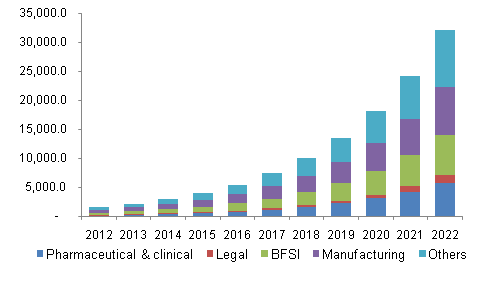 Growing need for higher degree of strategic flexibility has led to substantial rise in establishment of these centers. They are designed as per the organizational structure and process flow to deliver a fully optimized impact that extends operational excellence and assists the management to focus on strategic decision-making. The implementation of shared services center brings about the complete re-engineering of primary business functions proposed to yield an enhanced effect on operational end function optimization.
Easy availability of low-cost qualified labor and educated personnel is anticipated to drive SSC establishment in associated regions such as Latin America, East Europe, and Asia Pacific. Tax relaxation initiatives, such as tax-free zones and SEZs, by domestic legislation in the select territories have created a positive impact on SSC establishments.
The complexity linked with the establishment and implementation of SSC framework is expected to challenge market growth. In SSC functional entities, the assigned work is performed dynamically across numerous business units. The tasks of repetitive nature/routine procedures are dealt with by leveraging best practices from multiple task sets.
Imminent tax benefits and availability of low-cost educated labor in regions such as Eastern Europe, Latin America, and Asia-Pacific are expected to boost the dynamic location shift of SSC entities to these geographies. The Latin American and Asia Pacific regions that deliver cheap labor and high tax relaxation in the present situation are presumed to eventually cut the tax reimbursements and offer cheap labor over the forecast period as they accomplish stable development and better living standards for the average population.
End-use Insights
End-uses analyzed in the study include pharmaceutical and clinical, legal, BFSI, and manufacturing. The growth in legal SSC establishments is projected at a CAGR of over 35% from 2015 to 2022, benefiting from the emerging trend of subcontracting litigation support services. Outsourcing of legal service providers has fueled industry growth for legally shared service centers market.
The demand for pharmaceutical and clinical end-use is envisioned to witness significant growth over the forecast period. The pharmaceutical industry in Europe is highly fragmented and has resulted in a lucrative parallel business. Extensive R&D work is expected to bolster shared service centers' establishment in the region.
Poised to witness a surge in growth over the forecast period, BFSI end-use is expected to increase its profit from the favorable global economic conditions, which will eventually broaden the BFSI industries' reach and enhance their product and service portfolios. Additionally, BFSIs are seeking ways to increase customer satisfaction by implementing shared services center and providing useful products and services as per the customer requirements.
Regional Insights
Asia Pacific shared services center industry is presumed to witness significant growth and is projected to grow at a CAGR of over 30% from 2015 to 2022. This growth can be attributed to factors such as lower charges in the region, due to the fact that this region offers a big pool of young English-speaking professionals coupled with relatively low wages and infrastructure costs. Cultural homogeneity coupled with low- labor and infrastructure costs in countries, such as India, China, and Singapore, is expected to bolster the establishment of SSCs in the region.
Europe is envisioned to witness significant growth in the shared services center market over the forecast period, owing to the availability of skilled labor force and comprehensive knowledge of languages along with cultural and geographic proximity to Western Europe. Moreover, the region incorporates many well-known universities, which enable access to qualified pool of talents.
There exists a rivalry between East European cities to attract investment in new or expanding SSCs, and their attractiveness is judged on key factors, such as availability of people, labor rates, and infrastructure. This rivalry has caused first-tier and capital cities, such as Bratislava, Budapest, and Warsaw to become less attractive as compared to the second-tier cities.
Competitive Market Share Insights
Prominent companies establishing SSCs include Abbott, Allen & Overy, Barclays, Invest Lithuania, Novartis, Western Union, Ahlstrom, Aspen Pharma, E&Y, Intermedix, NASDAQ, PA Consulting Group, PwC, Tentacle Technologies, WNS, and KPMG. These players are focusing on offering services at a low cost and enhancing operational performance.