Industry Insights
The global skin care products market size was estimated at USD 129.21 billion in 2015. The market is poised for substantial growth, which can be attributed to the surging eminence of environment-friendly offerings inculcating the usage of natural constituents.
The launch of numerous anti-aging and skin brightening creams has marked the emergence of another revolution in the marketplace by facilitating advanced care, anti-aging, and multi-feature benefit personal care offerings. Major organic product manufacturers are forming strategic alliances with respective raw material suppliers thereby integrating across the value-chain vertically. These alliances are a result of high dependence on natural ingredients in manufacture of organic products.
A surge in the trading activity via e-commerce platforms is emerging as one of the key factors promoting the market growth on account of its wide range of products. The online sector is evolving as a key platform used by consumers to gain access to products that are otherwise inaccessible via retail outlets and malls, predominantly in developing countries such as India. This trend is expected to drive the demand for the niche market offerings over the forecast period.
North America skin care products market revenue by product, 2015 - 2024 (USD Billion)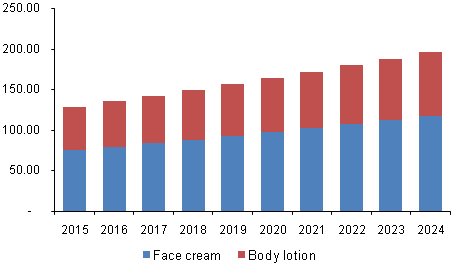 A surge in the income levels of the middle-class population base in selected geographies of the Asia Pacific region has bolstered the industry growth in these territories. Numerous new product launches by manufacturers to differentiate their merchandises either by cost or characteristics, along with contemporary technological innovations, are anticipated to escalate the competition, thereby augmenting the overall industry growth.
Product Insights
The skin care product portfolio encompasses synthetic and organic personal care goods such as anti-aging, skin brightening, and sun protection face creams & body lotions targeting the premium and mass market segments.
Organic products have started gaining prominence and are translating into manufacturer's unique selling proposition as the usage of natural ingredients and environment-friendly aspects empower the manufacturers to differentiate their offering either by assorted natural raw materials or by cost. Major organic product vendors have formed a strategic alliance to deliver products as a part of their integrated offering package alongside integrating their product portfolio across the value chain.
Over the years, customers have exhibited mounting preference toward organic substitutes, rather than synthetic offering. Owing to these trends, suppliers in the industry have started catering to consumers' preferred demands by increasing R&D activities in the concerned segment. Innovations in the product segment, such as the use of 'Niacinamide' chemical to deal with acne, wrinkles and other aligned complications, are expected to boost selected products' demand. Organic substitutes do not comprise harmful chemicals such as sulfur, parabens, and ammonia, which is anticipated to impact the market demand favorably over the forecast period.
 
Regional Insights
Asia Pacific region, specifically China, Japan, and India, is expected to witness an increasing demand for both synthetic and organic produces, owing to the improved growing standard of living and surge in the disposable income of general populace.
North America and Europe are anticipated to capture a major portion of the organic skin care market. This can be attributed to the growing preference toward natural and environment-friendly offerings. Additionally, regulatory authorities in these territories have limited the use of numerous chemicals in the skin care merchandise manufacturing, owing to their conspicuous post-usage side-effects.
The upcoming favorable initiatives by Food & Drug Administration (FDA) to promote organic goods' usage is expected to drive the market. These endeavors are expected to bolster the industry growth over the forecast period.
Competitive Market Share Insights
Key industry participants include The Estee Lauder Companies Inc., Johnson & Johnson, Unilever PLC, L'Oréal S.A., Avon Products Inc., Kao Corporation, Procter & Gamble Colgate-Palmolive Company, Beiersdorf AG, and Shiseido Company.
Research and development initiatives undertaken by companies, such as Amway, Aveda Corporation, The Body Shop, and Estee Lauder, for introducing competitively priced offerings, are anticipated to drive the industry growth over the forecast period.