Industry Insights
Global slideway oil market size was USD 60.61 billion in 2014 and is expected to witness significant growth over the next seven years owing to high demand from the industrial, construction, and automotive sectors.
Industrial machinery maintenance to minimize operational costs has led manufacturers to adopt preventive maintenance as opposed to breakdown repairs. Slideway lubricants such as processing, industrial, and metal working fluids are expected to witness significant growth over the forecast period on account of rising machinery demand from various downstream industries including automotive and food & beverage.
The product possesses extreme pressure handling and anti-slip properties. It exhibits resistance to rusting, oxidation and foaming and is preferred for cold heading applications. It aids in increasing machinery shelf life and its efficiency, thus reducing down time. It has been reported that oil consumption reduces by up to two-third of a fraction of slideway applications, due to its good adhesion properties.
U.S. slideway oil market volume product, 2015 - 2022 (Kilo Tons)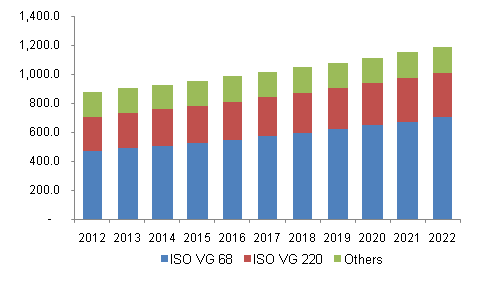 Stringent regulations by various agencies including REACH, EPA, and EU coupled with fluctuating raw material prices are expected to challenge industry growth over the next seven years. Additionally, other industry challenges associated with product usage include dealing with contamination primarily from metalworking fluids and water-based coolants. Moreover, various players present in the industrial sector are endeavoring to overcome frictional challenges by resistance and shuddering. This is expected to have a positive impact on product industry growth over the next seven years.
Product Insights
The product is manufactured in various grades including ISO VG 68, ISO VG 220, ISO VG 32, and ISO VG 100. Various product grades comprise different viscosities and hence are employed in numerous applications. ISO VG 68 was the largest product segment in 2014 accounting for over 50.0% of global volume and is expected to grow significantly owing to rising use primarily in horizontal slideways. In large machines, the product is employed for circulating applications. They also find application in the manufacturing of gear oil and as a moderate duty hydraulic fluid.
ISO VG 220 is expected to grow at CAGR of over 5.0% from 2015 to 2022 in terms of revenue in light of its increasing need in vertical slideways. For large machines, where precision and high pressures are the primary working conditions, ISO VG 220 is most preferred. In addition, ISO VG 220 is mostly employed on inclined and vertical slideways as it overcomes the drain-down problem. These factors are expected to have a positive impact on the overall market over the next seven years.
Regional Insights
Asia Pacific was the largest product market and is expected to witness considerable rise at a CAGR of over 7.0% from 2015 to 2022 in terms of revenue on account of growing automotive production primarily in China and India. Increasing automotive production mainly in China, Indonesia, South Korea, Japan, Malaysia and Taiwan is a major driver for market growth. In addition, rising government spending on infrastructural development, rapid economic growth, and advancements in road and rail network are expected to propel industry growth over the next seven years.
India is expected to witness high product demand on account of industrialization coupled with government support to manufacturing vehicles. Rising vehicle and components production on account of increasing consumer demand for commercial and personal conveyance is expected to propel product growth over the forecast period. In addition, encouragement of 100% FDI in the automobile sector is expected to boost the manufacturing sector which in turn will augment product demand over the next seven years.
North America was the second-largest market in 2014, accounting for over 20.0% of the global volume share and will witness high growth on account of rising need for machinery in various end-use industries including food & beverage, automotive, and construction. Positive construction outlook primarily in the U.S. is expected to have a favorable impact on product demand over the next seven years.
Competitive Insights
Global slideway oil market is fragmented with few companies including Shell, ExxonMobil, BP, and Fuch's accounting for around 40% of total demand. M&A is a global trend to expand presence in regional markets. Business sell-offs, technological advancements, and joint venture agreements in potential regions are expected to be key competition drivers in the market over the forecast period. Major companies operating in the industry include Shell, Castrol, ExxonMobil, Sinopec, Chevron, and Valvoline.