Industry Insights
The global soda ash market size was USD 15.94 billion in 2015. Global market is supposed to observe demand recovery over the forecast period after witnessing negative year-on-year growth for the past few years. Positive market outlook can be attributed to the exponential demand from the glass manufacturing industry, especially from container and flat glass sectors.
Market is anticipated to undergo transformations over the forecast period owing to the shift of trend in production economics. Increasing demand for natural as well as synthetic products from end-use industries is expected to foster the overall market growth.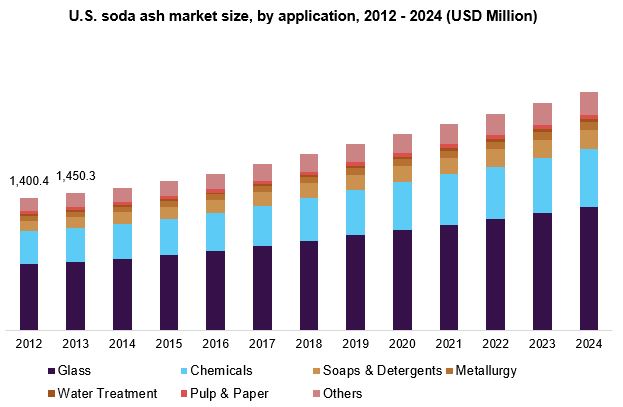 The soda ash market will witness the wider use of naturally available raw materials e.g. trona, due to their low-cost benefits. Stringent regulations in Europe and North America, restricting production of synthetic soda ash has further fueled the demand for natural soda ash. Lenient regulations in other parts of the world, especially in Asia Pacific are expected to boost the synthetic soda ash demand over the forecast period.
Rising demand in soaps and detergents industry, especially in emerging markets such as China, India, etc., is anticipated to strengthen the market further. Also, its ability to control the pH in water and make it softer has opened new avenues in water treatment applications.
Soda ash is expected to witness increasing competition from substitutes such as caustic soda, sodium silicate, etc. over the next eight years. This is likely to limit the market growth. Further, rising prices of trona due to its limited availability in markets other than North America is considered to affect the price of natural soda ash. Synthetic product production being highly energy intensive process, escalating energy cost has drastically altered the product pricing despite its lower demand.
Environmental regulation related to synthetic soda ash production will affect most of the market players. Most of the synthetic soda ash facilities in Europe have been closed in past few years as a result of the implementation of stringent legislations, and the trend is expected to continue over the forecast period. This may further lead to the imposition of anti-dumping duties in emerging countries.
Application Insights
The glass industry has emerged as the largest application segment during the forecast period and is also expected to be the fastest growing segment over the next eight years. Soda ash, owing to its ability to control the furnace temperature necessary to melt silica makes it an essential element in glass manufacturing process.
This application segment is expected to generate over 35 million tons by 2024 and is supposed to account for just under 50% of the entire demand.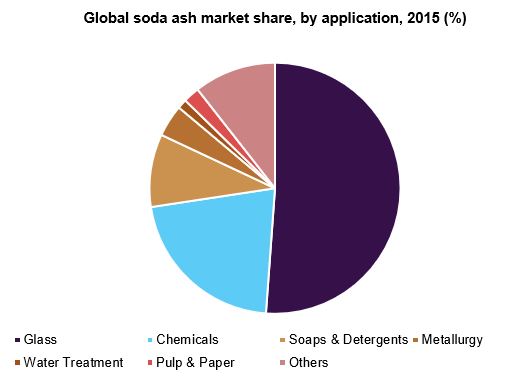 Soaps and detergents are likely to follow glass segment owing to rising demand for soda ash in the production of various cleaning agents. Soda ash demand for soaps & detergents is highest in India and accounted for over 35% of the regional market.
Chemicals application segment expected to be the second largest revenue generating segment for ash soda market. In terms of revenue this segment is expected to surpass USD 1,705.74 million by 2024 with a growth rate of 5.0% over the forecast period.
Regional Insights
North America is the largest producer of natural soda ash, owing to large deposits of trona. North American market is expected to grow at an estimated CAGR of 2.8% from 2016 to 2024. Low cost of natural product will play a significant role in shaping its demand in the North American market.
Asia Pacific market will emerge as the largest as well as the fastest growing region. Market growth is expected to be driven by increasing production capacity in China along with the high growth of end-use industries in emerging economies of China, India, Taiwan, etc. Asia Pacific market will account for over 50% of the market share of which China accounts for over 60% of the total demand.
The Chinese market is anticipated to head towards overcapacity of soda ash during the forecast period as many new plants have started production by the end of 2015. China is projected to face stiff competition from the U.S. regarding its exports owing to cost advantage of the U.S. companies.
Soda Ash Market Share Insights
Key players in the market will have to tackle the challenges posed by rising energy prices. Most of the manufacturers will have to track energy costs to implement suitable pricing policies.
Low cost of natural soda ash is likely to benefit the producers in the U.S., Turkey, etc. This is liable to exert pressure on synthetic soda ash exports especially from China. Mature markets which include Europe are expected to show a negative growth and manufacturers in this region will invest in research and development activities to introduce new substitutes.
Key market players operating in the global soda ash market include Solvay, Tata Chemicals, Searles Valley Minerals, Tronox, OCI Wyoming, Soda Sanayii A.Ş, Nirma Limited, CIECH SA, DCW Limited, FMC Corporation, GHC Limited, etc.