"Southeast Asia Flame Resistant Fabric For Apparel Market Size and Trends"
The Southeast Asia flame resistant fabric for apparel market size was USD 44.6 million in 2015. FR fabric demand for apparel in the chemical & petrochemical sector is anticipated to witness the highest growth over the forecast period on account of stringent health and safety regulations in the region.
Owing to its chemical treatment or exclusively inherent fire retardant properties FR fabrics have gained prominence over other conventional materials. Rising employee awareness toward workplace safety coupled with ongoing revisions in industrial norms regarding material handling procedures has been the major factor driving FR apparel demand in Southeast Asia.
Southeast Asia flame resistant apparel market volume by country, 2015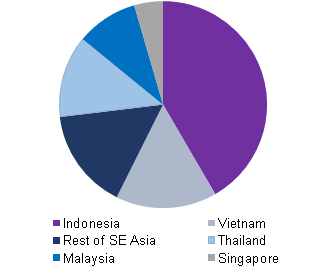 Growing importance of raw materials that offer features such as lightweight, comfort, and higher heat resistance for a prolonged period has been a major incentive for companies to enhance their R&D investment. Key manufacturers in Indonesia, Malaysia, and Singapore have adopted international standards to offer high-quality fire retardant apparel for industries associated with fire hazards.
Increasing incidences of occupational accidents have urged government agencies, such as ASEAN-OSH Network (OSHNET) and OSH, to legislate stringent guidelines in Southeast Asia and to ensure the safety of workers. Fire incidents during handling of chemicals and electrical equipment cause economic loss to the employers in terms of compensation and insurance.
This has urged the various companies in petrochemical and power generation sectors to incorporate mandatory usage of high-quality flame retardant apparel in their operating facilities. Heat-proof clothing and accessories are primarily based on cotton & wool in addition to high temperature resistant fibers such as aramid spunlace, polybenzimidazole (PBI), carbon-impregnated fibers, steel, fiberglass, nylon and polyester, and copper.
Apparel manufacturers design and supply their products for various end-use industries by employing unique and innovative technologies. Most of the key players either utilize their proprietary technology or obtain a license from other industry participants. In addition, FR apparel manufacturers have established long-term partnerships with the distributors in Southeast Asia to further enhance their market position.
Consistent raw material supply in the market is expected to have a positive impact on the supply chain. However, the rising cost of essential materials, such as carbon & aramid fibers, and silicates, that form a significant part of FR fabric compositions is expected to pose a challenge to the market.
Technological advancements coupled with growing concerns toward employee health and safety are anticipated to provide lucrative opportunities for the industry participants over the next few years. Product innovation and usage of sustainable raw materials for FR fabric manufacturing are further estimated to positively influence the market expansion over the next nine years.
Application Insights
Manufacturing emerged as the dominant application segment and is expected to grow at a CAGR of 7.2% over the forecast period. Ongoing urbanization projects in countries such as Indonesia and the Philippines are anticipated to increase the infrastructure spending over the medium term. This is expected to offer ample opportunity for sectors such as power, transportation, and manufacturing in SE Asia over the forthcoming years.
Product demand in the oil & gas segment is expected to exceed 4,500 thousand square meters by 2025. Increasing oil and gas E&P in Indonesia and Thailand coupled with growing concern towards fire accidents in onshore and offshore facilities has contributed to the growth of flame-resistant fabric in Southeast Asia.
Southeast Asia flame resistant fabric for apparel market volume, by application, 2014-2025, (Thousand square meters)
Flame resistant apparel demand in chemical and petrochemical sectors is anticipated to witness the fastest growth and exceed 6.5 million units by 2025. Working professionals in chemical and oil & gas industries are urged to use FR fabrics owing to high accident risk in such industries. Growing demand for refined products in the region is anticipated to steer petrochemical industry growth over the long term.
Regional Insights
Indonesia dominated the market in the region in 2015 and is expected to grow at a CAGR of 7.1% over the next nine years. High penetration of FR fabric can be attributed to rapid expansion in the manufacturing sectors especially in the automotive, construction, and packaging industries over the past few years.
The high rate of petroleum reserve explorations in the region, particularly in the South China Sea basins, have led to a significant increase in the number of white-collar workforce in the region. Growing petroleum processing & petrochemical manufacturing industries in the country is expected to raise the flame resistant and chemical defending garments demand over the next few years.
Singapore flame resistant fabric for apparel market revenue by application, 2014 - 2025 (USD Thousand)
Thailand followed Indonesia, emerging as the second major segment and accounted for over 17% of the global revenue in 2015. The country is the second-largest energy consumer in Southeast Asia, as it is highly reliant on energy imports owing to limited energy resources and also acts as the industrial hub for automotive components in the ASEAN region. The presence of key players such as BMW, Ford, Honda, Mazda, Mitsubishi, Nissan, and Toyota are expected to drive the manufacturing industry in Thailand over the long term.
Vietnam is expected to grow at a CAGR of over 7% from 2016 to 2025. With the recent developments in energy infrastructure and abundant natural resources such as coal, manganese, and offshore oil and gas deposits, the country has witnessed substantial levels of FDI for petroleum refining and chemicals in the region, which is anticipated to increase its economic growth over the forthcoming years.
Competitive Market Share Insights
Key players include DuPont, Huntsman, Kaneka Corp., Ansell, 3M Company, Honeywell, Teijin, and Milliken. These companies have established long-term contracts with FR fiber and apparel manufacturers in Asia Pacific to utilize their technology platforms. Such strategies have contributed to their enhanced market position in the region.
There is a high degree of integration by industry participants at different levels across the value chain. Ongoing R&D investment for product innovation and technological advancements in the field of multi-utility protective equipment by players such as Honeywell and DuPont are the key factors expected to drive the market over the forecast period.
Report Scope
| | | | |
| --- | --- | --- | --- |
| Attribute | Details | Customization Offer (15% free)* | Additional Cost |
| Base year | 2015 | NA | NA |
| Historic | 2014 - 2015 | Extended historic data (2012 to 2015) | Free |
| Forecast | 2016 - 2025 | Extended Forecast data (2025 – 2027) | Free |
| Report details | Market size, company market share, competitive landscape, growth factors, trends | Contact us for specific market information not available in this report | Quotation to be shared post feasibility |
| Market representation | Thousand Units, Thousand Sq. Meters and USD Thousand | NA | NA |
| Geographic coverage | SE Asia (by country) | Information on up to three additional countries | Free |
| Company profiles | All major market players | Profiles of 10 additional companies | Free |
* 15% free customization - This is equivalent to work done by one research analyst for 5 working days.

Market segments covered in the report
This report forecasts volume & revenue growth and provides an analysis of the market trends in each of the sub-markets from 2014 to 2025. For the purpose of this study, Grand View Research has segmented the Southeast Asia flame resistant fabric for apparel market on the basis of application, and region:
Application Outlook (Volume, Thousand Units, Thousand Square Meters; Revenue, USD Thousand, 2014 - 2025)

Chemical & Petrochemical
Oil & Gas
Manufacturing
Power Generation
Others

Regional Outlook (Volume, Thousand Units, Thousand Square Meters; Revenue, USD Thousand, 2014 - 2025)

Singapore
Vietnam
Malaysia
Indonesia
Thailand