Industry Insights
The global stainless steel forgings market size was valued at USD 7.51 billion in 2015. The stainless steel forgings demand is majorly driven by growing manufacturing activity around the world. The ability of stainless steel to withstand chemical, physical and electrical wear and tear is the major factor responsible for the growth of these products.
High recyclability offered by stainless steel is driving the demand for these products. The growing application of these products in industrial and aviation application segments is serving as a growth opportunity for these products. Forgings manufactured from aluminum and plastic composites are expected to pose a major threat to the growth of these products over the forecast period.
Global iron ore prices, (USD per dry metric ton), 2011 - 2016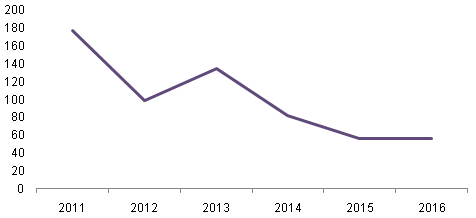 There is an upswing in the construction industry from emerging economies owing to increased government expenditure on infrastructure which is expected to increase the demand for these products. The fluctuating prices of raw materials such as nickel and iron ore are expected to impact the industry growth.
Application Insights
The global market has been segmentedon the basis of application as building & construction, industrial, automotive, aerospace, consumer goods, and other applications. Industrial was the largest application segment in 2015 with a share of 33%. The favorable properties of stainless steel forgings such as strength and resistance to wear and tear are driving the demand for these products in this application segment.
The stainless steel forgings application in automotive is expected to grow rapidly at a CAGR of 4.5% from 2016 to 2024. The rising demand for lightweight forged products with enhanced wear and tear resistance is driving the growth.
Global stainless steel forgings market, by application, 2015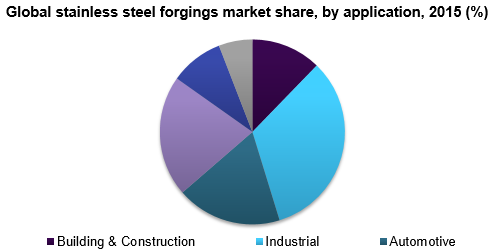 The demand for stainless steel forgings in aviation application is expected to grow at a CAGR of 7.0% from 2016 to 2024. The product's versatility of size, shape, and properties make it an ideal component for the manufacture of bulkheads, wing roots and spars, hinges, engine mounts, brackets, beams, shafts, landing gear cylinders and struts, wheels, brake carriers and discs and arresting hooks.
Product Insights
The stainless steel products manufactured using the forging products are classified into three main categories: cold/hot forged parts, castings and sintered parts. Cold/Hot forged parts are the dominant product segment with a market share of over 80% in 2015. Castings are fastest growing product segment growing at a CAGR of 4.5% from 2016 to 2024.
Sintered parts are the niche product segment in the market. Sintered products possess properties such as electrical conductivity, translucency, and thermal conductivity. The enhanced property provided by these products is driving the demand forindustrial applications. The research and development efforts concerning the development of sintered products with enhanced strength are expected to drive demand for these products.
Regional Insights
North America stainless steel forgings market is driven by strong demand from the automotive industry. The revenue is expected to reach USD 1.05 billion by 2024. The aerospace manufacturing industry in this region is also growing rapidly owing to rising need for defense aircraft.
The rising number of manufacturing industries in Eastern Europe is driving the demand for forgings. The major countries leading forgings consumption are Germany, UK, and France due to the presence of major manufacturers in these countries.
Asia Pacific dominated the global market with a share of over 60% in 2015. The rise in manufacturing activities in countries such as Japan, China and Indiais expected to drive the demand in Asia Pacific. The rise in foreign investment and favorable government policies in these countries is driving the demand for these products.
China stainless steel forgings market revenue, by product, 2013 - 2024 (USD Million)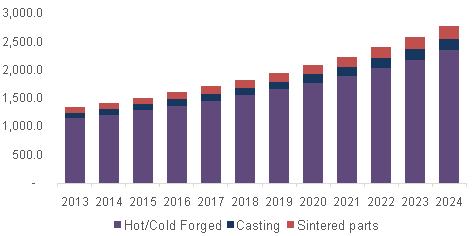 Infrastructure development in Latin America and Africa is fueling demand for stainless steel forgings.The government initiative aimed at increasing the manufacturing activity in the region can boost the demand for stainless steel forgings over the forecast period.
Competitive Insights
Companies in the market are moderately competitive with presence across all the key regions worldwide. PCC Forged Products and ISGEC Heavy Engineering are the major players. The other notable market players are Harihar Alloys, Sintex A/S, Investacast, Forge Products Corporation, Scot Forge and Canada Forgings Inc.
The presence of a large number of local players is also increasing competition in the market. The macro economic factors such as oil & gas prices and political scenario have a profound effect on the competitive environment of the stainless steel forgings industry.
Report Scope
| | | | |
| --- | --- | --- | --- |
| Attribute | Details | Customization Offer (15% free)* | Additional Cost |
| Base year | 2015 | NA | NA |
| Historic | 2013 - 2014 | Extended historic data (2012 to 2015) | Free |
| Forecast | 2016 - 2024 | Extended Forecast data (2024 – 2027) | Free |
| Report details | Size, company share, competitive Landscape, growth factors, trends | Contact us for specific information not available in this report | Quotation to be shared post feasibility |
| Market representation | USD Million, Kilo Tons | NA | NA |
| Geographic coverage | Global & Regional (by country) | Information on up to three additional countries | Free |
| Company profiles | All major industry players | Profiles of 10 additional companies | Free |
*15% free customization - It is equivalent to work done by a research analyst for 5 working days
Segments covered in the report
Grand View Research has segmented the stainless steel forgings market by product, application, and region.
Global Product Outlook (Volume, Kilo Tons; Revenue, USD Million, 2013 - 2024)

Cold/Hot Forged Parts

Castings

Sintered Parts

Global Application Outlook (Volume, Kilo Tons; Revenue, USD Million, 2013 - 2024)
Global Regional Outlook (Volume, Kilo Tons; Revenue, USD Million, 2013 - 2024)