Industry Insights
Global structural adhesives market size was 5,052.9 kilo tons in 2013. High demand from furniture, transportation and construction are expected to drive the global industry growth over the forecast period. Increasing usage of plastics in automotive has generated the necessity for better adhesion between dissimilar substrates such as steel-plastic and steel-magnesium.
Structural adhesive automotive applications include component fabrication such as doors & enclosures, window glass attachments, brake & friction pads and body panels. Global automotive production has witnessed significant growth on account of increasing passenger car demand in China, India, Brazil, and Mexico. Simultaneously, these markets have been registered high growth in automotive production. The above-stated factor could considerably impact global structural adhesives industry demand. Moreover, increasing composites consumption in aircraft manufacturing and subsequent need for adhesives with better structural integrity and strong bonding are expected to further complement growth.
Global structural adhesives market share by product, 2012 - 2022 (Kilo Tons)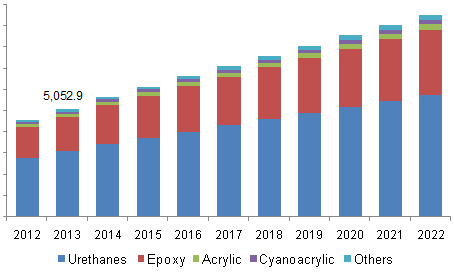 Recovering economic scenario in the U.S., rising disposable income in emerging regions, and evolving trends in furniture designs are major factors driving furniture industry growth globally. With increasing demand for furniture as a result of growing housing demand, structural adhesives are expected to find consumption in applications such as rigid bonding of glass panels, decorative trims, wood panels and drawing liners.
Technology Insights
Based on technology, the global industry has been segmented into water-based and solvent-based among others such as hot melt and reactive. Water-based adhesive formulation technologies accounted for over half of the global volume in 2013. Its semi-flexibility when dry, rapid drying rate and water resistance properties have largely favored its usage in various rigid bonding applications such as joint cement, wall coverings, household appliances, automotive assembly, counter tops and furniture panels.
Water-based technology is expected to further gain prominence on account of technological innovations in its formulation. Solvent-based structural adhesives are widely used in architectural, furniture and industrial machinery applications. Stringent regulatory norms by agencies such as U.S. EPA along with EU legislations regarding VOC presence in solvent based formulations is considered a major hindrance to global industry growth.
Other niche technologies such as reactive structural adhesives are increasingly finding penetration and are being majorly used in acrylic adhesive formulations. The technology enables for adhesive curing by ambient temperature and material moisture, since they do not require external heat input.
Product Insights
Urethanes, epoxy, acrylic and cyanoacrylic among others such as methacrylates and silicone are key products. Urethanes were the largest product segment and accounted for over 60% of the global volume in 2013.
Urethane adhesives are prominently used for plastics adhesion in various rigid and semi-riding bonding applications such as construction, automotive and independently in plastic panels. Their high elasticity and durability contribute towards energy absorption and flexibility among dissimilar materials. These factors are expected to further contribute towards its demand growth over the forecast period.
Cyanoacrylic adhesives are expected to register high growth owing to their fast setting properties and low toxicity. Furthermore, these properties make them suitable for applications such as industrial machinery, medical devices, consumer goods and household appliances. High industrial output in industries about the aforementioned applications is anticipated to be a major driving factor for cyanoacrylic adhesives.
Application Insights
Application segments in the report include transportation, construction, consumer appliances and furniture among others such as industrial machinery, medical devices, and packaging. Furniture is expected to register high growth on account of increasing furniture demand for households, commercial spaces, and workplaces.
Increasing plastics consumption in automotive component fabrication coupled with high necessity for superior metal-plastic bonding is expected to drive the global industry growth in transportation application. U.S. and Europe funding for public infrastructure betterment along with increasing construction spending in emerging markets are expected to be major driving factors for the global industry growth in construction applications such as roofing, window panels, doors & enclosures and wall coverings. Adhesives with organic solvent content are gradually gaining prominence in medical device manufacturing. This trend is expected to further complement structural adhesives demand in the aforementioned application.
Regional Insights
Asia Pacific structural adhesives market accounted for over almost 45% of the global volume in 2013. Other regional markets analyzed in the report include North America, Europe, Central & South America and the Middle East & Africa. High industrialization in India and China and subsequently growing transportation, construction and furniture industries in these respective countries is expected to favorably impact Asia Pacific market growth over the forecast period. Robust economic, industrial growth in Southeast Asian markets, particularly in construction, consumer appliances, and furniture, are expected to further complement Asia Pacific demand.
Central & South America are comparatively small regional demand centers but are expected to witness significant growth over the forecast, primarily driven by Brazil. Brazil nearly accounted for half of the Central & South American market and is driven by high construction and automotive industry growth.
Competitive Insights
Global structural adhesives market share is concentrated in nature with multi-national corporations catering to end-use industries while small scale companies are catering to niche applications. The presence of matured distribution network enables smaller companies to easily market their products.
Technological advancements, product pricing and partnership agreements especially for catering to domestic demand are expected to be key competition drivers. Key companies include Henkel AG & Co., Ashland Inc., SIKA AG, Arkema S.A., 3M Company, The Dow Chemical Company, Scott Bader Company, Lord Corporation and Ried BV.