Industry Insights
Global surfactants market size was worth USD 29.93 billion in 2014. The growth of detergents market, particularly in Asia Pacific and Latin America on account of growing disposable income levels, is expected to drive the global surfactants market over the forecast period. Increasing oilfield chemicals owing to rapidly increasing E&P activities in North America and China is also expected to have a positive impact on the growth.
Surfactants are employed to reduce surface tension between two liquids or a liquid and a solid in the form of detergents, emulsifiers, dispersants, wetting agents or foaming agents. They find application in various end-use industries such as pharmaceuticals, petroleum cosmetics, and agrochemicals. Continuous growth in these sectors is expected to benefit industry participants.
Growing demand for biosurfactants in developed economies of Europe and North America on account of growing consumer awareness and regulatory pressure to reduce reliance on their synthetic counterparts is expected to create new avenues for industry participants. Governments across these regions have also been promoting the use of biosurfactants which promotes industry participants to increase its production.
Low production costs and relatively flexible regulatory scenario in countries such as China, India, Indonesia, Thailand and Vietnam are expected to help penetration over next seven years. Surfactants provide viscosity and stability to emulsion and foam. This is further expected to drive the product demand from various industries over the forecast period.
Price volatility due to constantly fluctuating crude oil prices coupled with rising environmental concerns regarding surfactants degradability and toxicity may challenge growth prospects. Technological constraints resulting in problems related to commercial production of biosurfactants is also expected to hinder the market growth over the forecast period.
North America surfactants market revenue by product, 2012-2022, (USD Million)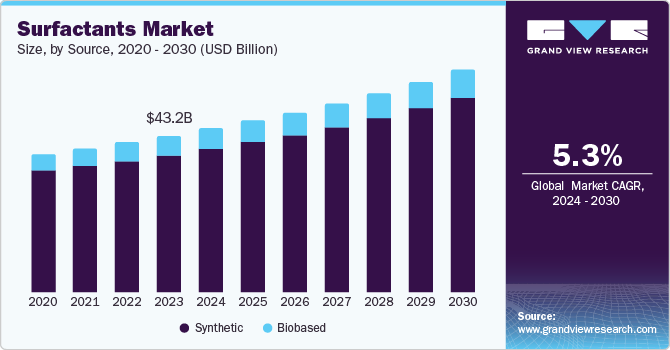 Product Insights
Anionic surfactants emerged as the largest product segment with demand share exceeding 45% in 2014. Growing demand for linear alkyl benzene in detergents and cleaners owing to advantageous product characteristics are expected to boost growth.
Nonionic surfactants are expected to witness lower growth rate on account of large availability of substitutes with better properties. Amphoteric surfactants are expected to be the fastest growing product segment over the forecast period.
Regarding value, amphoterics are expected to grow at an estimated CAGR of 6.2% from 2015 to 2022. The segment is expected to witness higher demand on account their various properties which include foaming & foam stabilization, conditioning, detergency, biodegradability, etc.
Application Insights
On the basis of applications, the industry is categorized as industrial & institutional cleaners, elastomers & plastics, home care, personal care, food, pharmaceuticals, crop protection, soaps or detergents and textiles.
Home care was the leading application segment in 2014 and accounted for over 40% of the overall product demand. The huge demand from home care segment can be attributed to increasing product demand in soaps, detergents, and household cleaners. This segment is expected to lose some of its shares to some of the other segments over the forecast period.
Personal care segment is expected to witness the highest growth over the forecast period. In terms of value, the segment is expected to grow at an estimated CAGR of 6.3% from 2015 to 2022. Food processing segment is expected to be the second-fastest growing application segment over the forecast period. Textiles application segment is expected to witness the slowest growth over the forecast period. This is mainly due to increasing substitution of surfactants by other products in the industry.
Regional Insights
Asia Pacific was the largest consuming region owing to increasing awareness regarding bio-based products along with rising demand for personal care and home care products. Asia Pacific market was valued at over USD 9,500 million in 2014 and is also expected to witness the highest growth over the forecast period.
Asia Pacific was followed by North America, which accounted for over 28% in 2014. North America and Europe are expected to witness sluggish growth owing to stagnant end-use industries in the region. The Economic slowdown in the region has also adversely affected the growth in North America and Europe.
Competitive Insights
Global surfactants market share is highly concentrated with top four participants accounting for over 65% of the global industry in 2014. BASF-Cognis was the leading company operating in the global market. BASF is followed by Akzo Nobel and Kao Corporation. Other key industry participants include Stepan Company, Rhodia, Clariant, Evonik Industries, Croda International, Huntsman Corporation, etc.
New product development is the key strategy implemented by most of the industry participants. Additionally, merger & acquisitions, joint ventures, coupled with effective marketing strategies are expected to be some of the major strategies used by industry players. Media platforms are anticipated to be used on a large scale for product differentiation and promotion.