Industry Insights
The global surgical stapling market size was valued to be around USD 3.4 billion in 2015 and is expected to grow at a CAGR of around 8% over the forecast period. The market is expected to exhibit lucrative growth opportunities in the coming years, owing to the increasing preference for staples over sutures.
Initially, sutures were widely used for wound closure surgeries. However, introduction of staples has gradually outpaced the suture market due to the several advantages. Apart from being a tedious process, sutured surgical sites may exhibit wound leakage and separation, whereas surgical staples offer better speed, accuracy, and efficient wound closure.
U.S. surgical stapling market, by product, 2013 - 2024 (USD Million)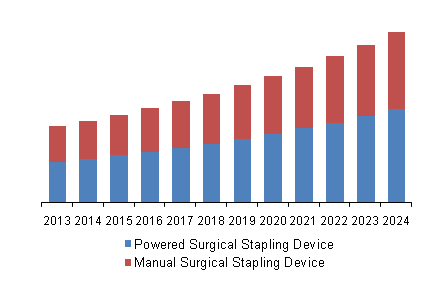 With increasing technological advances, several market players are commercializing staples used for endoscopic surgeries. These devices find application across various branches of medicine, such as gynecology, thoracic, gastrointestinal related surgeries, and tissue & wound management procedures.
Moreover, in developing countries, such as India and China, surgical staplers are widely employedfor bariatric surgeries. Covidien plc and Ethicon Endo-Surgery, Inc.,offering titanium stomach staples, reported that obesity-related surgeries in India have doubled in 2013, and hence , the number of bariatric procedures has increased in the country.
Product Insights
Conventionally, manual surgical staples were used along with scalpels, forceps, and scissors. With soaring demand and increasing frequency of surgeries, powered stapling devices are expected to be the fastest growing product segment over the forecast period.
Introduction of novel technologies such as biowelding, andcold plasma, used to seal the wound without scar or stitches would create a demand for electrosurgical devices in the near future and is an alternative to sealants, surgical staples and sutures. It is approved in Europe and is used in skin grafting; therefore, its usage is expanding in the region.
Type Insights
Based on the type of material used, there are two major types of surgical staplers namely; disposable and reusable staples. Medical grade plastic forms the material used indisposable devices while reusable staples are made from stainless steel used for biomedical application. Both the types possess disposable cartridges.
The need for disposable devices is expected to grow at a rapid rate over the forecast period as a result of the heightened concern for communicable infections. The Centers for Disease Control and Prevention (CDC) promotes the use of disposable devices and provides protocols to prevent the spread of pathogens. There gulatory authorities such as the U.S. Food and Drug Administration (FDA) has also stated some measures to ensure that the set protocols for sterilization of medical devices need to be followed strictly in order to avoid infections.
Surgical stapling forms an integral part of several surgical procedures such as bariatric surgery, orthopedic surgery, cardiothoracic surgery, gastrointestinal modifications, and cosmetic/skin grafting procedures among others.
Lifestyle changes have led to anincrease inpeople suffering from obesity, especially in developed countries such as the U.S. This has induced an increase in demand of bariatric or weight loss procedures, ultimately increasing the application of staples. For instance, approximately 113,000 bariatric surgeries are performed every year in the U.S. The trend of opting for bariatric surgery is gaining grounds in developing countries too. India is one of the fastest growing markets of bariatric procedures with an impetrating supply of 10,000 staples every year.
Regional Insights
In 2015, North America held the largest market share due to the early acceptance of staples in the region and use of advanced technologies and noninvasive methods for the surgeries.
AsiaPacific is the fastest growing sectorwith a CAGR of over 8.5% due to the presence of a large patient pool in economies such as India, China and Japan. In 2011, surgical staplers were categorized under "drugs" and were regulated under Drugs and Cosmetics Actin India because of the increasing demand and use. Implementation of this act rendered strict regulations for the manufacturing and distribution of surgical staplers. With the increasing conduct ofsurgical procedures, coupled with the rising healthcare expenditure, and rising awareness about the use of them, the demand for stapling is expected to witness a lucrative growth.
Competitive Market Share Insights
Some key industry contributors are Covidien plc, Ethicon Endo-Surgery, Inc., Cardica, Inc, Zimmer Holdings, Inc., Stryker Corporation, Smith & Nephew plc, Conmed Corporation, and CareFusion Corporation.
In February 2014, Medtronic plc received the FDA approvalfor EndoGIA Reinforced Reload. The company specially designed thisdevice to optimize the stapling performance for fragile tissues.