Industry Insights
Increasing demand in application areas is expected to drive the temperature sensors market. Rising government initiatives for environmental conservation is estimated to fuel market demand over the forecast period. Technologically advanced consumer electronics and the strong aftermarket are also expected to favorably impact global demand over the next six years. The use of microtechnology and nanotechnology, which enables accurate and contactless measurements is also expected to provide positive avenues to market growth.
Global temperature sensors market by application, 2012 – 2020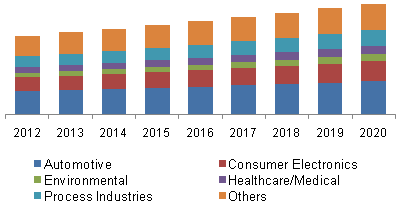 The raw material used for manufacturing plays a crucial role in sensor efficiency and durability. The use of new raw materials such as lithium-niobate and langasite has increased the measurement ranges of temperature sensors. However, silicon-based sensors are primarily used owing to their availability and low cost as they are produced in bulk. Silicon multisensors are also increasingly used to measure various physical parameters such as pressure and temperature. Multisensors are increasingly used for mass applications owing to their stability which, is expected to drive overall temperature sensors market growth.
Application Insights
Temperature sensors are used in various industries such as automotive, healthcare, consumer electronics, food & beverage, aerospace & defense, etc. to address increasing advanced automation needs. The emerging applications in aerospace & defense such as temperature stabilization in satellites and HVAC are expected to fuel market growth. Industrial applications need process control with high accuracy. They are used for sensitive processes, which need controlled process environments such as for chemical mixing. Additionally, they are also used in test and measuring equipment to measure temperature and volume for industrial processes. For instance, medical processes have highly regulated manufacturing environments.
Temperature controls are essential for the manufacturing, handling, and storing of medical equipment and drugs. They are increasingly used in the communication industry with growth in handheld communication devices. They maintain component performance and reduce power consumption by monitoring temperature. Additionally, these sensors are used in wireless routers, switches, modems, Bluetooth devices, VoIP equipment, and communication equipment such as ATM, MPLS, SONET, etc. Temperature sensors are widely used in personal computers and accessories such as scanners, printers, copiers, and POS terminals. Entertainment systems such as flat-panel TVs, Blu-Ray/DVD players, and gaming consoles also use these products for performance enhancement.
Regional Insights
The temperature sensors market is expected to considerably grow in emerging economies such as China, India, and Japan, etc. while developed markets are expected to invest in new technologies, which can measure temperature with more efficiency and accuracy. The Asia Pacific is expected to be the key regional market over the forecast period. Europe is expected to grow slower than the overall market.
Temperature Sensors Market Share Insights
Key market players include ABB, Analog Devices Inc., Delphi Automotive, Siemens AG, Freescale Semiconductors, Honeywell International, Texas Instruments, NXP Semiconductors, Panasonic Inc, etc. Analog Devices Inc. offers both analog & digital temperature sensors and serves a wide range of industries including automotive, communication, consumer electronics, medical and industrial, etc. In June 2013, Analog Devices Inc. was selected by Audi to collaborate strategically within its Progressive Semiconductor Program (PSCP), which increases engagement between Audi and selected semiconductor suppliers to enhance the value they bring to the functionality and reliability of future cars. Siemens AG offers temperature sensors for aircraft, which generates alerts well before an asthma attack.