Industry Insights
Global therapeutic respiratory devices market size was valued at USD 8.07 billion in 2014. Key drivers of this industry include the increasing prevalence of target disorders such as sleep apnea, asthma, and COPD, growing patient awareness levels and demand for early disease diagnosis.
As per the WHO estimates COPD is expected to be the third leading cause of death worldwide. According to statistics published by the National Sleep Foundation, around 40 million Americans were affected by chronic sleep disorders in 2012. Moreover, the prevalence of obstructive sleep apnea was calculated at 12 million in the U.S. with a diagnosis rate of approximately one in 22.
The prevalence of this disease is expected to constantly rise during the forecast period, owing to the growing prevalence of cardiovascular diseases, hypertension, and obesity. Furthermore, technological advancements associated with these systems and rising healthcare expenditure levels globally are responsible to expected to drive therapeutic respiratory devices industry growth over the forecast period.
U.S. therapeutic respiratory devices market share, by product, 2012 - 2022 (USD Million)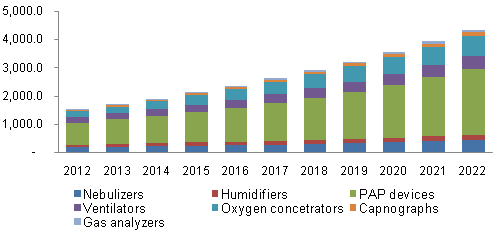 Product Insights
Key therapeutic respiratory devices market products include positive airway pressure, ventilators, nebulizers, humidifiers, oxygen concentrators, capnographs and gas analyzers. As of 2014, positive airway pressure systems dominated the overall segment at over 50.0%. This can be attributed to technology innovation resulting in increased portability and shelf life.
Nebulizers are anticipated to grow at the fastest rate over the forecast period as a consequence of, the rising inclination towards non-invasive products. Moreover, product innovations and benefits associated with nebulizers over present alternatives are also likely to serve as high impact rendering drivers. Key associated benefits include low operational costs, better patient compliance, less medication wastage, and rapid restorative rates.
Technology Insights
Electrostatic filtration, HEPA filter technology, hollow fiber filtration and microsphere separation are the technologies analyzed under the scope of this study. The electrostatic filtration segment was one of the most dominating technology segments with a share of over 30.0% in 2014.
Some key factors attributing to the segment's position include high usage of the technology in frequently used products and the advent of novel technologies such as negative pressure particulate respirator filters that provide highly efficient air filtration.
In addition, the hollow fiber filtration technology is expected to witness lucrative growth in usage rates over the forecast period owing to, the ease of maintenance it provides to the users.
Filters Insights
These devices utilize ventilator, positive airway pressure, nebulizer, oxygen concentrator and humidifier filters. The therapeutic respiratory device market was dominated by ventilator filters in 2014. Extensive usage of these in systems that are used to treat a patient suffering from chronic disorders is a key driving factor.
However, humidifier filters are expected to grow significantly over the forecast period owing to the rising demand for humidifiers in hospitals, schools, home, and healthcare entities to prevent the growth of mold, mildew, fungi, and bacteria in the circulating air.
Regional Insights
North America therapeutic respiratory devices market was the largest and was valued at USD 2.92 billion in 2014. The presence of large geriatric population base and rising prevalence of chronic target diseases are likely to boost regional growth over the forecast period.
Moreover, regional growth is supported by the presence of well-structured reimbursement policies in the U.S. such as Medicaid and Medicare aided by CMS and healthcare centers accounts. The increasing healthcare awareness, improvement in healthcare infrastructure, and an increasing number of outpatient surgeries is likely to ensure demand sustainability throughout the forecast period.
The Asia-Pacific and Latin American markets are likely to experience expedited growth over the next seven years. The rising number of patients suffering from respiratory disorders and the presence of high unmet medical needs are expected to serve as key growth drivers.
Competitive Insights
A large portion of the therapeutic respiratory devices market share is accounted for by GE Healthcare, Philips Healthcare, Smiths Medical, Covidien Plc, and CareFusion Corporation. Mergers and acquisitions and new product development are some frequently adopted business strategies.
For instance, in January 2015, Covidien Plc was acquired by Medtronic Inc. Medtronic is a healthcare company with a comprehensive product portfolio and broad geographic reach. The merger of the two companies is expected to accelerate the development of innovative healthcare solutions.