Industry Insights
TPU films market is expected to be driven by increasing market penetration in automotive industry. The after sales/replacement market has become a focal point for the consumption of TPU films in automotive applications over the last few years. The growth of end-use industries such as construction, railway, and aerospace, primarily in Asia Pacific is expected to fuel global TPU films market over the forecast period. Use of polyether based films in medical applications is another factor critical to market growth. Stringent environmental regulations regarding the use of hazardous raw materials are expected to remain a key challenge for market participants over the next six years. Agencies such as EPA, REACH, and OSHA have made registration mandatory for companies operating in the market.
The market is increasingly shifting focus on the development of new additives to improve the product specifications. Additionally, use of bio-based as an alternative raw material for the production of TPU films has increased over years. Major companies in the market are striving to attain sustainability through product innovation and enhanced technologies. Companies such as PolyOne, Arkema, DuPont, and Merquinsa have already ventured into the bio-based TPU films market. Increasing R&D on sustainable thermoplastic polyurethanes is expected to yield opportunities to market participants over the forecast period. Volatile prices of raw materials such as propylene and aniline are expected to impact MDI and polyol supply which may hamper profitability for participants in the global TPU films market.
Application Insights
On the basis of application, the TPU films market is segmented into automotive, railways, leisure & sports, energy, building & construction, furniture, and aerospace. Increasing use in automotive components such as instrument panels, levers, and sensors are expected to drive the market growth in automotive applications. Growing GDP, urbanization, and rapid industrialization has resulted in increased spending on infrastructure by emerging economies such as China and India in Asia Pacific. Increasing construction spending in Asia Pacific is further expected to fuel the global TPU films market.
Moreover, thermoplastic polyurethane offers excellent surface protection for solar panels and windmill blades. An increasing number of solar and wind power installations is expected to drive the TPU films market over the forecast period.
Global TPU films market volume growth by application, 2012-2014 (Tons)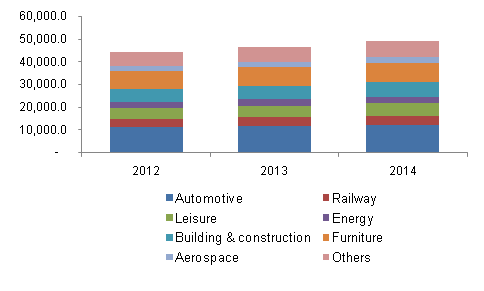 These films are widely used in the aerospace industry for armrest surfaces, interior panels, seat cushions, masks and aircraft wire & cable jacketing. Growing aviation sector due to technological advancements and increasing use of thermoplastics in aircraft is also expected to have a positive influence on the market over the forecast period.
Regional Insights
Asia-Pacific was the largest regional market and accounted for over 34% of global TPU films market. Growing automotive and infrastructure industries in emerging economies of China and India are expected to remain a key driving factor for this region. Increasing production, coupled with the expansion of existing facilities by producers in China is expected to complement the market growth of the next six years. TPU films market in North America is characterized by increasing penetration in automotive, construction and energy applications. The increasing application of TPU in leisure & sports is expected to drive the market growth in Europe. However, recent economic recession in Europe has slowed down the growth of major end-use industries such as automotive, construction and aerospace. This, in turn, is expected to hinder the regional TPU films market.
Competitive Insights
Global TPU films market is highly fragmented owing to the presence of a large number of domestic manufacturers and suppliers in various regional markets, particularly China. The market has witnessed frequent mergers and acquisitions by companies in order to gain market share. In December 2011, Huntsman Corp. of U.S. acquired EMA Kimya Sistemleri Sanayi ve Ticaret A.S. of Turkey. Some of the major companies operating in the global market include Bayer Material Science, Huntsman Corporation, 3M Company, MH&W International Corp., PAR Group, Avery Dennison, American Polyfilm Inc., Permali Gloucester Ltd., BASF, Lubrizol, and Nippon Polyurethane. Top four companies accounted for just over 40% of the total market demand in 2013.