Industry Insights
The global transcriptomics technologies market was valued at USD 2.2 billion in 2014. Key drivers of the market include increasing preference for personalized medicines by both manufacturers and end-users. Furthermore, continuous technological advancements in products are expected to enhance market growth, fueling its growth.
Increased preference for precision medicine further propels the growth of transcriptomics research, followed by a higher degree of commercialization of the same. Currently, there is a need for multiplexed RNA quantification, gene expression patterns of specific genes, and other assay technologies that enable the transcriptomics technologies industry to exploit business opportunities in developing novel drug targets.
North America transcriptomics market, by technology, 2012-2022, (USD Million)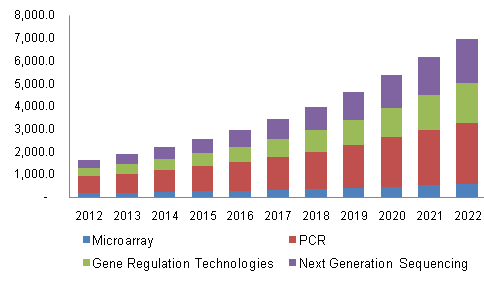 Transcriptomics comprises the set of transcripts present in any individual and is referred to as the study of all the transcript molecules. Transcripts include all types of RNA such as messenger RNA, ribosomal RNA, transfer RNA, and non-coding RNAs. The study of the transcriptome enables researchers to properly analyze gene expression and functioning patterns of every gene in an organism.
Growing demand for personalized medicine and genetic testing, rising prevalence of diseases such as diabetes, hepatitis B, and cancer is further expected to serve transcriptomics technologies market by heightening the importance of drug discovery and development. Increasing incidences of genetic mutations occurring in carcinogens and genetic variations in the global population is another propelling factor expected to enhance market growth over the forecast period.
Technology Insights
Continuously upgrading technology, the introduction of robust and efficient methodologies, and a rise in demand for more compact and reliable products are some of the factors driving the transcriptomics technologies market. In addition, the increased automation of various transcriptome analysis methods (such as SAGE and amplification of nucleic acids), followed by extensive use of these technologies in analyzing gene expression will further enhance the growth and uptake of several transcriptomics technologies (such as RNA interference technology, and sequencing). However, the high cost and maintenance of sequencing platforms followed by the need for highly effective methodologies are some of the challenges faced by the transcriptomics technologies market. Next-generation sequencing is the most dominant technology segment owing to the increasing demand for whole RNA sequencing and targeted resequencing.
Application Insights
The transcriptomics technologies market is estimated to witness significant growth majorly owing to the rising technological advancements in R&D and the application of RNA sequencing technologies in analytical research. Increasing private and government funding for research along with R&D investments by pharmaceutical and biotechnology companies are expected to fuel industry growth. The era of personalized medicine worldwide further boosts the market growth.
Regional Insights
Transcriptomics technologies market is segmented on the basis of the region into North America, Europe, Asia-Pacific, and the Rest of the World. The global market is expected to reach USD 6,980 million by 2022. Major drivers for growth are rising demand for personalized medicine and increasing investment in R&D, which are expected to provide an impetus to growth and approval of transcriptomics technologies. The global market is dominated by North America owing to intense R&D and rising awareness. Europe shared over 23% of the total market for transcriptomics technologies in 2014 and is expected to grow at a lucrative rate over the forecast period.
Market Share Insights
The major share of the transcriptomics technologies market share is held by companies such as Thermo Fisher Scientific, Affymetrix, Bio-Rad Laboratories, Danaher Corporation, Agilent Technologies, Illumina, Qiagen, and Roche. The players of the transcriptomics technologies market are actively involved in technological advancements to enhance their regional presence and expand their portfolio. For example, in January 2015, Affymetrix expanded the arraying portfolio of Axiom Genotyping Arrays. The array would offer applications in the field of animal breeding and agricultural routine analysis.
The players are also involved in various strategic collaborations, such as mergers and acquisitions, to strengthen their position in the market. For instance, in February 2014, Thermo Fisher Scientific completed the acquisition process of Life Technologies Corporation, thereby increasing the product portfolio and market expansion of Thermo Fisher Scientific. Another such example is, in June 2015, Qiagen announced the partnership agreement with Biotype Diagnostics GmbH, wherein a new company Biotype Innovation GmbH will be established. The company will produce molecular diagnostic workflows with the division of distribution right between the two firms.