Industry Insights
Global transfection reagent and equipment market size was valued at USD 616.59 million in 2014. Growing need for high throughput production of recombinant protein directly affects the need for transfection procedures and is expected to be a primary factor driving the growth throughout the forecast period.
This industry is also anticipated to witness significant growth in demand due to growing clinical development of biopharmaceuticals, which require gene expression and gene analysis studies for the purpose of their investigative analysis and bio-authenticity studies for regulatory approvals.
U.S. Transfection Reagent & Equipment Market revenue by method, 2012-2022, (USD Million)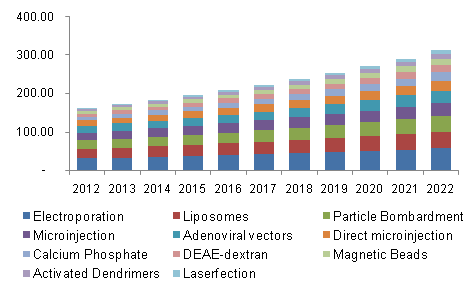 Over the forecast period, there are a number of drug patents, which are expected to lapse and accelerate development of biosimilar drugs. Their development is greatly dependant on a combination of cytological, genomic and proteomic analysis, which involves a significant application of transfection procedures.
Furthermore, rising R&D investment by large pharmaceutical companies focusing on the expansion of their market presence through enhancement of their western geographic segments is also a significant factor anticipated to fuel the growth of this industry over the forecast period.
Transfection Method Insights
Transfection through electroporation accounted for the largest share of the revenue generated for 2014 and accounted for over 15% of the revenue. The high rate of usage & adoption of this technique is due to its user-friendly applicability to all different types of cells. Moreover, it is also easily implementable to cells at all phases of the cell cycle equally.
However, due to the risk of cell damage associated with the misuse of this method is expected to slightly hinder the growth in demand over the forecast period. Liposomal transfection accounts for the second most prominent share of the generated profits and exhibits an efficiency level equivalent to that of electroporation.
Growing market usage of liposome-based technology over the past couple of years due to significant advancement in transfection efficiency due to its usage is a key factor anticipated to fuel the growth of this segment over the forecast period. Particle bombardment and adenoviral vectors are other considerable segment expected to provide lucrative prospects for growth.
The probable decline in the cost of particle acceleration and bombardment equipment is going to enhance market penetration rates of gene gun and related usage. The methods are expected to account for a significant share by 2022 and grow at a faster growth rate owing to its technologically advanced nature.
Viral transfection is anticipated to witness growth in demand owing to the significant rapid implementation that the method provides and consequent ability to carry out the procedure on a larger number of cells simultaneously. Growing usage of these methodologies is expected to significantly enhance demand for transfection reagents over the next seven years.
Application Insights
Gene expression and protein production accounted for the most prominent share of global revenue for 2014. The primary application of transfection methodologies is to introduce foreign nucleic acid into cell cytoplasm for the purpose of expression analysis of proteins for development of biopharmaceuticals and vaccine production.
Estimated growth in the demand for larger quantity proteomic analyzers and an increasing number of cytology-based research programs in oncology and biomedical studies is another significant factor expected to fuel growth over the forecast period.
Regional Insights
North America accounted for the largest share of revenue in 2014 and was valued over USD 240 million. This large share of revenue can is attributed for by the presence of a number of research institutes and clinical development organizations involved in R&D, manufacture and production of biopharmaceuticals, vaccines, and biosimilar drugs.
The high presence of academic and research units of institutes directly involved in genetic research and protein production processes enhance the demand for transfection equipment and reagents in this region. Higher levels of government expenditure for specialized biomedical and cancer research is a significant factor accounting for this region's large share.
Europe was also observed to be a leading region and it follows close behind North America in terms of revenue generation. Considerable development in scalable and reverse transfection systems and growing need for large-scale genetic expression analysis due to the presence of a number of ongoing research projects are factors responsible for Europe's presence in the market.
Asia-Pacific region is estimated to register growth in demand at the fastest CAGR over the forecast period owing to an expected growth in the number of biopharmaceutical & clinical research and development programs, growing medical research expenditure, increasing awareness towards cytological and proteomic expression.
Competitive Market Share Insights
Life Technologies (now owned by Thermo Fisher), Roche and Promega are the most prominent players across major segments. These companies are involved in strategic business expansion by the way of acquisition and consolidation.
Some key participants include SignaGen Laboratories, BTX (Harvards Apparatus Inc.), EMD Millipore, OriGene Technologies, Bio-Rad Laboratories Inc., VWR International LLC, Mirus Bio LLC, Qiagen, Lonza AG, F. Hoffman-La Roche AG, Promega Corporation, and Life Technologies (Thermo Fisher).