Industry Insights
The global triethylene glycol market demand was 411.2 kilotons in 2014 and is expected to grow at a CAGR of 3.5% from 2015-2022 on account of rising demand for natural gas from various end-use industries including power generation, transportation, and domestic applications. Gaining importance of renewable sources of energy coupled with increasing demand for clean alternative transportation fuels is expected to positively influence TEG demand over the forecast period. Increasing application scope of plasticizers in automotive, construction, and synthetic rubber production is further anticipated to propel the demand for TEG.
Triethylene glycol (TEG), is a transparent, viscous, water-soluble, and odorless liquid that is totally miscible with water as well as other liquids. Triethylene displays almost similar properties like other glycol compounds. It is preferably used in applications demanding a high boiling point and low volatility than diethylene glycol.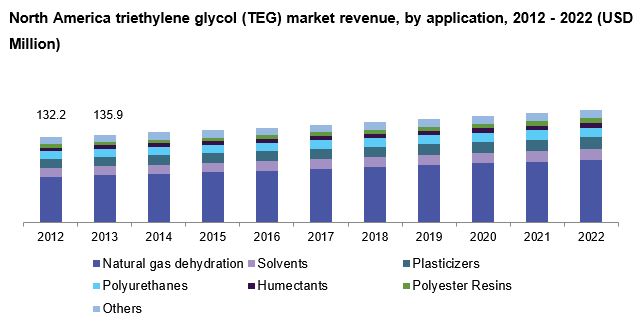 The proliferation of chemical processing industries coupled with rapid industrialization particularly in emerging economies of China, India, Brazil, and Mexico are likely to provide impetus to the market. Increasing oil & gas exploration activities across the globe coupled with the recent discovery of technically recoverable shale gas reserves in North America are anticipated to have a positive impact on the market, as TEG finds intensive application in dehydration of natural gas. Rising demand for solvents is anticipated to stimulate market growth over the forecast period.
The high capital cost involved in producing higher derivatives of glycols is expected to restrain market growth. Furthermore, rising demand for lower derivatives of ethylene glycols such as MEG and DEG are expected to pose a credible threat to the growth of the market over the forecast period.
Application Insights
Natural gas dehydration was the largest application of TEG in 2015 accounting for more than half of the global consumption and is expected to be the fastest-growing segment over the forecast period owing to recent developments in natural gas production in U.S and Canada.
Apart from natural gas dehydration, TEG is used to produce a variety of products for industrial and commercial use including solvents, adhesives & coatings, lubricants, polyurethane foams, emulsifiers, and thermoplastics. Increasing penetration of plastic in various consumer goods such as kitchenware, containers, and industrial products has triggered the demand for plasticizers which in turn is expected to fuel the market growth. It is also used as a reactant in the production of polyester resins which are used in numerous end-use industries such as construction materials, textiles, packaging, automotive bodies, and electrical appliances.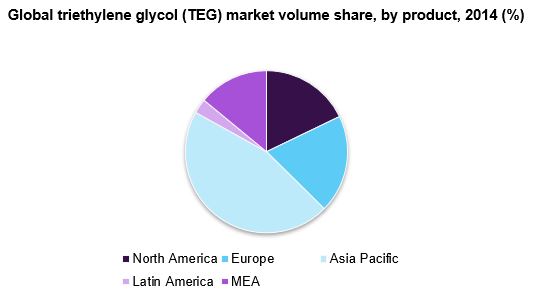 TEG is an excellent solvent and used in several applications including cleaning compounds, printing inks, and aromatic hydrocarbon separations. However, the market in the abovementioned applications is dominated by lower grades of ethylene glycols such as MEG and DEG, which is expected to have a negative impact on the demand.
Regional Insights
Asia Pacific was the largest market, accounting for nearly half of the global TEG market share in 2014 and is expected to witness growth owing to increasing government spending in natural gas exploration projects in China and India. Russia with large proven reserves of natural gas is attributed to fastest growth in the region.
North America was the second-largest region followed by Middle East owing to the boom in natural gas production coupled with increasing trend for natural gas-based power plants in the U.S. and Canada. Middle East countries such as Saudi Arabia, Iran, and Qatar are also expected to have strong growth prospects owing to the presence of massive proven natural gas reserves in Qatar, Iran, and Saudi Arabia. Furthermore, massive TEG capacity addition by the Gulf Cooperation Council (GCC) over the past few years is anticipated to have a positive impact on the market.
Triethylene Glycol Market Share Insights
The industry is highly fragmented and dominated by a large number of domestic players. Some of the major market players include SABIC, Eastman Chemicals, LyondellBasell, ExxonMobil, The Dow Chemical Company, and Sinopec.
The Dow Chemical Company is one of the largest TEG manufacturers in the world. In June 2015, the company started construction of ethylene manufacturing plant in Freeport, Texas with an annual production capacity of 1.5 million tons. This move is expected to ensure easy availability of TEG over the next six years.
LyondellBasel, an integrated chemical company, completed the acquisition of Solvay Engineered Polymers in 2008 to expand its manufacturing capacity of ethylene bases products including TEG. Capacity additions by leading market players coupled with increasing number of regional players in domestic markets of China, India, and South Korea are expected to propel the TEG demand.