Industry Insights
Global UPR market is expected to witness growth owing to commercial use in FRP (Fiberglass Reinforced Plastics) which have extensive applications in the construction industry. Increasing construction activities as a result of infrastructure development in emerging economies of Asia-Pacific and Latin America is expected to significantly influence UPR demand. Chemical industry growth has resulted in increased tanks & pipes use in storage & transportation which is expected to augment further UPR market growth over the forecast period.
Global unsaturated polyester resins market revenue, by product, 2012 - 2020 (Kilo Tons)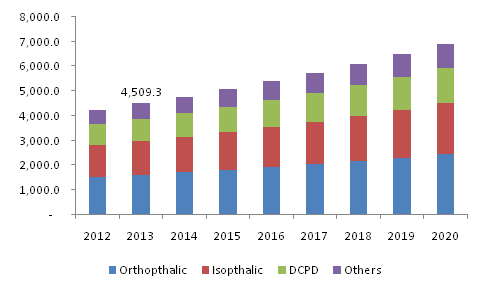 Growing marine activities coupled with increasing FRP application scope in construction is expected to provide growth avenues for the UPR market. UPR is being used in various industries including construction, marine, transport, wind energy and electrical on account of high performance, cost-effectiveness and environment-friendly characteristics. Raw material price volatility directly affects the end product price which is expected to be a major restraint for the market. Moreover, these resins posses low recyclability which is expected to restrict application in the automotive industry.
Product Insights
Orthopthalic resins dominated the UPR market product segment owing to use in building & construction, transport, marine and artificial stones. The growth of the above mentioned end-use industries is expected to augment ortho-phthalic resins demand over the forecast period. Also, these resins find application in the composites industry as standard laminating systems owing to low cost. Isophthalic resins are gaining popularity in the marine industry owing to superior water resistance properties. Isophthalic resins are chemical and heat resistant and can function in temperature up to 100̊ C, which makes them favorable for use in FRP. DCPD resins are increasingly being used in marine applications due to low resin shrinkage resulting in a smooth surface and minimal or no visual print-through from reinforcing fibers. DCPD is being considered as a potential substitute for ortho phthalic resins on account of low styrene content and VOC emissions. Other products in the market include vinyl ester resins and specialty resins.
End-use Insights
Building & construction was the largest UPR end-use segment in light of increasing use of FRP on account of light weight and high sustainability. Growing construction industry as a result of urbanization in emerging economies such as BRICS is expected to fuel UPR demand over the forecast period. UPR is used in the manufacturing of tanks and pipes in the chemical industry on account of superior heat resistance and hydrolytic stability which is expected to augment UPR demand in chemical processing. Other end-use markets for UPR includes transport, marine, electrical, artificial stones, aerospace, wind energy and automotive industry.
Regional Insights
Asia Pacific is expected to be the largest regional market due to growing construction and chemical industry in emerging economies of India and China. Governments of India and China have increased infrastructural spending to promote construction activities which are expected to impact positively UPR demand. Growing marine industry with increasing focus on waterways as a mode of transport and a defense front in expected to augment further UPR market growth in Asia Pacific. North America is expected to account for a major share of the market owing to growth in marine and electrical end-use industries. Demand in Europe is expected to be sluggish on account of stringent regulations relating to the use of styrene monomer in polyester resins.
Competitive Insights
Global UPR market is moderately fragmented with the presence of many companies on a regional level. Multinational companies including Dow, BASF, Ashland and CCP Composites are focused on high growth potential in untapped markets of India and China. The recent trend indicated consolidation among regional players to enter the global market. Other market participants include AOC Resins, DuPont, Reichhold, DSM, and Lanxess.